ENTER TO WIN!
Last chance!
Get 'Lost' and win valuable collectibles
Attention, "Lost" fans: This is your chance to win a full set of six "Lost" action figures from McFarlane Toys -- signed by creator Todd McFarlane.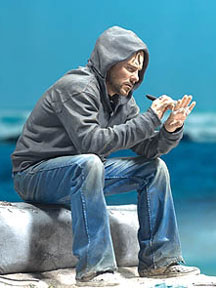 Jack, Kate, Hurley, Locke, Charlie and Shannon are all included. All it takes to win is some clever analysis -- or lucky guesses. The person who answers the most questions with the greatest accuracy wins.
The winner will be announced once the last question is answered on the show, or at the end of the season, whichever comes first. We'll provide updates as the mysteries are solved.
Type your answer to each question in 50 words or less and mail or e-mail it to us. No entry form is required, but be sure to include your name and telephone number.
And work fast! All entries must be in our hands by 5 p.m. tomorrow, two days before the new episodes begins.
---
?
Who will die next and how will that person die?
What will happen to Ben Linus/Henry Gale on the operating table?
What caused the paralysis in Locke's legs?
Where will Claire and Charlie's relationship go?
What will happen with the Kate-Sawyer-Jack love triangle?
---
» The prize: A full set of six "Lost" action figures, signed by the creator, including this figure of Charlie. Unsigned, the set is worth at least $120.
» E-mail responses to lost@starbulletin.com, or mail to "Get Lost," Honolulu Star-Bulletin Features section, 7 Waterfront Plaza, Suite 210, Honolulu 96813. Entries must be typewritten.
» One entry per person. Hawaii residents only. Employees of the Star-Bulletin, Midweek, their families, and members of the "Lost" cast, crew or production company, are ineligible.
» Judges' decision is final. All comments may be published without compensation to the writer.