Honolulu climate pioneer wins honors
Researchers had no way to monitor the strongest El Nino they had ever seen in 1982-83, recalls Eileen Shea, a pioneer in national climate studies.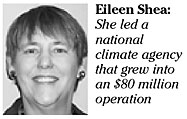 That began to change in 1984 with scientists putting a network of buoys along the equator in the Pacific to feed data to researchers and forecasters, she said.
Now they can forecast an El Nino -- an oscillation of the ocean-atmosphere system causing warmer Pacific waters and worldwide weather changes -- up to a year in advance, she said.
"We've gone from planning a program to try to understand El Ninos to a time when El Nino forecasts are fairly routine," she said, and government and private interests are using the information to manage risks of severe weather.
Shea was appointed director of the National Oceanic and Atmospheric Administration's Integrated Data and Environmental Applications Center in Honolulu last October.
A veteran of the U.S. climate science program, she was honored as a Fellow of the American Meteorological Society Jan. 17 during the organization's annual meeting in San Antonio.
"Election to the grade of Fellow serves as a recognition of outstanding contributions to the atmospheric or related oceanic or hydrologic sciences, or their applications, during a substantial period of years," Keith Seitter, the society's executive director, said in announcing the award.
In a telephone interview from San Antonio, Shea said discussions at the meeting focused on big weather events of 2006, including an ice storm in the host city at the time of the conference.
Normally, Hawaii does not have a presentation, because it does not have big climate impact events, she noted. "But 40 days of rain in March counted," she said, adding that there was a session on the unusual episode.
Involved in the development of the U.S. climate science program since the mid-'80s, Shea said she started in environmental science because of an interest in coastal resource management and Pacific island environmental issues.
She served on interagency working groups under the White House Office of Science and Technology Policy.
As deputy director of NOAA's Climate and Global Change Program, she led its growth from a $9 million agency to an $80 million research operation involving the federal agency and universities nationwide.
She coordinated a review of the U.S. Global Change Research Program on assignment at the National Academy of Sciences and led efforts resulting in the development of the Pacific Islands Global Climate Observing System.
She also helped create the Pacific Climate Information System as climate project coordinator at the East-West Center.
In her new position, she said, she is working on development and delivery of information that responds directly to the needs of disaster and resource managers.
A high priority is a storm index to give communities an idea of the risk for coastal flooding associated with high winds, tropical storms and hurricanes, she said.
"We're trying to look back historically at data ... and give disaster managers a quick snapshot that shows community risk and how they might be prepared for it."
She is working on the project with colleagues in Alaska, the Pacific Northwest, California and the Pacific islands.
"The data exists, but it has never been consolidated and analyzed in a way designed to give someone an index of how and why they are at risk for coastal storms," she said.