HAWAII GROWN REPORT
Walking on Cloud 9
Dreams come true for Kimi Daniel and Jessica Maielua's, who walked on at Portland State
Kimi Daniel and Jessica Maielua took a chance their freshman year and tried out for the Portland State women's softball team as walk-ons.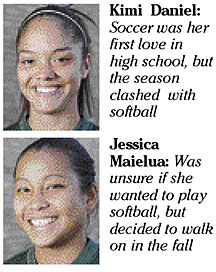 Both of them made the team.
Daniel, now a senior, is scheduled to be the starting left fielder when the Vikings open their 2007 season in the Oceanic Time Warner Cable Paradise Classic at the Rainbow Wahine Softball Stadium on Feb. 8.
"Kimi is such a gamer, fun to watch play," PSU coach Amy Hayes said. "Her uniform is dirty before a game. She goes all out all the time."
Maielua, a sophomore who graduated from Lahainaluna in 2005 and played all three outfield positions, is battling for the starting spot in center field.
"Jessica has come a long way. You could see how proud she felt in making the team. I've seen her grow with her confidence," Hayes said.
Daniel broke three bones in her left hand sliding while attempting to catch a ball in fall practice. She has been cleared to play.
Portland State also played here her sophomore season.
"I was so excited to come home and play my sophomore year. I thought it was just awesome," Daniel said. "I think I'm way more excited this year. There are people who haven't seen me play since high school. Coming back is a good senior gift.
"It's my last season and I'm a little nervous. We have an awfully good team this year. We have six phenomenal freshmen and I want my last year to be the best."
Daniel (Sacred Hearts '03) lettered four years in softball and track for the Lancers. She was an Interscholastic League of Honolulu all-star three times in softball, and earned the team's Most Valuable Player, Guts and Most Inspirational Player awards.
Daniel was on the state champion 4x100 relay team and had the seventh best triple jump in the state as a junior.
Soccer was Daniel's first love, but the season conflicted with softball in high school. She even tried out for the Portland State soccer team, but didn't make it.
"I really wanted to keep triple jumping because there is such a high demand for triple jumpers, but my dad (Valentine) wanted me to play softball," Daniel said. "I used to be mad at my dad for that. But I stuck with softball and developed a passion for the sport, a love for it that is unexplainable.
"I have family in Oregon, so that made the decision to come here easier."
Daniel, grateful for the chance she received when she walked on, played in 38 games as a freshman, but went hitless in 32 at-bats. She didn't get her first college hit until the next year on Feb. 10, 2005 at UNLV.
She finished her sophomore season with a .248 batting average. Last year, she improved to .295 and added power to the Vikings' lineup with 10 home runs, two shy of the PSU's single-season record.
Daniel set a team single-season record for walks with 28 and was a Pacific Coast Softball Conference second-team pick. She considers one of those homers last year the highlight of her career.
"It was a walk-off homer against Oregon. I had two strikes (2-2) and she (the Oregon pitcher) served it up. It was an inside pitch and I knew it was gone," Daniel said. "It was one of those perfect hits with no sting in your hands."
It was no surprise for Hayes, an assistant at Oregon during Daniel's sophomore year.
"Kimi hit a homer off the same pitcher when I was at Oregon. It was a lot more fun watching it when I was in the same dugout," Hayes said.
"Kimi has great speed and instincts. She reads the hitter well and gets a tremendous jump on balls," Hayes said. "She is not big, but she is solid and powerful and explosive. That comes out in her swing.
"She is respected by her teammates. That comes from her hard work and dedication. She will not be outworked."
Maielua, who also applied to Northern Colorado and Northern Arizona, wasn't sure if she wanted to play softball in college. Eventually she decided to walk on even though fall practice was in full swing.
"I was really nervous, but I just jumped in and did everything they did," said Maielua, who earned four varsity letters in softball and basketball at Lahainaluna.
"When they asked me if I wanted to be on the team, I was really happy. I didn't expect it at all. I thought I would have to show more."
When Maielua walked on last year, Hayes, in her first year at PSU, was down to 13 players.
"We were pretty shallow, low in numbers, so I told Jessica to come out and give us a shot," Hayes said. "She is fast and we needed someone who could run. We needed depth. We turned her around and made her a lefty (at the plate), made her a slapper."
Maielua appeared in 28 games as a freshman, primarily as a pinch runner. She only batted six times and will be looking for her first hit this year.
"My goal this year is to get more playing time, to improve my game and to definitely improve my school work," said Maielua, who discovered there was a lot more work on the academic side in college than in high school.
She made strides toward that educational goal by earning a 3.0 grade-point average this past fall semester.
Daniel is majoring in physical activity and exercise with a minor in psychology. She will graduate in June, then plans to attend graduate school with the goal of becoming a registered dietician.
"I want to continue to work with athletes as a life coach for a college or professional team," Daniel said.
---
Kimi Daniel's Career Statistics
| | | | | | | | | | | | | |
| --- | --- | --- | --- | --- | --- | --- | --- | --- | --- | --- | --- | --- |
| Year | Avg | GP-GS | AB | R | H | 2B | 3B | HR | RBI | TB | SLG% | SB-ATT |
| 2004 | .000 | 38-10 | 32 | 8 | 0 | 0 | 0 | 0 | 1 | 0 | .000 | 3-3 |
| 2005 | .248 | 41-40 | 113 | 15 | 28 | 4 | 0 | 4 | 13 | 44 | .389 | 2-6 |
| 2006 | .295 | 56-52 | 149 | 34 | 44 | 5 | 1 | 10 | 27 | 81 | .544 | 10-13 |
| Totals | .245 | 135-102 | 294 | 57 | 72 | 9 | 1 | 14 | 41 | 125 | .425 | 15-22 |