ON STAGE
A wicked and mighty tale
The main players in "Samson and Dalila" appreciate the complexity of their roles
If Camille Saint-Saens had set his opera "Samson and Dalila" in the present day, would it climax with a trip to Supercuts? We'll never know. But we do know that Saint-Saens' fussy and lushly emotional work set the bar for French opera.
'Samson and Dalila'
On stage: 7:30 p.m Friday, Sunday and Tuesday

Place: Blaisdell Concert Hall

Tickets: $29 to $120; season tickets for all three operas in the Hawaii Opera Theatre season are $81 to $333

Call: 596-7858 or visit hawaiiopera.org
And it is apparently great fun for the folks in the title roles. Hawaii Opera Theatre's production this week features Malgorzata Walewska as Dalila -- note, no "h," you're thinking of Tom Jones' "Delilah" -- and Mark Lundberg as Samson.
"I love it, it's one of my favorite roles!" chirped Walewska ("Call me Margot!"). "Also, a very important thing: My debut at the Metropolitan Opera in 2005 was also Dalila."
Lundberg played with Walewska at the Met through two seasons. "We have certainly tuned some of the same stage boards, that's for sure," Lundberg said. "And we're very comfortable with one another. She's just very interesting and a genuinely lovely person on the inside."
That's Margot he's talking about, not Dalila, keep in mind. Dalila is one of opera's great slippery femme fatales. The diva not only gets to belt the part, she gets psychological shadings. Score!
"I like her hidden side because she's not telling what she's really thinking," said Walewska. "She's a woman with many faces and you cannot be sure if she really likes him, or is it only a game, or is it only revenge? She decides to use all her sexual allure to discover the mystery behind his power."
Rather different than Carmen, another sexy role Walewska has sung many times.
"Carmen says what she's really thinking and Dalila is not so straight. Even when she says 'I love you,' you are not sure if you can believe her or not."
It's not all bad mullets and pillar-pushing. "The bottom line is the singing," said Lundberg. "It's easier to portray something that's possibly not as nice as being the ordained servant of God with his strength on Earth. So you try to convey that spirituality of being in contact, a personal relationship with Almighty God -- through the music.
"And physically and emotionally allow yourself to seem as though you actually become stronger at the appropriate times. Because Samson didn't always possess the strength of God. It was something that came and left as God saw fit. You've got to let it flow musically and vocally -- open a hole in your throat and go!"
When he finishes here, "I believe I will have done Samson 85 times," said Lundberg. After that many performances, what's new?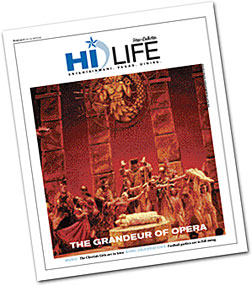 "You do fall into a groove," mused Lundberg. "I love these big roles. Every time you open the score you find something new, and conductor Mark Flint brings something new, too. Otherwise it'd be easy to stagnate -- and if you did, I suspect you wouldn't work real long. ...
"It's a continuing growth into the mind and heart of the composer who lived over 100 years ago."
If it weren't for Saint-Saens' opera, this fairly obscure Bible story would not have become part of pop culture, and even so "this work took a long time to catch on in his day," said Lundberg.
"Now, it's one of the most common operas in repertory opera companies. It's usually incredibly well-received by audiences, and half the time the critics love it, half the time they don't. They seem to pick on it."
He's looking forward to working with Walewska again: "She's a colleague whose mind is always coming up with ideas and movements. You get something new from her every time. She's really on the ball."
Are there any bad Dalilas in your past?
"Heh! For those who shall remain nameless -- I've also done Dalila with women who are ... let's say ... just great immovable objects."