Lily Koi offers live entertainment in Westridge
LEEWARD RESIDENTS have a new weekend destination for live entertainment, thanks to the recent opening of
Lily Koi
in the Westridge Shopping Center.
The restaurant formerly known as Buffet 100 reopened with new ownership on Sunday, trading the all-you-can-eat style of dining for a more refined atmosphere and an emphasis on quality food. Also notable is their extended happy hour, which lasts from 4 to 7 p.m. daily.
Lily Koi kicks off its late-night entertainment on Friday with Simple Souls and Gomega's Kanoa Kukaua starting at 9:30 p.m. Live music is also planned for Saturday, and they'll be open until 2 a.m. both nights. Call 486-8488 ...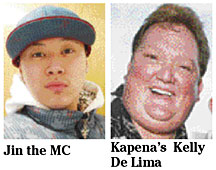 ALSO CELEBRATING this weekend is Cheerleaders Sports Bar and Grill, which marks its one-year anniversary with a full lineup of entertainment.
The party gets started at 7 p.m. Saturday, with local comedian Shawn Felipe taking care of hosting duties. Ten Feet, Big Every Time and 82 Fifty will be on hand to perform, and the bar plans to give away a number of round-trip tickets to the neighbor islands in addition to other prizes.
Cover for the anniversary party will be $12 at the door; $10 presale tickets are available now at the bar. Call 421-1000 ...
THEIR ALBUM may have come out in 2006, but the guys from Kawao are still commemorating their sophomore release, "The Secret's Out."
Head over to Don Ho's Island Grill on Saturday for a supersized CD release concert, with two shows planned at 6:30 and 9:30 p.m. A Hawaiian-style dinner plate will be served early, with Kapena and Halau Kaliko Pua O Kalaniakea performing for guests. Kawao will follow later in the evening with opening acts Hot Rain and Inoa'ole; B.E.T. will also be there after playing at Cheerleaders.
Tickets for the 6:30 p.m. dinner show are $20, and include access to the concert portion afterward. If you don't want to eat, wait until 9:30 to enter and you'll save $5. Call 358-0540 for more info ...
WITH THE Waikiki Beach Walk construction wrapping up on Lewers Street, longtime nightclub The Cellar Waikiki is relaunching its weekly Friday party.
The Cellar has partnered with Banq, Visual X and Dangerous Mindz Entertainment to present "Ballin' on a Budget" starting this weekend. Doors open at 9 p.m. Friday, with a $5 cover in effect and drink specials for those old enough to partake (be ready for a $15 charge if you're 18 to 20 years old).
While I'm not entirely convinced it has shed its image as one of the rougher rooms in Honolulu, a recent conversation with one of the Cellar's owners has me hoping for the best. As one of the oldest nightspots still open in Waikiki, there's just too much history there to allow it to fade away in the midst of redevelopment ...
THERE'S BOUND to be a lot of burning rubber at Aloha Stadium this weekend, when Hawaii's top drifters compete against some of Japan's best in the first round of the "Xtreme Drift World Tour."
Wailuku's Ron Freitas and Aiea's Verena Mei were among 50 local drivers who took part in a qualifier for the event last month, with organizers narrowing the field even further on Friday starting at noon. Only 16 spots are available for the actual competition on Saturday, which will also include five top drifters from Japan and another three from the mainland.
Gates open at 4 p.m. on Saturday, and a photo/autograph session is planned afterward from 9 to 9:45 p.m. The "Xtreme Drift World Tour" will also return to Hawaii to crown its champion later this year ...