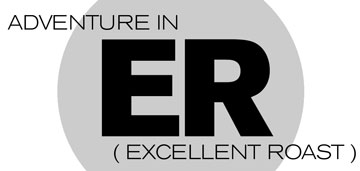 Timing is everything -- and temperature, and a metal pan -- when cooking roast
I'M NOT much of a cook. A messed up experiment with bulgur wheat during a camping trip still gets wisecracks from friends 25 years later. Yes, it's that bad.
But I do watch a fair amount of television. It's part of my job as a TV show producer. Honest. I was watching an episode of "Good Eats" where Alton Brown made a holiday roast using a digital probe thermometer, instead relying of the traditional routine based on purely on weight, and he said the results were absolutely consistent. I got inspired.
Cooking a roast by the numbers, based on time and temperature? That's just like developing film. Hey, I can do that!
So I got a cheap digital thermometer from WalMart and my wife Mary bought a rib roast from Foodland. A $55 experiment. Just in time for the family Christmas party.
Our aim was not just perfect roasting -- we also wanted to dry-age the beef in the refrigerator for a few days. This is something done by some of the best steak houses, except that they'll dry age for more than a month in climate-controlled conditions of 50 percent humidity and at temperatures just above freezing. Dry aging removes the excess moisture, intensifies the flavor and, due to some slight breakdown of the muscle tissue, can help tenderize the meat as well.
Roasting would start with the meat at room temperature, going first into a 200-degree oven. We'd finish with a 500-degree, 15-minute heat blast to give it a nice crust.
Of course nothing goes this smoothly the first time around and my experience was no exception. First, we started late, after a leisurely Christmas brunch. The roast was pulled from the fridge at 1:30 p.m. and forced to room temperature in a microwave oven at its lowest setting. Dinner was supposed to be at 4.
Once in the oven, the internal temperature of the meat climbed excruciatingly slowly as the clock advanced faster than usual. After several phone calls to my sister-in-law to let them know we were going to be late, the roast finally hit the magic temperature of 118 degrees. It was pulled for an abbreviated rest while the oven was jacked up to 500 degrees. This was now starting to look more like an episode of "ER."
Wine and water for the sauce were premixed into a container, to be finished at my sister-in-law's. Oops, no sage leaves?
The stopwatch hit the 15-minute mark. The hot oven wall burned my hand only once and the burner element branded a kitchen towel. The still-sizzling Pyrex glass baking pan and the roast were quickly covered with foil, placed into a shallow cardboard box and the smoking package stuffed into the trunk of the car. A week later, the whole car still smelled like Hy's Steakhouse.
In my sister-in-law's kitchen, I poured the water and wine into the Pyrex pan and slowly brought it up to a low boil while scraping (stovetop cooking is not recommended for Pyrex; more on that later). No time to separate all the fat and sauce, so we poured it out into a separating decanter while Mary fished out any odd bits. (This fat can be used later to make Yorkshire pudding. Don't ask me, that's just what Alton said.)
That's when an invisible hammer decided to target the Pyrex pan and shatter it into little bits of glass. I shouldn't have left an empty Pyrex pan on a hot burner.
The roast was, fortunately, at a safe distance before the mishap. We got all the glass cleaned up -- except for that one piece that our niece's boyfriend Steve found with his foot. But, being a Marine, he was able to fish it out by himself.
Everyone loved it and there were requests to do it again for New Year's. Except that time, we used a metal pan.