---
FAST FACTS HAWAII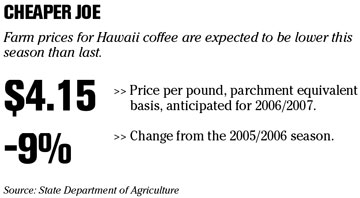 ---
HAWAII
Companies keep dividends steady
» Horizon Lines Inc.,
the second-largest ocean shipping operator in Hawaii, said its board yesterday declared a quarterly dividend of 11 cents a share payable on March 15 to stockholders of recoard at the close of business on March 1. The Charlotte, N.C.-based company has maintained the dividend at 11 cents since going public in September 2005.
» Alexander & Baldwin Inc. declared a quarterly dividend yesterday of 25 cents a share that will be payable March 1 to shareholders of record as of the close of business on Feb. 16. The company, which reports its fourth-quarter earnings tomorrow, has kept its dividend at the same level for the last four quarters.
[HAWAII INC.]
PROMOTIONS
» Alexander & Baldwin has hired
Allan "Al" Darling
as director of internal audit. He replaces
Paul Ito
, who was promoted to controller last year. Darling will be responsible for directing the internal audit activities of A&B and its subsidiaries, as well as overseeing an enterprise-wide risk management program. He previously was with Science Applications International Corp. in San Diego.
» Central Pacific Bank has announced the following promotion and new hire: Connie E. Haeske has been promoted to vice president and retail sales director for the bank's retail banking division. She joined the bank in 2002 as assistant vice president & deposit product manager and has more than 24 years experience in financial sales and marketing. Toni M. Demos has been hired as vice president and senior portfolio administrator for the bank's Hawaii commercial credit administration division. She previously served as vice president and senior loan officerand has more than 20 years experience in business lending and private banking.
» East-West Center has named Satu Limaye director of its Washington office. He succeeds Muthiah Alagappa, who will assume a new role as distinguished senior fellow attached to the EWC president's office. Limaye previously was research and publications director for the Asia-Pacific Center for Security Studies.
» Hawaii Dental Service has hired Kim Peterson as director of human resources. He will be responsible for managing all aspects of the human resources function for HDS. He has extensive human resources experience in Hawaii and operated his own company, Creative Concepts & Designs LLC, in 2003.
» Hyatt Regency Waikiki Resort & Spa has hired Suzie Pae as sales manager. She will be responsible for maintaining relationships with existing clients and attracting new clients in the North American and Canadian markets. She previously served as group sales manager for the Four Seasons property in Vancouver.
» Maui Land & Pineapple Co. has hired Natalie Capitano as marketing manager. She will assist with developent and implementation of marketiing strategies for each of the departments. She previously served as sales and marketing manager of Hard Rock Cafe International on Maui and in Denver.
» Mauna Lani Resort has hired Dee Ann Tsurumaki as chef de cuisine at Canoehouse. She returns to Hawaii after serving five years as head chef at Peninsula Hotel's signature restaurant, Felix in Hong Kong.
---
NATION / WORLD
FAA to let pilots fly until they turn 65
WASHINGTON » Airline pilots will be allowed to fly until they turn 65 instead of the current mandatory retirement age of 60 under a proposal announced yesterday by Federal Aviation Administrator Marion Blakey.
The intended change was prompted by a move in that direction by a United Nations organization, the International Civil Aviation Organization. ICAO raised the international standard to 65 on November 23. The rule says if one member of the flight crew is older than 60, the other must be under 60.
Those who favor raising the retirement age said there was no medical evidence that older pilots were unsafe.
Those who oppose it, including the leadership of the Air Line Pilots Association, said that the safety impact of changing the retirement age hasn't been analyzed.
Many pilots want to work longer because their pensions were slashed after their airlines sought bankruptcy protection.
Icahn seeks Motorola board seat
CHICAGO » Billionaire investor Carl C. Icahn told
Motorola Inc.
he hopes to be elected to one of 13 seats on the cell phone maker's board of directors, company officials said yesterday.
Paul Alfieri, a company spokesman, said Icahn filed a nomination notice with the Schaumburg-based company Monday. He declined to say how long Icahn had owned Motorola stock. Icahn could not be reached for comment.
Icahn and his entities own 33.5 million shares of Motorola -- roughly 1.4 percent of the company's outstanding shares.
Icahn has taken stakes in a number of companies in recent years, pushing for changes that he said would boost the share prices or otherwise create more value for shareholders.
PlayStation 3 hits Sony profit
TOKYO » Sony's quarterly profit dipped 5 percent as huge costs for launching its PlayStation 3 video game console offset a recovery in its electronics business.
But in an optimistic sign, the Japanese manufacturer raised its full-year earnings forecast yesterday, saying that booming Christmas sales in digital cameras and flat-panel TVs outpaced earlier targets.
Group net profit at Sony Corp. for the three months through December slipped to 159.9 billion yen ($1.3 billion) from 168.9 billion yen the same period a year earlier.
The electronics and entertainment company behind the Walkman portable player and "Spider-Man" movies said quarterly sales jumped 9.8 percent to 2.61 trillion yen ($21.4 billion).
Sony also raised its profit forecast for the full fiscal year through March to 110 billion yen ($903 million), from the earlier 80 billion yen ($657 million). It kept its fiscal 2006 sales target unchanged at 8.23 trillion yen ($67.6 billion).
---
BUSINESS PULSE