---
FAST FACTS HAWAII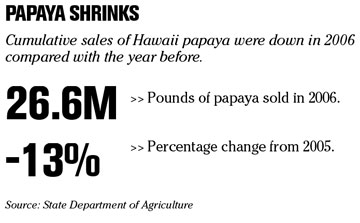 ---
HAWAII
Verizon earnings fall on divestiture costs
NEW YORK » Verizon Communications Inc. said yesterday its fourth-quarter profit fell due to taxes on the sale of assets and costs related to a spinoff, but the results surpassed Wall Street estimates as the telephone company's cellular business added 2.3 million customers.
For the final three months of 2006, Verizon earned $1.03 billion, or 35 cents per share, down from $1.66 billion, or 59 cents per share, in the fourth quarter 2005.
Fourth-quarter revenue totaled $22.60 billion, a 26.1 percent increase compared with $17.93 billion in the same period in 2005, though a big chunk of that gain came from the acquisition of the MCI long-distance business in early 2006.
The latest quarterly profit reflected a charge of $541 million, or 19 cents per share, for taxes owed due to the sale of Verizon operations in the Dominican Republic. The year-ago results reflected a 12-cent-a-share gain from its spinoff of what is now Hawaiian Telcom.
Merrill Lynch to buy wealth manager
NEW YORK »
Merrill Lynch & Co.
, the biggest U.S. retail brokerage, said yesterday it will buy San Francisco-based wealth manager
First Republic Bank
for $1.8 billion in cash and stock.
The transaction allows Merrill Lynch to tap into $10.7 billion of assets held by First Republic, which provides investment services including trust banking and luxury home lending. Because it caters to the wealthy, First Republic attracts hefty deposits and has few credit problems, the companies said.
This marks Merrill's biggest takeover in about a decade, and is part of a wider strategy to offer banking services for its more affluent customers. The New York-based company last year took a 50 percent stake in money manager BlackRock, and also bought mortgage bank First Franklin Financial Corp. last year. Among deals secured overseas has been a joint venture with Mitsubishi Tokyo Financial Group Inc. to target wealthy customers in Japan.
NATION / WORLD
World tourism sets record in 2006
MADRID, Spain » World tourism set a record in 2006 despite fears of terrorism, bird flu and rising oil prices, the United Nations tourism watchdog reported yesterday.
A total of 842 million international tourist arrivals were recorded last year, an increase of about 4.5 percent, the Madrid-based World Tourism Organization said.
By regions, Africa posted the biggest growth rate at 8.1 percent, benefiting from travelers' fears of terrorism elsewhere in the world. Africa is also a lure because of its natural resources, including wildlife, and appeal as a place for "authentic" experiences for vacationers, it added.
The region with the weakest growth was the Americas -- just 2.0 percent -- due mainly to stagnation in arrivals in North America, the WTO said.
Hershey, Lotte team up in China
SEOUL » South Korea's
Lotte Confectionary Co.
and U.S. chocolate maker
Hershey Co.
have agreed to set up a joint venture to make chocolate in China, the companies said in a statement yesterday.
Lotte will own a 51 percent stake in the joint venture, to be operated in Shanghai but headquartered in Hong Kong, according to the joint statement released by Lotte.
The venture will produce chocolate at a factory in Shanghai that Lotte bought in September last year for $20 million from a local company, is scheduled to start production in August, Lotte and Hershey said.
Lotte is South Korea's largest confectionary company. Hershey, Pennsylvania-based Hershey, the largest U.S. candy maker, bought Mauna Loa Macadamia Nut Corp. in December 2004.
---
BUSINESS PULSE