---
FAST FACTS HAWAII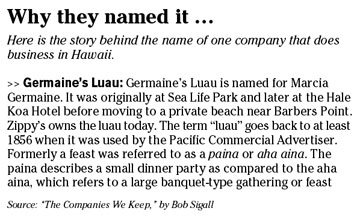 ---
NATION


It's a dog-eat-pill world out there

WASHINGTON » The pharmaceutical industry is going to the dogs -- and cats.

Though only a small segment of their overall business, big drugmakers including Pfizer, Novartis, Wyeth and Merck are finding a growing market for prescription medications to treat America's 74 million canines and 90 million felines.

In recent years, the animal pharmaceutical medicine chest has expanded from rabies vaccines and flea, tick and heartworm remedies to products for animal pain relief and arthritis, anxiety and compulsive behaviors, geriatric care, heart ailments, cancer, AIDS, gum disease and obesity.

Global sales of animal health products reached $17.4 billion in 2005, up from $16.1 billion in 2004, according to data from Animal Pharm World Animal Health & Nutrition News.

While medicines for livestock animals like cattle, pigs and chickens account for the bulk of the global business, Animal Pharm estimates that pharmaceuticals for companion animals -- dogs, cats and horses -- generated $6.8 billion in worldwide sales in 2005 and are projected to reach $8.6 billion by 2010.
Filmgoers want cheaper tickets
Instead of better films, moviegoers want cheaper seats, according to one recent survey.
In a survey from PA Consulting Group, more than 80 percent of 2,028 people polled in seven U.S. and three European cities said they were content with the quality of Hollywood films. However, most would prefer a more first-class theater experience that goes easy on the wallet.
Eighty-six percent would like to see ticket prices reduced substantially, while six out of 10 would like the theater to offer reserved seating. Sixty-three percent would prefer more food options beyond popcorn, soda and candy.
"This research reveals that Hollywood should reconsider how the movie-going experience is sold to the consumer," said Mike Hunter of PA Consulting Group. "We may be entering an era where consumers want the movie-going experience to be more of an event rather than an occurrence."
Multitasking takes to the road
Do you watch the road when you drive? Not as much as you may think, a recent survey from
Nationwide Mutual Insurance
suggests.
More than four of five drivers believe they're safe drivers and 59 percent believe they aren't distracted drivers. However, nearly three-fourths admit to talking on a cell phone while driving and 38 percent said they have driven a certain distance without any recollection of doing so.
"Our culture of multitasking has really taken to the roads, extending beyond changing the radio station and getting worse with each generation," said Bill Windsor of Nationwide.
Younger drivers are the guiltiest. Thirty-five percent of Generation Y drivers admit to multitasking while driving, whereas 30 percent of Generation X and 21 percent of Baby Boomer drivers do.
Technology and food are the biggest distractions for Generation Y drivers. Thirty-seven percent text or IM while driving, and 29 percent would like Internet access in the car. Nearly three out of four eat snacks in the car, while almost half eat full meals while driving.
Some of the kookiest distractions included killing a spider in the back seat, painting toenails, urinating out the window and engaging in a staring contest with a passenger.
"The bottom line is, if it should be done in the kitchen, bathroom, office or bedroom, then it probably shouldn't be done while driving," Windsor said.
Nationwide collected 1,200 surveys online in November.
---
BUSINESS PULSE