Measures aim for health coverage for all isle kids
Democratic legislators are pushing bills this session that would help Hawaii families who cannot afford health insurance for their children but who do not qualify for state or federal programs.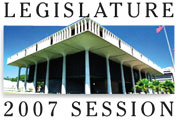 "We want to make sure no child is left behind when it comes to health care," said state Rep. Josh Green, a Big Island doctor who heads the House Health Committee.
"Clearly, the top priority is providing universal health care for children," said state Senate Health Committee Chairman David Ige (D, Pearl City-Halawa Heights).
The legislative health leaders have introduced similar measures: House Bill 1008 and Senate Bill 1218.
A "gap group" of kids ineligible for state or federal coverage would receive free health insurance under a proposed three-year Keiki Care pilot program. About 16,000 isle children, or an estimated 5 percent, are believed to fall into this group.
The state also would pay the premiums for children in families with income between 251 percent and 300 percent of the federal poverty level who are eligible for the state's QUEST and Medicaid fee-for-service programs. The total cost is estimated at $5.3 million a year, Green said.
If the legislation becomes law, Hawaii would become the first state to ensure health coverage for all children.
Gov. Linda Lingle vetoed a similar bill last year, but Green said the new measure addresses her concerns.
Green (D, Keauhou-Honokohau) and Health Committee members discussed the Keiki Care plan at a news conference Thursday in Kalihi-Palama Health Center's clinic on North King Street.
Also present was Cliff Cisco, senior vice president of the Hawaii Medical Service Association, which has a Keiki Care plan for children from 31 days old to age 18 at a cost of $51 a month. About 1,400 children are enrolled, Cisco said.
"HMSA is committed to get insurance to everyone," he said. "I believe we're down to real small numbers, that we can close the gap and be the first state to have insurance for all children."
The gross family income limit for free public insurance for a family of four is currently $57,504 per year (250 percent of the federal poverty level). The limit is $69,011 for public health insurance with premiums (300 percent of the federal poverty level).
Under new federal poverty guidelines, a family of four with income up to $70,140 a year would be eligible for the free insurance, Green said.
The state and HMSA would share the estimated $1.5 million cost of coverage for the "gap group" children.
These are children of undocumented immigrants, those with temporary visas or dependents of students on a visa from a foreign country, and babies born to an uninsured pregnant woman, said Barbara Luksch, Hawaii Covering Kids project director.
About 363 uninsured babies are born annually in Hawaii, she said.
Hawaii Covering Kids, which has worked eight years to reduce the number of uninsured isle children, has some concerns about "technical details" of coverage and is working with legislators to address those, Luksch said. "Our dream bill is being able to take care of all kids free up to 300 percent of poverty level."