| | |
| --- | --- |
| | Newswatch |
---
MISS HAWAII WINS TALENT
COMPETITION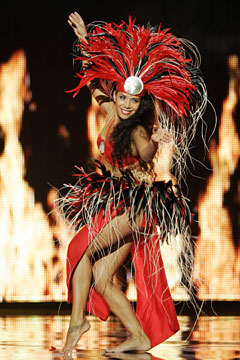 Help rid beach of flotsam, jetsam
Volunteers are needed to clean up marine debris at Bellows Beach in Waimanalo from 3 to 5 p.m. next Saturday.
Local group Beach Environmental Awareness Campaign Hawaii is holding the event and will provide bags, gloves and water. Raffle prizes will be provided by Ben & Jerry's Hawaii and Kale's Natural Foods.
Call 554-2902 or 393-2168 to register or for more information.
Tour will feature plants of Kawainui Marsh
Rick Barboza, co-owner of Hui Ku Maoli Ola native plant nursery, will conduct a tour of Kawainui Marsh plants next Saturday.
Participants will visit Ulupo Heiau and Na Pohaku O Hauwahine, where native plant restoration projects have taken place for the past 11 years. The 8:30 a.m.-12:30 p.m. tour will involve carpooling and walking to different areas in Kawainui Marsh.
The tour is co-sponsored by Ahahui Malama I Ka Lokahi, the Kailua Hawaiian Civic Club and the Kawai Nui Heritage Foundation. Donations of $5 will be accepted. There will be a limit of 25 people, and reservations must be made by contacting Malia Helela at 589-2963 or hemanumalia@hotmail.com.
| | |
| --- | --- |
| | Police, Fire, Courts |
---
NEIGHBOR ISLANDS


Teen allegedly tries to poison grandfather

WAILUKU » A 13-year-old boy from Lanai was taken into police custody and detained at a juvenile facility on Oahu after being accused of trying to poison his grandfather.

The boy tried to poison his 54-year-old grandfather by putting battery acid in his coffee and insecticide in his medication, police said.

Detective Ronald Hiyakumoto said that on Monday the grandfather noticed the coffee tasted like acid and spit it out.

Hiyakumoto said the grandfather's friend, 41, also spit out the coffee after noticing a peculiar taste.

The grandfather and his wife later searched the boy's room and found a diary in which the 13-year-old described that he tried to poison his grandfather by spraying insecticide on his medication and putting battery acid in his coffee.

According to the diary, the boy said he had failed but would try a more potent poison on the next attempt, police said.

Police arrested the boy Tuesday on three counts of first-degree attempted murder. The boy was taken to the Oahu juvenile facility on Thursday.
2 men are arrested in robbery and assault
Big Island police caught two brothers yesterday who allegedly were involved in a Jan. 11 Puna home-invasion burglary and assault.
Police had been seeking the two men, ages 21 and 25, since the incident. The men were arrested on suspicion of burglary, assault and criminal property damage but have not been charged.
Police said two men reportedly entered an Ainaloa subdivision home in Puna just before midnight and assaulted a 40-year-old man, who was hurt but did not require immediate medical attention.
1 dead and 1 injured in Big Isle car crash
HILO » A 19-year-old Big Island man died following a one-car accident early Thursday on the Keaau-Pahoa highway south of Hilo, police said. He was identified as Champie K.S. Choy Foo of Pahoa.
A passenger, a 22-year-old Pahoa man whose identity was not released, was in critical condition. Both men were taken to Hilo Medical Center and then to the Queen's Medical Center after the 3:07 a.m. accident. Choy Foo died there.
Choy Foo was headed toward Pahoa when he drove off the road and hit an embankment, police said.
The fatality is the third of the year on the Big Island compared with two at this time last year.
LEEWARD OAHU


Boy playing with lighter sets house fire

Fire investigators found that a child playing with a lighter caused a Waipahu house fire Tuesday night, causing $30,000 damage.

A couple and their two sons -- a toddler and a 7-year-old -- were home at the time of the fire and escaped uninjured.

The 7-year-old was alone upstairs in his bedroom when the boy's father smelled smoke coming from the room. The room was starting to fill with smoke as he got his son off the top of his bunk bed, said fire Capt. Kenison Tejada.

Firefighters were sent at 8:52 p.m., arrived in four minutes at the 94-539 Kipou St. home and had the fire out by 9:03 p.m.

The two-story attached rental unit received flame damage to the upstairs bedroom and stairway, causing $15,000 damage to the building and $15,000 damage to its contents, the Fire Department reported.

The family alerted the four adults and three children in the landlord's main house, a one-story building. Everyone got out safely.

Tejada said investigators did not specify which child caused the fire.
COURTS


Sex criminal must serve 6 years

The Hawaii Paroling Authority has ordered that a 30-year-old man who was found in the bed of a 14-year-old Waialae boy must serve at least six years in prison before he can be considered for parole.

Joseph Colasacco was sentenced to 10 years in prison in September after pleading guilty to three counts of electronic enticement of a child, five counts of first-degree sexual assault, fourth-degree sexual assault and four counts of promoting pornography to minors.

At sentencing, Circuit Judge Michael Wilson noted that Colasacco had enticed the boy over a two-week period after they met on myspace.com. The graphic nature of the e-mails reflected "obsessive behavior" intended to culminate in sexual conduct, Wilson said.

The boy's stepfather called police after discovering Colasacco in his stepson's bed pretending to be asleep.

Colasacco blamed his conduct in part to Hawaii's "larger immoral," multicultural environment which he described as accepting of alternative lifestyles.