The Bloomberg /
Star-Bulletin Index
---
Small stocks win big
The two lowest-priced stocks were the biggest percentage gainers in a lackluster week for the Bloomberg Honolulu Star-Bulletin stock index.
Cyanotech Corp. posted a 21.86 percent gain to close at $2.23, while Mera Pharmaceuticals Inc. ran up a 16.67 percent increase to finish at 0.7 cents. For the last 12 months they are down 14.23 percent and 53.33 percent, respectively.
At the bottom of the heap this week was Hoku Scientific Inc., sliding 4.50 percent in the wake of strong gains last week. Hoku closed this week at $5.31 a share. Over the last 12 months it is off 41.26 percent.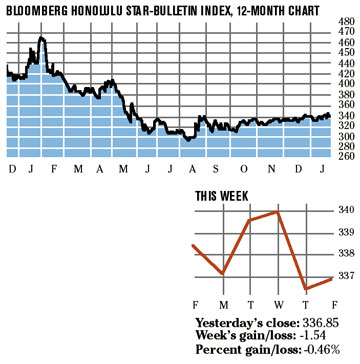 The Bloomberg / Star-Bulletin Index is a price-weighted index designed to measure the performance of Hawaii-based companies. The index was developed with a base value of 100 as of December 31, 1999. A chart of the index which shows the weekly performance of its members is published weekly in the Honolulu Star-Bulletin.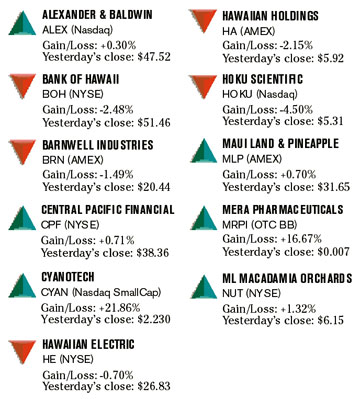 SOURCE: BLOOMBERG NEWS / STAR-BULLETIN GRAPHIC