---
FAST FACTS HAWAII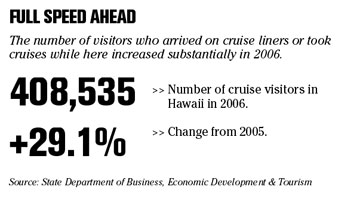 ---
NATION


American Airlines boosts pilot recall

FORT WORTH, Texas »

AMR Corp.

's American Airlines, the world's largest carrier, plans to bring 30 pilots back to work in April, stepping up the recalls for a second straight month.

The airline already had increased its callbacks to 20 furloughed pilots in March, after 10 each this month and in February, the Allied Pilots Association said on its Web site.

American is accelerating the pace after saying in October that it would recall about 10 pilots a month starting in January because of attrition such as retirements. AMR returned to profit in 2006 on increased travel demand and higher fares.

Other carriers also have been calling back pilots as demand has strengthened.

US Airways Group Inc. said Jan. 4 that it plans to recall 274 pilots during this year's first half. Delta Air Lines Inc. in December began hiring pilots for the first time since 2001 as it adds international flights. Northwest Airlines Corp. in November said it probably would offer jobs to all its 700 furloughed pilots by the end of 2007.
U.S. trucks may get speed limiters
WASHINGTON » New U.S. commercial trucks may be required to have built-in devices to limit their top speed to 68 miles per hour, the U.S. Transportation Department said.
The agency will review requests from nine trucking companies and the American Trucking Association, the industry's lobbying group, to mandate speed governors as a safety step, according to a notice in yesterday's Federal Register. The companies and the trade group asked for the study in October.
Most new commercial truck engines already are equipped with the devices. The Washington-based trade group wants governors to be required on new trucks and set to 68 mph, and the companies including third-largest U.S. trucker J.B. Hunt Transport Services Inc. want the rule to cover new and existing vehicles.
Bill seeks labels on food from clones
WASHINGTON » A Maryland senator today introduced a bill that requires labels for food from cloned animals and their offspring, giving consumers the option of boycotting the products.
The bill introduced by Senator Barbara A. Mikulski, a Democrat, comes in advance of the anticipated lifting of a ban keeping such products off grocery store shelves.
Only a few hundred cloned animals are being raised now. Ranchers, abiding by a voluntary ban imposed by the Food and Drug Administration, have agreed not to let the animals enter the food supply. The FDA in December preliminarily determined that meat and dairy products derived from most cloned animals and their offspring are safe. The agency is expected to finalize that ruling by year's end, allowing sales.
WORLD


Execs differ on global warming

DAVOS, Switzerland » To chief executives in Asia, the threat of global warming seems very real, but it's less so to those in the United States or Russia.

A survey of chief executives around the world, released at the World Economic Forum in Davos, Switzerland, this week, found widespread optimism about profits and nearly universal complaints about excessive regulation of business.

Overall, 40 percent of the chief executives surveyed said they were either somewhat concerned or extremely concerned about global warming. But in the United States, the figure was less than half as high, only 18 percent. By contrast, the figure was 49 percent for chief executives in China, 60 percent for South Korean chiefs and 70 percent for Japanese bosses.

PricewaterhouseCoopers conducted the poll via phone and face-to-face interview from September to December of last year.




---
BUSINESS PULSE