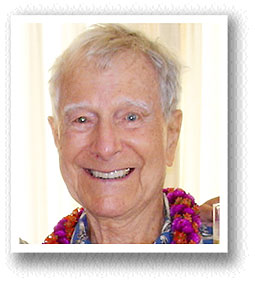 John Earle / 1915-2007
Isles lose their last Arizona survivor
Heart failure claims a local man who was at Pearl Harbor
John Horatio Earle, believed to be last crew member of the battleship USS Arizona living in Hawaii, died of heart failure Tuesday at the Queen's Medical Center.
The national USS Arizona Survivors Association has considered retired Marine Col. Earle, who celebrated his 92nd birthday with a glass of champagne on Jan. 7, the only crew member still living in Hawaii. He was one of 85 Marines assigned to the Arizona, which was sunk in Pearl Harbor on Dec. 7, 1941.
Ruth Campbell, who headed last year's reunion of Arizona survivors, told the Star-Bulletin there are no records of how many of Arizona's 334 sailors who survived the Japanese attack are still living today.
The records of her association can account for only 34 Arizona survivors. The group has held a Honolulu reunion every five years since 1978.
In the fall of 1941, Earle had just been promoted to captain and was assigned to the battleship USS Tennessee and ordered to the Arizona on Dec. 6.
Earle recounted in the Pearl Harbor Survivor Oral Project that throughout Dec. 6, until 9:30 that night, he was involved in taking inventory.
Earle did not spend the night on the Arizona. He was with his wife in their Ala Wai apartment.
The next morning, from the lanai of his Waikiki apartment, Earle said, he could "see anti-aircraft bursts covering the area."
He caught a cab to Pearl Harbor with sailors from the Tennessee, and when they arrived at Pearl Harbor, it "looked like a scene from the Inferno. The second attack wave was still in progress, and the Arizona, already destroyed, was belching thick black smoke that was to continue for days."
Earle caught a boat from Merry Point Landing to Ford Island, "a scene of complete devastation."
Earle said 12 enlisted Marines from his 85-member detachment had swum to Ford Island and taken refuge in a bomb shelter just a few feet from where the Arizona was berthed.
After the Japanese attack, Earle led Marine detachments fortifying and preparing to defend Lualualei Ammunition Depot in Waianae against possible Japanese landings.
His daughter, Jane Earle-Dabrowski, a Punahou School teacher, said her father initially wanted to be a Marine pilot after graduating from Virginia Military Institute in 1936, but had flunked the flight exam because of his vision.
"Following the attack on Pearl Harbor," Earle-Dabrowski said, "vision requirements were relaxed. It was one eye, two eyes ... yep, you were qualified, my dad would later joke."
Earle graduated from flight school in 1942 and commanded a dive-bomber squadron in the Philippines, flying Corsairs and SBDs.
His World War II combat awards included the Distinguished Flying Cross and Air Medal. Earle retired from the Marine Corps in 1961 and joined his family, which moved to Hawaii in 1958.
Earle attended graduate school at the University of Hawaii and would later teach history there.
His daughter said her father was an avid painter and was active in the Hawaii Watercolor Society. His home near Punahou School was decorated with watercolors he had painted during the numerous trips he took with his wife, Barbara, a retired Punahou School teacher to whom he had been married for 68 years.
"My father would decorate the sonnets he wrote for my mother with watercolors. He wrote sonnets for every occasion. They were an amazing couple."
Earle was born on Jan. 7, 1915, in Reading, Pa.
Other survivors include sons John and Thomas, daughter Susan McLane, six grandchildren and four great grandchildren.
Private inurnment will be held Feb. 5 at the National Cemetery of the Pacific.
Memorial services will be held at 4 p.m. Feb. 6 at Central Union Church. The family requests no flowers.