ON STAGE
Coming of Age
'Aging is Not for Sissies...' gives a voice to the trials facing single women ages 60 and up
Almost no one who is healthy and happy really wants to die, but on the other hand, no one looks forward to growing old if "old" equates to senility, incontinence and a diet of mashed beets and mush. Even being old and relatively active may not seem all that attractive in a culture that worships youth and tends to view the elderly with uneasy apprehension or as the butt of jokes about "old goats," "little old ladies" and "dirty old men."
'Aging Is Not For Sissies'
On stage: 7 p.m. Saturday and 4 p.m. Sunday at Temple Emanu-El, 2550 Pali Highway; and 7:30 p.m. Feb. 4 at Kumu Kahua Theatre, 46 Merchant St.

Tickets: $10 for all performances

Call: 595-4673 (Temple Emanu-El) or 536-4441 (Kumu Kahua)

COURTESY KUMU KAHUA THEATRE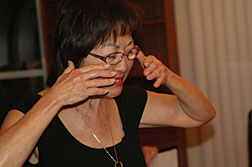 Blossom Lam-Hoffman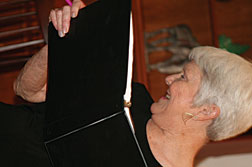 Jo Pruden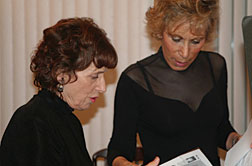 Joyce Maltby, left, and Dr. Pratibha Eastwood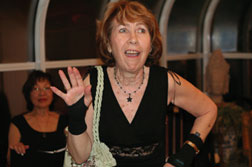 Roshani Shay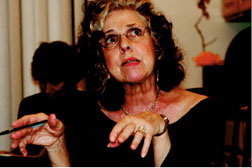 Sylvia Hormann-Alper
Local emcees get laughs by joking that someone is so old they "danced for Kalakaua," as if being 140 -- and still alive, active and healthy -- would automatically be a bad thing.
Women often seem hit with a double whammy. Crow's feet, wrinkles or gray hair are usually perceived as giving men character, but in American pop culture, all they do for women is make them look old.
America doesn't like to see old.
"The attitude to aging in general, and aging women in particular, is that they are invisible, they are nonexistent, they are erased," is how Dr. Pratibha Eastwood describes it. A psychologist by profession, and author of "Nine Windows to Wholeness," Eastwood is also the writer of "Aging is Not for Sissies...!," a reader's theater-style production of "real stories told by real women" age 60 and older about living in a culture that worships youth.
Eastwood shares the stage with veteran performers Joyce Maltby, Jo Pruden, Sylvia Hormann-Alper and Blossom Lam-Hoffman, and with Roshani Shay, executive director of the Hawaii Wellness Institute.
The production plays this weekend at Temple Emanu-El, and at Kumu Kahua Theatre in early February.
"Aging" grew out of a research project that surveyed single women 60 and older, but the monologues give voice to a much broader and more diverse group.
"In the show, we have some representation of local Hawaiian and Chinese, and Southern (United States) and New York," Eastwood said. She also interviewed women in Europe and Israel.
"They were single women, the ones I interviewed, but many of them either lived with family or something or another like that, so there is a representation again of women who are very alone and women who are not very alone, and even some who are with mates. There are widows, and there is living together, and single and married. There's a representation of a variety of different women."
Eastwood adds that the stories "are quite intimate." They reflect the experiences of women from age 60 to 100.
Many of them don't equate aging with being "over the hill" -- "and are very, very grateful and happy that somebody hit the nail on the head about the whole stigma of aging," she said.
"The truth of the matter when I went and looked for it (is) that many women who left an impact on our culture, like Mother Teresa and Eleanor Roosevelt ... they all were above 60 when it happened. Creativity and greatness have nothing to do with age, but in the stigma of the culture it's like, 'You're done.' "
Hollywood, for example, might pair a 60-something male star with 20-something woman in almost any type of film, but an older woman would be paired with a significantly younger man only if the story were specifically about an "older woman, younger man" relationship.
"We address those issues in stories in the play. Diane Keaton and Shirley MacLaine and some other women in the (film) industry have made statements about how there aren't really any movies that allow representation that is favorable and deep to the beauty of aging women."
Ticket sales from local performances will go toward taking the show to Chicago, where it will be presented at the National Conference for Aging. Eastwood says transportation and housing will cost around $10,000.
Eastwood, who premiered the show at the Hawaiian-Pacific Gerontological Conference in November, said traditional perceptions are due for a change.
"There are 78 million baby boomers who are going to be 60 or older in the next few years. That's a big amount, and I know that there's going to be some revolution around relating to aging with that starts happening. We're kind of like leading the way."