WEEKEND
Timeless tunes
Holunape remembers Auntie Lena in an evening of song and dance
Kama Hopkins, Keoka Kaluhiwa and Kanai'a Nakamura of Holunape are all fans of the late Lena Machado, so when Burton White approached them about performing in one of his "Hana Hou! Hawaiian Music Series" concerts at the Hawaii Theatre, a show honoring the legendary composer and falsetto vocalist seemed a perfect fit.
'Hawaii's Songbird'
A tribute to Lena Machado:

In concert: 8 p.m. Friday

Place: Hawaii Theatre

Tickets: $33

Call: 528-5060 or visit www.hawaiitheatre.com
"She was a big inspiration for us," Nakamura said Monday evening, shortly before the trio took the stage at the Aku Bone Lounge. The casual, local-style bar, located one long block ewa of Ala Moana Shopping Center amid warehouses and hostess bars, was filled almost to capacity with a mixed crowd of local residents and Japanese tourists -- all of them eagerly anticipating the trio's traditionalist acoustic Hawaiian repertoire.
Aku Bone -- with its long tables, neon signs, beer bottles and plates of pupus -- seemed a world away from the far more formal Hawaii Theatre, where the trio will performs this weekend.
Hopkins is looking forward to it.
"(Machado) was known to play traditional Hawaiian music -- she wrote it herself, put the music to it herself -- but the way she played it wasn't the usual way they would play it back then. She was kind of an innovator herself, and I think that's another thing that Burton found in us: We play Hawaiian music, but put our own little flare on it and kind of meld that era to 2007."
Born in 1903, Machado was a dominant figure in Hawaiian and hapa-haole music during the 1930s and 1940s, and made her mark as a singer, composer and entertainer. She was one of the most influential Hawaiian female falsetto vocalists of the 20th century and an inspiration to younger falsetto singers of both genders -- Genoa Keawe, Kealoha Kalama, Myra English, Leinaala Haili and Bill Aliiloa Lincoln among them.
Hopkins says that one reason for Machado's impact and popularity was that she was willing to try new ideas.
"She was always open-minded. She introduced a lot of Latin beats into her music while still keeping a lot of Hawaiian things in it. Also a lot of jazz -- if people sit and they listen, they'll find it in her chord structure and the way she would write her music. If somebody that was in her group came up with a new idea she was, 'OK, let's try it,' as long at it stayed Hawaiian."
Nakamura sums up Machado's music as "timeless."
"Younger musicians are still playing her music. It's still heard, and that shows how far ahead of her time she was ... I think if we tried to introduce some of the things she did, we'd probably get yelled at or lectured."
Machado's music remains equally popular with hula dancers, and that side of her legacy will be celebrated on Friday as well. Holunape will share the stage with dancers representing eight halau and also with three Miss Aloha Hula soloists -- Malia Kawailanamaile Peterson (2002), Jennifer Kehaulani Oyama (2003) and Natasha Mahealani Akau (2004).
"We're celebrating Auntie Lena and hula -- hula was her passion too," Kaluhiwa says.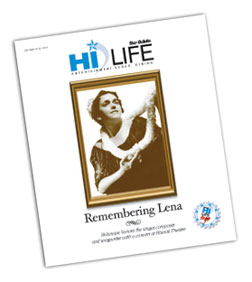 Headlining a show at Hawaii Theatre caps a huge 13-month "year" for Holunape. The trio opened 2006 with a win at Johnny Kai's Hawaii Music Awards, and then won the Hawai'i Academy of Recording Arts' Na Hoku Hanohano Awards for Hawaiian language performance" and group of the year in May.
"In two years we went from people not knowing our names, to people saying hi to us at Ala Moana Shopping Center, or (when we're) just walking around. It got kind of big," Hopkins says.
Asked to guess why their debut album did so well, Hopkins says that when it comes to Hawaiian music, they're not afraid to "go out on a limb -- but not too far."
"We all grew up listening to people like the Brothers Cazimero, the Makaha Sons (and) Auntie Genoa Keawe, and we try to bring all of those different things and blend them into one. So we could be playing something that you might hear from Auntie Genoa, but with different kinds of beats, or chords like Kahauanu Lake (would play). Then, on the other hand, we might do the phrasing more like Lena Machado."
"I think because we're all lead vocalists it gives us a different sound when we're all singing together, and that makes us stand out a bit," Nakamura adds.
They plan to start work on their second album sometime this summer.