| | |
| --- | --- |
| | Island Mele |
---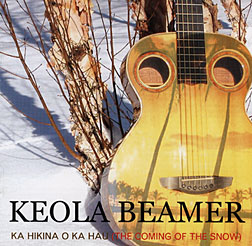 Ka Hikina O Ka Hau
Keola Beamer
(Dancing Cat/Windham Hill 02024-2)
Keola Beamer is so well-established as a slack-key master that he could easily put his recording career on cruise control and keep his fans satisfied by starting each year with the release of a new album of slack-key instrumentals. He could, but he doesn't. On "Ka Hikina O Ka Hau," Beamer teams up with arranger Daniel O'Donoghue to step outside the traditional context of slack key to explore an assortment of non-Hawaiian melodies. Many relate to winter in some way; most are the works of Western classical composers.
But the theme and the concept are only the beginning of this exquisitely crafted project. O'Donoghue utilizes modern multitracking technology to let Beamer accompany himself on two or more guitars, each with a different tuning. Some arrangements also contrast the sound of nylon strings and steel strings (information on the multiple tunings and more is found in the detailed liner notes).
George Winston sits in to play muted and plucked piano on "Poli'ahu," and eight-string steel-string guitar on "The Little Drummer Boy"/"Winter Aloha." The two guest spots work well, too. This album probably doesn't fit the criteria for the Grammy Awards' Hawaiian music album category, but it is beautiful and imaginative work throughout.
Beamer writes that it was never intended to be a slack-key album, but he and his friends succeed brilliantly in applying the essence of ki ho'alu to these beautiful melodies.
---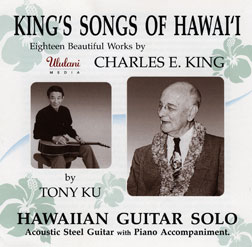 King's Songs Of Hawaii
Tony Ku
('Ululani UMCD-1001)
There was a time when the steel guitar was an acoustic instrument and the piano played a prominent role in Hawaiian music. Shanghai-born Tony Ku revives the sound of that long-gone era -- which ended with the electrification of the steel guitar in the early 1930s.
This beautiful album, recorded in honor of Charles E. King, interprets King's well-known melodies on acoustic steel guitar with support from a studio pianist. That's all Ku needs to do justice to these classic tunes (Ku recorded the album over two years, so three pianists share credit).
Ku's rendition of "Kamehameha Waltz" is one of the instant stand-outs because the distinctive sound of the acoustic steel guitar sets it apart from modern recordings. "Ke Kali Nei Au," "Na Leo o Hawai'i" and "Pua Carnation" are also noteworthy, but the album is a delight from start to finish.
Ku adds to the traditional nahenahe ("sweet, melodious") ambiance by recording in mono rather than stereo, albeit with much better audio quality than was possible in the 1920s.
---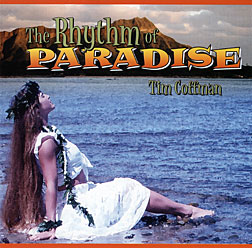 The Rhythm Of Paradise
Tim Coffman
(Rolltop Music 814-D)
Studio guests Greg Sardinha and Gordon Freitas are the local links to this instrumental Hawaii-theme album by SoCal composer/musician Tim Coffman. Sardinha plays steel guitar or ukulele on several tracks; Freitas plays ukulele on a tune titled "Kona Cowboys."
Coffman writes, "The Hawaiian Islands are one of my most cherished places on planet Earth," and adds that the songs were inspired "by their beauty and charm." That said, and there's no reason to doubt him, the vibe here is often closer to contemporary country music, or mainstream jazz fusion, than to traditional or contemporary Hawaiian music.
"Cat & Mouse" is one of several jazzy numbers that emphasize the interplay among sax, piano and rhythm section. Listen closely, however, and the steel guitar is in the mix as well, as Coffman and his sidemen explore the groove. There is relatively little "Hawaii" here in terms of Hawaiian music forms, but on the other hand, the music is relaxing and offers proof that there is a place for steel guitar outside the familiar genres of Hawaiian and country music.
John Berger
, who has covered the local entertainment scene since 1972, writes reviews of recordings produced by Hawaii artists. See the Star-Bulletin's Today section on Fridays for the latest reviews. Reach John Berger at
jberger@starbulletin.com
.