Fashion designer Zane's baseball caps are a solid hit
A LOCAL collaboration between fashion designer
Sig Zane
and retailer
KICKS/HI
has resulted in another home run for fans of New Era fitted baseball caps.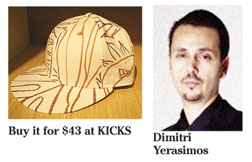 The two companies joined forces last year to develop their take on the classic streetwear staple, and the finished product hit shelves last weekend. Word has it that more products are in development, with Zane's son Kuhao Zane stepping up to help with potential designs.
Priced at $43 each, the caps don't come cheap, but as KICKS/HI's Chris Kam (aka DJ Delve) notes, customers are purchasing a true one-of-a-kind item.
"No two caps are the same because the fabric is cut from large rolls," he wrote in an e-mail to the store's mailing list. "That random aspect assure(s) originality ... the fabric is also stupid lightweight and breathable."
When reached earlier this week at their Ward Centre store, Kam said he expected the hats to sell out by early next week. You can also buy them at Zane's retail locations on Maui and the Big Island, and at the Cutlery in Hilo.
There's also good news for those who missed out on Fitted Hawaii's popular series of limited-edition caps: The shop near Ala Moana Center received a new shipment last week ...
FRIDAY IS the marquee night of the weekend this week, starting with the Hawaii debut of Dimitri "Dimitri from Paris" Yerasimos.
After a successful start in radio, the Turkish-born DJ and producer made a name for himself during the '90s in French fashion circles by producing the music used during runway shows for top designers. His 2000 album, "A Night at the Playboy Mansion," helped gain him new fans around the world.
Yerasimos spins at Lotus Soundbar on Friday; doors open at 9 p.m. and cover is expected to be in the $10 to $15 range ...
ANOTHER PARTY worth checking out on Friday is the Digital Assassins gig at NextDoor.
Fans of the Chinatown nightclub's "Acid Wash Wednesdays" should easily recognize one half of the group, since DJ Vegas Mike has been living in Honolulu since 2005. Unfortunately, he's decided to move back to the mainland, with plans to return to Los Angeles.
Vegas Mike's production partner, Carlos Vasquez, will also be in town for the party. Doors open at 9 p.m. Be sure to stop buy and buy these guys a drink before they leave ...
MORE PICKS: The Crud, Missing Dave, Pimpbot and Busekrus flip the script with "Cova a Brotha" at Red Lion University on Friday. Each band will randomly pull the name of a song by one of the others, and will be forced to play it on the spot. The madness starts at 9 p.m. ... Also on Friday, Yellowman and Barrington Levy return to the islands as headliners for "Reggae on the Rocks" at Hawaiian Waters Adventure Park. Israel Vibrations, Tanya Stevens, Elan and Rebelution are also scheduled to perform that night ... Russell Tanoue returns with another installment of his monthly "Beautiful" party on Saturday, which will also serve as a birthday celebration for model/spokeswoman Juliet Lighter. It's at Indigo this time, with DJs Ms. Angel and Jahson the 45 Revolver joining Positive Regime on the decks ...
AND FINALLY, has anyone else noticed the new super-sized can of Red Bull that's appeared on store shelves recently?
It might not be a big deal for most, but the decision to offer a 12-ounce can of the energy drink is great news for us nocturnal types. Forget the imitators; Red Bull is the originator, and this columnist wouldn't be able to function properly without it ...