---
FAST FACTS HAWAII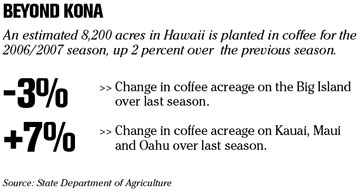 ---
[HAWAII INC.]
OFFICERS
» Old Town Moiliili Business Association has elected its new officers for 2007:
Gregg Mueller
, president;
Tara Young
, vice president;
Rachel Ching
, treasurer;
Martha Lee
, co-secretary;
Allicyn Tasaka
, co-secretary.
AWARDS
» Hawaii Hotel & Lodging Association has announced the winners of the Na Po'e Pa'ahana awards: Jean Asato has been named outstanding lodging employee of the year. She is guest relations supervisor at Waikiki Beach Marriott Resort & Spa. Other winners:
Allan Bala
, bell/valet person of the year;
Joseph Scott Bacon
, concierge of the year;
Stan Arakaki
, engineering/maintenance person of the year;
Peter Chan
, food & beverage person of the year;
Matt Sproat
, front office person of the year;
Reinhold Cremer Jr.
, manager of the year;
Antonia Erice
, housekeeper of the year;
Chaz Sato
, security officer of the year; and
Donald Takaki
of Island Movers Inc., allied member of the year.
---
NATION / WORLD
Iacocca welcomed as new casino owner
LAS VEGAS, Nev. » Lee Iacocca, the auto industry icon who helped turn around the former
Chrysler Corp.
after years as a
Ford Motor Co.
executive, got a warm welcome yesterday from Nevada gambling authorities who approved an affiliated company's purchase of a small casino.
Before approving Full House Resorts Inc.'s proposed $25.5 million purchase of the Stockman's Casino in Fallon, Nevada Gaming Commission chair Peter Bernhard declared his love for the Ford Mustang, which Iacocca helped design.
Las Vegas-based Full House Resorts hopes to complete its purchase of Stockman's Casino, located about 60 miles east of Reno, next week, said chief executive officer Andre Hilliou Iacocca holds about 12 percent of the company's shares.
Vista delays cut Microsoft profits
REDMOND, Wash. » The long-delayed launch of the Windows Vista computer operating system hurt fiscal second-quarter profits at
Microsoft Corp.
, which reported a 28 percent drop in earnings yesterday despite revenue growth that exceeded forecasts.
In the last three months of the year, earnings fell to $2.63 billion, or 26 cents per share, from $3.65 billion, or 34 cents per share, during the same period last year.
Analysts polled by Thomson Financial expected the Redmond, Wash.-based software maker to post 23 cents per share.
Revenue rose to $12.5 billion, a 6 percent gain from $11.8 billion in the year-ago quarter. Analysts were expecting just shy of $12.1 billion.
GM expects profit in 4th quarter
DETROIT »
General Motors Corp.
said yesterday it will make a net profit in the fourth quarter but will delay reporting 2006 financial results because of accounting errors and other issues.
The world's largest automaker said it found tax accounting mistakes from before 2002 that will end up increasing its retained earnings for all subsequent years by anywhere from $450 million to $600 million.
Chief Financial Officer Fritz Henderson said the company cannot state the size of its expected fourth-quarter profit yet. But it would be the auto giant's first quarterly gain since the fourth quarter of 2004, when it made $630 million.
The earnings report delays also can be attributed to the company's financial arm, General Motors Acceptance Corp., needing more time to close its books on 2006, Henderson said in a conference call. GM sold a 51 percent stake in GMAC to a group of investors for $14 billion last year.
AT&T 4th quarter profit rises 17%
SAN ANTONIO »
AT&T Inc.
's fourth-quarter earnings rose 17 percent, the telecommunications company reported yesterday, reaffirming its growth target for 2007 and raising projections for the cost savings expected from the just-completed buyout of BellSouth Corp.
For the three months ended Dec. 31, the nation's largest provider of local phone, cellular and DSL Internet services posted net income of $1.94 billion, or 50 cents a share. In the same quarter a year earlier, earnings totaled $1.66 billion, or 46 cents per share.
Fourth-quarter revenues reached $15.9 billion, a 23 percent increase from $12.9 billion in the final months of 2005.
Jazz fest founder sells company
NEW YORK » Impresario George Wein, who brought jazz out of smoke-filled nightclubs to mass audiences by founding the much-imitated Newport Jazz Festival more than 50 years ago, says he has sold his production company, which puts on music festivals from New York to Tokyo and Paris.
Wein said yesterday he had sold his company, Festival Productions Inc., to the Festival Network LLC, a new New York-based entertainment production company. The price was "in the millions," he said.
The new owners assure him that the sale won't cause any major changes in the near future in the sponsorship or programming of the 13 to 15 major festivals his company produces annually, he said, including the JVC Jazz Festiva and the Newport jazz and folk festivals.
The deal does not cover the New Orleans Jazz & Heritage Festival.
---
BUSINESS PULSE