---
FAST FACTS HAWAII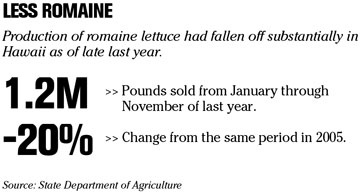 ---
HAWAII
Campbell Estate now Campbell Co.
The Estate of James Campbell yesterday converted into a real estate operating company and has distributed the majority of its assets to its beneficiaries.
Scottish carpenter James Campbell, who created the estate in 1900 as a private, for-profit trust, stipulated in his will that it would end in 2007.
The heirs of the Estate of James Campbell agreed to convert the $2 billion-plus estate in 2004 and secured $645 million to keep the business viable.
Twenty-nine of the 31 family members, who were entitled to receive a distribution from the estate, chose to become shareholders of the Campbell Co. Most of the Estate's assets will remain intact in the new company, whose real estate portfolio is valued at $2.6 billion and are spread throughout 16 states.
Total disposition of the estate is expected to take another several years.
Horizon, Pasha match Matson
Horizon Lines Inc.
and
Pasha Hawaii
said yesterday they would match the lower fuel surcharge of 17.5 percent announced earlier this week by
Matson Navigation Co.
The new surcharge from Horizon will go into effect on Monday while Pasha Hawaii's new fee will begin on Feb. 1. Matson's lower surcharge takes effect on Sunday.
Horizon, which lowered its surcharge 1.25 percent from 18.75 percent, said the reduced amount applies to shipments between the mainland, Hawaii and Guam.
Pasha Hawaii, which ships vehicles between Southern California and Hawaii, lowered its surcharge 1 percent from 18.5 percent.
In May, Pasha Hawaii had doubled it fuel surcharge to 18.5 percent from 9.2 percent.
[HAWAII INC.]
NEW HIRES / PROMOTIONS
Bishop Museum has named
Andrew Touma
as director of accounting. He started as a full-time temporary hire for the museum in September 2006 to assist the accounting department. He previously served Stanley Y.C. Chang CPA and Aon Consulting in Honolulu. » Hawaiiana Management Company Ltd. has announced the following new hires as management executives:
Marc Higuchi
comes from Colliers Monroe Friedlander, where he managed office, retail and industrial properties.
Deanna King
comes from Metropolitan Management, where she managed 11 properties and is a Certified Privatized Property Manager.
Leland Nye
comes from Colliers Monroe Friedlander, where he managed five commercial properties including Ewa Beach Shopping Center and Ewa Beach Professional Center.
» Island Insurance Company Ltd. has hired James Shigeo Dixon as assistant vice president of compliance and government affairs. He will lead the efforts to provide critical analysis of current and proposed legislation and regulatory rules, and will also support working with the insurance division on government-required filings. He previously served as an attorney with the Law Offices of Marvin S.C. Dang.
» Island Princess has hired Guy Crowell as assistant plant manager for its Honolulu operation. He will be responsible for overall plant operations including administration of company policies, production scheduling, inventory control, employee training, plant and equipment maintenance, and human resource matters such as attendance and employee scheduling. He previously served as operations manager for Gourmet International and has 28 years experience in food safety and quality control.
» MKC Management LLC has hired Jeff Dinsmore as president. He previously served as vice president of development for General Growth Properties Hawaii Region. MKC Management LLC is a joint venture between The MacNaughton Group and Kobayashi Group to develop three new lifestyle shopping centers in Hawaii.
» Morton's The Steakhouse Honolulu named Jeff Bueche as general manager. He will be responsible for day-to-day operations, sales and marketing, development and training of staff and management, financial accountability, and upholding Morton's tradition of quality and excellence. He previously served as general manager of Morton's in Columbus, Ohio and has over 20 years experience in the restaurant industry.
» ProService Hawaii has announced the following new hires: John Simmerman has been hired as senior business development manager and Jennifer Woodbury has been hired as business development manager. They will be responsible for building relationships with small to medium sized businesses, educating businesses on the health care services provided by the company. Simmerman previously served as division manager of health cost containment for Pioneer Health Group in Boulder, Colo. Woodbury worked in the Kona real estate industry for six years prior to joining ProService and has previously served Starbucks in management and employee training.
» Shell Vacations Hospitality has promoted Cintia Dutra to general manager of Kona Coast Resort from assistant general manager. She will direct the management of the staff at the Big Island property. She has served several positions in the company over 14 years and is an 18 year veteran in the hospitality industry.
» UHA has promoted Jennifer Barad as enrollment services supervisor. She will be responsible for analysis and administration of employer group records and transactions including eligibility, billing and premium rates; as well as training and development of associates in the employer services department.
» U.S. Army Corps of Engineers Honolulu District has announced the following new hires: Todd C. Barnes has been named chief of engineering & construction. He previously served as corporate manager for project manager development of Weston Solutions Inc. Anthony J. Paresa has been named deputy of programs and project management division. He previously served as senior military program manager in the programs directorate for Pacific Ocean Division.
---
NATION / WORLD
Macau gambling revenue up 22%
HONG KONG » Macau's gambling revenue jumped 22 percent in 2006 compared to the year before -- an increase that might have helped the Chinese territory dethrone the Las Vegas Strip as the world's casino king, according to figures on the city's Web site today.
The tiny former Portuguese enclave has been booming in recent years as some of the biggest names from Las Vegas began building mega casino and resort projects in the city on China's southeastern coast.
Last year, the city's gambling revenue totaled 55.88 billion patacas ($6.95 billion), compared to 45.80 billion patacas in 2005, the Web site of the city's Gaming and Inspection Coordination Bureau said.
The Las Vegas Strip has yet to release its total revenue figure for 2006. But state regulators in Nevada have said total revenue through November came to $6.08 billion.
If revenue is flat in December 2006 compared to the previous year, the total would likely hit $6.57 billion.
---
BUSINESS PULSE