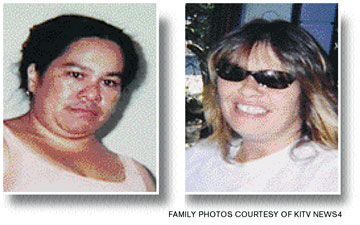 Cousins Racquel Akau, 38, left, and Michelle Benevedes, 39, were killed Saturday night in a Waimanalo car crash.
Hit-and-run victims were close cousins
Police had noticed a speeding SUV right before the crash
Cousins Michelle Benevedes and Racquel Akau had not spoken in a couple of years. But six to eight months ago, the two rekindled their friendship.
"I missed her so much, and she missed me even though we were always fighting," friend Ah Lan Ho recalled Akau telling her.
"The two cousins, they were real tight," said Akau's ex-husband Lawrence Akau Sr. "They were like sisters. They were inseparable."
Saturday night, Benevedes, 39, was driving Akau, 38, home to Waimanalo Beach Park after dropping off a friend when their Honda Accord was broadsided and crushed against a concrete tile wall by a Ford Explorer, pinning them inside. The Explorer's 17-year-old driver and passenger fled.
Benevedes and Akau were pronounced dead at the scene. According to the Department of the Medical Examiner, the two women died from multiple internal injuries.
The 17-year-old boy, of Waimanalo, was arrested Saturday night on suspicion of failure to render aid and operating a vehicle under the influence of an intoxicant. Police believe the passenger turned himself in, but information on whether he did is sketchy, a police spokesman said.
Police have initiated a negligent-homicide case.
"We found out Racquel was still alive for a little while, but Michelle died right away," said Ho, Lawrence Akau's common-law wife. "Whoever was there tried to help them."
Honolulu police spokesman Capt. Frank Fujii said police did not pursue the SUV, which crashed into the car -- noting reports from witnesses of police sirens sounding before the crash.
Fujii said a police officer was traveling Kailua-bound on Kalanianaole Highway when he observed the Ford Explorer enter Waimanalo Shopping Center against a red traffic light from Poalima Street.
While in the shopping center's parking lot, the police officer observed the vehicle's "tires screeching" and the driver operating the vehicle "at a high rate of speed." The driver then continued to drive erratically around a service station, exited the shopping center and headed Makapuu-bound on the highway, passing by the police officer.
Fujii said the police officer activated his siren and turned around to follow the vehicle. But as the officer turned around, Fujii said, the officer lost sight of the vehicle. About 15 seconds later, the officer then saw "tail lights going up."
"When he came upon the vehicle, it was down the road somewhat. The vehicle was already involved in a collision," Fujii said.
He noted that the officer did not get close enough to pursue the Ford Explorer or to determine exactly how fast the vehicle was traveling. The fact remains that the white Explorer was observed speeding and driving erratically prior to the crash, he said.
The crash site is near Waimanalo Elementary and Intermediate School, where the state Department of Transportation installed two electronic signs to advise drivers of how fast they are going. This came after concerns raised by the Waimanalo Neighborhood Board about speeding in the school zone along Kalanianaole Highway.
After the crash, Lawrence Akau went to Waimanalo Beach Park and picked up his and Racquel's two children, Lawrence Jr., 19, and Candace, 11, and brought them to the scene, where they identified their mother.
"They're grieving and they're angry," Ho said.
Akau is also survived by a 7-month-old granddaughter.
Michelle Benevedes had three children -- Tom, 19, David, 10, and Yvette, 8 -- and lived with her parents in Waimanalo.
August Kaawa, the father of Benevedes' children, described Benevedes as an outgoing, high-spirited person, well loved and well known in the community.
"She's a likable person, always smiling -- that was her," he said.
"Michelle was a beautiful person, and Rocky (Racquel), she was a beautiful person inside and out, very caring," said Ho, who was close to both women.
Lawrence Akau's nephew, 11, was seriously injured last Tuesday when a pickup truck hit him and a 51-year-old Kailua man at a bus stop across from their home on Kalanianaole Highway near Kaiona Beach Park. The woman driving the truck said she had fallen asleep, police said.
Akau was working yesterday on making their house wheelchair-accessible for the boy when he comes home.
After Racquel Akau divorced Lawrence Akau, she was married briefly. When that relationship ended, she and the two children moved into Lawrence's mother's home, where he, Ho and their children lived.
About a year and a half ago, Racquel Akau and her children moved to the beach.
"She took care of the kids real good," Lawrence Akau said. "Then this tragedy had to happen. We were divorced but we were friends."
Racquel Akau had said she wanted her ashes to be scattered off Waimanalo Beach Park, he said.
"I was thinking, make the funeral(s) together," Akau said. "They had that bond. They were always together."