| | |
| --- | --- |
| | Newswatch |
---
Be an advocate for animals
The Hawaiian Humane Society needs volunteers to work with animals and community programs. Advocates are needed to work in neighborhoods to build support for upcoming legislation. To volunteer, call 356-2212. For the animal behavior program, assistants 16 and older need to work directly with animals. Help Line volunteers also are needed. For more information, call 356-2216.
Road extension to ease Kauai traffic
KAPAA, Kauai » The state Department of Transportation unveiled a new extension to the Kapaa Temporary Bypass road yesterday, a project designed to alleviate traffic on the Garden Isle's east side.
The nearly 1-mile road connects Kuhio Highway on the north side of Kapaa town with the current bypass and Olohena Road roundabout in the center of town. The extension allows cars traveling south to Lihue to bypass the business districts of Kapaa and Waipouli altogether.
Residents say that traffic congestion during high tourist season in the area can turn a five-minute drive into a half-hour or more.
SHOWING SUPPORT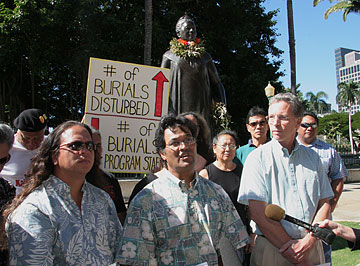 ---
SHINING STARS
---
Iolani Palace receives grants for programs
Iolani Palace
received several grants to support its programs, including $5,000 from the
Bank of Hawaii
to sponsor the monthly Kama'aina Days and Children and Youth Day 2006; $16,000 from the
Hawaii Tourism Authority
for the development of Japanese-language audio tours; $2,950 from the
Ifuku Family Foundation
for presentation software and equipment used in seminars, lectures and other outreach programs for the community; $3,000 from the
Kosasa Foundation
for an upgrade to the palace's security system; and $5,000 from the
Nadao and Mieko Yoshinaga Foundation
for a children's-activity brochure of the Palace Galleries for student visitors.
---
Junior Achievement of Hawaii Inc. received a $5,000 grant from the Hawaii Medical Service Association. JA teaches more than 6,000 students in kindergarten through 12th grade about business, economics and the free-enterprise system.
---
The Shidler College of Business at the University of Hawaii at Manoa awarded 112 scholarships, totaling more than $200,000, for the 2007-2008 academic year. The awards are funded through the alumni, faculty, staff and friends of the college to recognize and support outstanding students in the business college.
---
"Shining Stars" runs Monday through Thursday.
| | |
| --- | --- |
| | Police, Fire, Courts |
---
NEIGHBOR ISLANDS
Information sought on 4 people still missing on Kauai
Kauai police are still searching for four missing people and ask that anyone with information about them call Kauai police dispatch at 808-241-1711, Missing Persons Unit at 808-241-1696 or CrimeStoppers at 808-241-1887:
» Matthew Barraza, 26, of Las Vegas last spoke with his family Aug. 26 and was reported missing on Oct. 7.
Barraza is 5 feet 10 inches tall, 130 pounds, with brown eyes and brown medium-length hair. He has a tattoo resembling a vine from his left shoulder to his chest and a 1 1/2 inch Hawaiian tattoo on his right arm from his shoulder to his elbow.
» Chester Caluya, 17, was last seen Aug. 6 at Kekaha Beach. He is 5 feet 6 inches tall, 135 pounds, with brown eyes and black hair. He has a mole on the right side of his upper lip and a scar over his eyebrow.
» Daniel Marks, 24, of Portland, Ore., visited Kauai on Nov. 9, 2005, and was scheduled to leave a week later. His sister reported him missing later that month.
He is 5 feet 8 inches tall, about 130 to 140 pounds, with brown hair and eyes and beard. He has small tattoos above both temples.
» Susan Scanlan, 54, of Koloa last contacted her friends on Nov. 6. She is 5 feet 4 inches tall, 140 pounds, with green eyes and brown shoulder-length hair.
---
NEIGHBOR ISLANDS
Tour bus collision kills driver of rental car
LIHUE » An accident involving a tour bus and a rental car on Kuhio Highway yesterday killed the male car driver from Alaska and sent three others to Wilcox Hospital.
At about 4:15 p.m. the 51-year-old man, who was not identified, apparently was trying to make a U-turn in front of the bus and across the three-lane Kuhio Highway near the Kauai Hilton Resort, police said. The bus broadsided the sedan and pushed it across the highway.
The two passengers, a 50-year-old woman and a 23-year-old man, both from Alaska, were treated and released for minor injuries. The Polynesian Adventure Tour bus driver, 60, from Omao, the lone occupant on the bus, also sustained minor injuries and was treated and released from Wilcox.
The accident also shut down traffic for hours on the only road connecting Kapaa and Lihue.
A former cane haul road, which was turned into an emergency bypass two years ago, had to open for the first time to shuttle traffic along Kauai's east side. But traffic was still backed up in Kapaa at 8 p.m. last night, almost four hours after the crash.
LEEWARD OAHU
Pearl City man, 54, allegedly rapes woman
Police arrested a 54-year-old Pearl City man who allegedly raped a woman Sunday.
Police said the woman, whose age was not disclosed, reported being raped at about 6 p.m. in Makaha.
The suspect was later arrested for investigation of first-degree sexual assault, first-degree terroristic threatening and two counts of violating a protective order.
CENTRAL OAHU
Break-in attempt leads to suspect's arrest
Police arrested a 23-year-old man who was allegedly caught trying to break into a Mililani home Sunday.
Police said the man, who has no local address, was seen removing a louver from a home on Lanikuhana Avenue at about 5:12 p.m.
The house is up for sale. Police arrested the man for investigation of first-degree burglary.
HONOLULU
Man allegedly enters house to make threat
Police arrested a 38-year-old man who allegedly walked into another man's home and threatened him.
Police said the suspect got into the home at 476 N. Kukui St. at about 5 p.m. Sunday.
A 24-year-old man in the house called police. They arrested the suspect, who has no local address, for investigation of first-degree burglary.
Police say baby stroller hid shoplifted goods
Police arrested a 30-year-old woman who allegedly tried to steal merchandise from an Ala Moana store Sunday by hiding it in her baby stroller.
Police said the woman was arrested at about 2:20 p.m. after she left the store without paying for the items.
She was arrested for investigation of second-degree theft.
Police seek suspects in attempted rape
Police are searching for two men who allegedly tried to rape a woman in Makiki.
At about 7:45 p.m. Thursday, a 19-year-old woman was walking to an automated teller machine when two men approached her and began talking to her.
Both men pushed her into a darkened driveway, where they allegedly tried to rape her.
The woman fended off the assault, and the two suspects fled on foot, police said.
The first man was described as 18 to 20 years old, 5 feet 10 inches tall, 140 pounds, with curly blond shoulder-length hair. He was wearing a white tank top and brown jeans.
The second suspect was described as about the same age, 5 feet 8 inches tall, 160 pounds with short black hair.
EAST OAHU
Suspect accused of searching car
Police arrested a 43-year-old Kaneohe man who was allegedly caught searching another man's car that was parked at the Halona Blowhole lookout near Sandy Beach.
Police said a 22-year-old man had gone to the lookout Sunday and left his car unlocked.
When he returned, he saw the suspect searching the inside of the car, police said.
He confronted the suspect, who fled to another car parked nearby. An officer found the getaway car and arrested the suspect for investigation of first-degree unauthorized entry into a motor vehicle.
WAIKIKI
Police arrest man, 20, in assault on officer
Police arrested a 20-year-old man yesterday who was wanted in connection with the assault of a police officer as well as several auto theft cases.
Christian Kudlich was the subject of a CrimeStoppers bulletin last week. At about 2 p.m. Sunday, police got a tip that he was staying at the Ohana Maile Sky Court hotel at 2058 Kuhio Ave.
He was arrested without incident.
Police said that Kudlich was seen on a surveillance camera recording stealing a truck from the Waikiki Prince Kuhio Hotel on Jan. 4.
Officers spotted him on Jan. 10 on Lemon Road in another stolen car, police said. As they tried to stop him, one officer was injured when he was dragged several feet, and another officer was almost hit as Kudlich drove away, police said.
Kudlich also damaged two civilian cars and a police car and got away, police said.
After police arrested him Sunday, a witness pointed out the car that Kudlich had allegedly been driving, and it too, had been reported stolen, police said.
Kudlich was arrested for investigation of first-degree assault on a police officer, three counts of auto theft, first-degree criminal property damage, first-degree terroristic threatening and four traffic offenses.