---
FAST FACTS HAWAII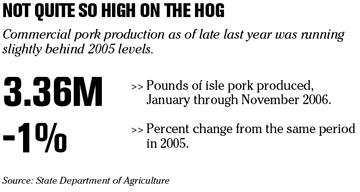 ---
HAWAII
Hoku buys reactors to meet Sanyo deal
Hoku Materials, which last week announced a $370 million contract to provide polysilicon to Sanyo Electric Co. Ltd. for solar cells, yesterday announced a deal to buy key components for its planned Idaho polysilicon factory.
The subsidiary of Kapolei-based Hoku Scientific Inc. reached a contract with the German offices of Graeber Engineering Consultants GmbH and its partner, MSA Apparatus Construction for Chemical Equipment Ltd., for chemical reactors used in the production of polysilicon, and related engineering and installation services.
"Buying polysilicon reactors is one of the most important components in a polysilicon plant and there's a lead time for these reactors because they're so valuable," Hoku Scientific Chief Executive Dustin Shindo said. "So securing them early helps ensure we can keep to our timetable."
Hoku expects to begin polysilicon shipments to Sanyo in January 2009 from the planned Pocatello, Idaho, plant.
Under the contract, Hoku will pay Graeber and MSA up to about $27.2 million, for equipment that can produce as much as 2,000 metric tons of polysilicon a year.
A&B hires audit director
Allan Darling has joined
Alexander & Baldwin Inc.
as a director of internal audit. He will be responsible for internal audit activities of the parent company and its subsidiaries. He also will be in charge of developing and overseeing an enterprisewide risk assessment and management program.
Darling previously worked as business unit controller at San Diego-based Science Applications International Corp. a systems, solutions and technical services company with annual revenue approaching $8 million.
He replaces Paul Ito, who was promoted to controller last year.
NATION
Gap ousts CEO over poor results
SAN FRANCISCO »
Gap Inc.
dumped Paul Pressler as chief executive yesterday after a year of broken promises that culminated in a dismal holiday shopping season to deepen the clothing retailer's misery.
Gap said its board and Pressler "mutally agreed" it was time for him to leave. Pressler, Gap's CEO since September 2002, will receive a severance package valued at $14 million.
The San Francisco-based company, which owns 3,100 stores under the Gap, Old Navy and Banana Republic brands, has been mired in a sales funk since the spring of 2004.
Gap named Robert J. Fisher, the son of founder Donald Fisher, as CEO on an interim basis. The younger Fisher has previously held several top jobs at Gap and has been the company's nonexecutive chairman since May 2004.
Pfizer to lay off 10,000, close plants
NEW YORK »
Pfizer Inc.
announced yesterday it will cut 10,000 jobs, as the world's largest drugmaker seeks to cut costs by up to $2 billion a year amid fierce competition from generic drugs.
The company plans to close three research sites in Michigan and two manufacturing plants in New York and Nebraska. It may also sell others overseas as well.
It's the second time in two years that Pfizer has announced a major cost reduction plan in order to combat the loss of about $14 billion in revenues this year due to expiring patents on key drugs.
Pfizer's fourth-quarter net income rose sharply because of the sale of its consumer health-care business last month. However, after adjusting for that gain and other items, Pfizer's earnings fell 15 percent on flat sales, hit by the patent expiration for antidepressant Zoloft last year.
---
BUSINESS PULSE