Man sought in assault on woman
Police want help finding a 47-year-old convicted felon who allegedly beat his ex-girlfriend, then chased her through the streets of Kalihi, ramming his car into hers.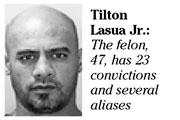 Tilton Lasua Jr.'s ex-girlfriend was asleep in the back seat of her car at about 6:30 a.m. Jan. 11 when he awakened her, police said. He allegedly tried to break through the window and punched her several times before she drove away.
Lasua followed her in his car mauka-bound on Kalihi Street, police said. They said he rammed the back of her car 13 times, causing her to crash into a parked car and then a telephone pole. She suffered minor injuries.
Lasua has 23 convictions, including abuse of a family member, burglary and theft. He was released from prison Sept. 29 after completing a five-year sentence for drug crimes.
He has brown eyes, black hair, a mermaid tattoo on his left shoulder, the word "Hawaiian" on his right forearm, a warrior on his upper right chest and the name "Lasua" with a snake tattooed on his back. He is also known as Boy, Alan Jay Cabebe, Tilton Kanoelehua Lasua Jr. and Lasua Tilton Jr.
Anyone with information is asked to call CrimeStoppers at 955-8300 or *CRIME on a cell phone.