| | |
| --- | --- |
| | Newswatch |
---
Bypass road addition set to open Monday
Kauai motorists heading toward Lihue will get some relief when the Kapaa Bypass Road extension opens at 1 p.m. Monday.
The one-lane extension begins just after Hauaala Road, connecting Kuhio Highway and the Kapaa Bypass Road at Olohena Road in Kapaa. The Kapaa Bypass Road continues to Wailua.
Koga Engineering and Construction completed the $3.64 million project. The state Department of Transportation advises motorists to use caution when learning the roadway and the Olohena Road roundabout.
Satellite city hall shuts for renovation
The Pearlridge Satellite City Hall will be closed for a three-month renovation beginning Tuesday.
During the shutdown, the public may go to nearby satellite city halls at Kapolei (1000 Uluohia St.), Wahiawa (330 N. Cane St.) and Waianae (85-670 Farrington Highway).
The improvements will cost $170,000 and include more space to conduct transactions, an upgraded air-conditioning system and improved work stations for office staff.
Mililani teacher earns Milken honor
A fifth-grade teacher at Mililani Waena Elementary School has received the "Teacher of Promise" award for demonstrating the highest qualities of a professional educator.
Natalie Rodrigues was given a plaque, gift basket and $1,000 from the National Milken Educators of Hawaii at a luncheon last Saturday.
"What truly inspires me the most are my students," Rodrigues said. "It is the twinkle in their eyes and the 'I'm kind of getting it' comments that drive me to do my best."
The award, which recognizes outstanding public school teachers during their first four semesters of teaching, will alternate annually between elementary and secondary school teachers.
The program awards gift packages and plaques to up to 14 more teachers each year, one from each complex area.
This year's complex area winners were Maile Bajet of Aiea Elementary, Lanelle Oshiro of Manoa Elementary, Kirstie Akana of Waiau Elementary, Jade Bright of Ahuimanu Elementary and Eddeille Boado Thomas of Kohala Elementary.
The group also recognized the 2006-07 Hawaii Milken Educator, Dr. Teri Ushijima, principal at Mokulele Elementary School.
| | |
| --- | --- |
| | Police, Fire, Courts |
---
NEIGHBOR ISLANDS


Hiker, 59, found dead after fall from cliff

A 59-year-old man hiking near the steam vents in Opihikao on the Big Island apparently fell to his death Thursday evening, Big Island police said.

The man was hiking with a 46-year-old Orange County, Calif., woman who reported him missing the next morning, police said.

The couple became lost in a forest after dark and were trying to find their way back to their car when the man reportedly fell, police said.

Firefighters who aided in the search said the woman had heard a splashing sound and lost contact with the man, then stayed in the area until morning, when she hiked to Highway 130 for help.

The woman led 25 rescue workers and two helicopters to the area where the man had fallen to the bottom of a 100-foot cliff.

The man was taken to Hilo Medical Center, where he was pronounced dead, police said. An autopsy will determine the cause of death. Police have withheld the man's name pending notification of his family on the mainland, and have classified the case an unattended death.
Attempted murder of policeman reported
Kauai police say a 21-year-old man tried to murder a police officer by dumping gasoline on him and trying to set him on fire nearly two weeks ago, Kauai police reported yesterday.
Police arrested Payton Rapozo on Jan. 7 at the Kapaa Family Project.
They said an officer responded to a domestic disturbance at the housing project when Rapozo tossed a liquid believed to be gasoline onto the officer and tried to ignite a lighter. He also wielded two knives and threatened to kill the officer, police said.
Officers subdued Rapozo and arrested him. He was charged that day with first-degree attempted murder, criminal property damage, terroristic threatening and unauthorized entry into a motor vehicle, said Kauai county spokeswoman Mary Daubert.
Police seek 2 men who shot Kula man in arm
WAILUKU » Maui police detectives were continuing to investigate a shooting that wounded a man at his home in Kula during an attempted robbery.
Police Lt. John Jakubczak said yesterday the man hurt in the arm was in stable condition at Maui Memorial Medical Center.
He said two men came to the home on Kolohala Drive at about 7:45 a.m. Thursday and asked for a man who had been there the night before.
When they were told the man was not there, the men demanded money and five shots were fired, one hitting the victim in the right arm, Jakubczak said.
Jakubczak said police recovered five shells from a .22-caliber handgun.
He said investigators were looking for the two men, who fled in a dark-blue sport utility vehicle, and also for the man who had been sought by the pair.
Jakubczak said the man shot had been renting the home.
Empty Civil Defense building burns
A vacant State Civil Defense building about 200 yards behind Mahelona Hospital on Kauai was destroyed by fire and sustained about $30,000 in damage yesterday, fire officials said.
Firefighters from Kapaa and Lihue responded to the 1:20 p.m. call and extinguished the fire two hours later, firefighters said. No one was injured.
Firefighters said the 714-square-foot wooden structure was built in the 1980s for Civil Defense but has been vacant for the last few years.
An adjoining concrete storage structure was undamaged.
The cause of the fire is being investigated.
LEEWARD OAHU


Teen is arrested in Nanakuli holdup

Police arrested a 17-year-old boy late Wednesday for allegedly trying to rob a Nanakuli business.

At about 10:30 p.m., they said, the boy brandished a handgun and demanded money from people at the store. He later confronted a 16-year-old boy in the store and demanded money, police said, hitting the boy three times before fleeing.

Police said the suspect returned to the store later and was arrested for investigation of first-degree robbery.
NORTH SHORE


Man is arrested in robbery attempt

Police arrested a 26-year-old man who allegedly tried to rob another man early Thursday in Waialua.

Police said that around 1:30 a.m. the suspect demanded money from a 32-year-old man and then punched him in the face before fleeing without taking anything.

He was found shortly afterward and arrested for investigation of second-degree robbery. The victim suffered minor injuries, police said.
HONOLULU


Known convict sought after Waikiki fracas

Police are asking for the public's help in finding Christian Kudlich, who is wanted for numerous auto thefts, injuring a police officer and other cases.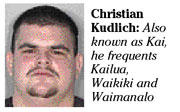 On Jan. 10 police stopped Kudlich in Waikiki, allegedly driving a stolen sedan. They said he fled, injuring a police officer who tried to stop him and hitting two parked cars and a patrol car during the escape. The officer's injuries were minor, police said.
Kudlich is well known around Kailua, Waikiki and Waimanalo and has a history of auto theft and burglary, police said. He was recently released from police custody for a separate auto theft and burglary case, according to police.
Kudlich was last seen driving a stolen silver 2000 four-door Toyota Corolla with the license plate MGJ-205.
Kudlich is 20 years old, has brown eyes and brown shaved hair, and is also known as Kai.
Anyone with information is asked to call CrimeStoppers at 955-8300 or *CRIME from a cellular phone, free on Cingular, Nextel Hawaii, T-Mobile and Verizon Wireless Hawaii.
Man accused of using forged money order
Police arrested a 41-year-old man Wednesday for allegedly using a fake money order at Wal-Mart.
They said the man tried to cash the forged money order using a forged Hawaii ID card at about 7 p.m. at the Keeaumoku Street store.
He was arrested for investigation of two counts of second-degree forgery.
WEST OAHU


Minor hurt by blast at Campbell High

Police are investigating an explosion at Campbell High School yesterday that caused minor injuries to a juvenile.

Police said an explosive device was detonated at 11:25 a.m. The case is being investigated as first-degree criminal property damage and ownership and possession of prohibited items.
Police seek armed robber of Aiea KFC
Police are looking for a man in his mid-20s who robbed Kentucky Fried Chicken at 98-316 Kamehameha Highway on Jan. 7.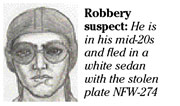 At about 2:30 p.m. the man entered the store, brandished a handgun and demanded money, police said. He fled in a white sedan with black trim and the stolen license plate NFW-274.
Police said the man had black hair and wore a gray T-shirt, dark bandanna, sunglasses and blue denim pants.
Anyone with information is asked to call CrimeStoppers at 955-8300 or *CRIME from a cellular phone.