| | |
| --- | --- |
| | Wood Craft |
---
Former Kailua boy opening eatery at Waikiki Beach Walk
Steele Platt
, 47, who grew up in Kailua, opens his 16th Yard House Restaurant on the new Waikiki Beach Walk Feb. 11. It will be the first of Waikiki Beach Walk's signature restaurants to open.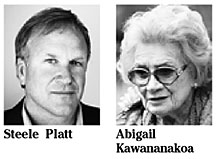 Steele attended Denver University and before starting the Yard Bird chain, he opened his first restaurant in the Mile High City in the early 1980s. He named it Kailua. Steele said he wished he had stuck with that name and concept. "It was like P.F. Chang's even before there was a P.F. Chang's," he said. "And it's tropical setting provided my guests with a bit of escapism from those harsh Denver winters." Some items on the menu here will have a Pacific Rim flavor. Yard Bird is known for its tremendous selection of draft beers. The Waikiki restaurant will seat 346 over some 11,500 square feet ...
Guido Salmaggi, former Mayor Frank Fasi's city auditoriums chief, has returned with wife Maria for good after 15 years in Sarasota, Fla. Guido says at age 90 he has all his hair, teeth and brain power and still sings the Star-Spangled Banner at events. "I'm happy to be back in beautiful Hawaii with all the wonderful local people," Guido said. "The only thing I miss seeing now are the lovely Hawaiian ladies wearing their muumuus with a hibiscus in their hair." Guido says he also misses the lei vendors' huts along Kalakaua ...
Bishop Museum honors Abigail Kawananakoa
Abigail Kawananakoa
was honored by Bishop Museum Wednesday. The new Abigail Kinoiki Kekaulike Kahili Room was named for Kawananakoa for her lifelong commitment to the preservation of Hawaiian culture and artifacts.
Dutchie Saffery
and
Kimo Alama Keauwane
performed a hula Kimo wrote to honor Kawananakoa. Among those attending were
Rubellite Johnson, Pat Bacon, Laakea Suganuma, Kapiolani Marignoli, Betty Lou Stroup
and
David Kawananakoa
.
Bill Brown
, who retired as museum chief Tuesday, conducted ceremonies...
Duke's Waikiki celebrates its 14th anniversary Friday ... Some 2.1 million Japanese households on Jan. 8 viewed the Tokyo Broadcasting System's taped broadcast of last month's Honolulu Marathon, Pat Bigold reports ... Mahalo, Colt Brennan, for staying with our UH Warriors ...
Ben Wood
, who sold the Star-Bulletin in the streets of downtown Honolulu during World War II, writes of people, places and things in our Hawaii. E-mail him at
bwood@starbulletin.com