The Bloomberg /
Star-Bulletin Index
---
Hoku's star is rising
Hoku Scientific Inc.
outshone its peers in the Bloomberg Honolulu Star-Bulletin stock index this week, with a 130 percent gain spurred by its $370 million solar-materials contract with Sanyo Electric Co.
The Kapolei company's stock closed the week at $5.56 a share, far above the $2 and $3 range in which it has been languishing in recent months. But even with that gain, the stock remains down more than 39 percent over the last 12 months.
Mera Pharmaceuticals Inc. came in a distant second for the week, up 14.29 percent at 0.6 cents a share. Over the last 12 months, Mera is down 60 percent.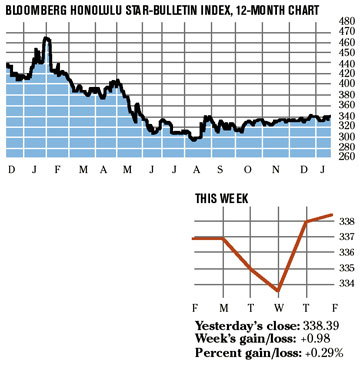 The Bloomberg / Star-Bulletin Index is a price-weighted index designed to measure the performance of Hawaii-based companies. The index was developed with a base value of 100 as of December 31, 1999. A chart of the index which shows the weekly performance of its members is published weekly in the Honolulu Star-Bulletin.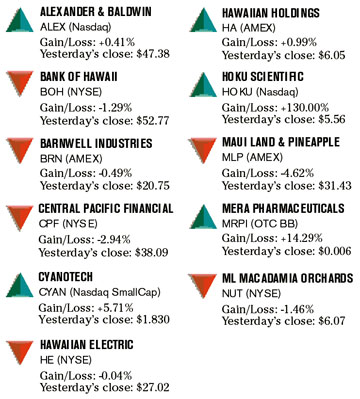 SOURCE: BLOOMBERG NEWS / STAR-BULLETIN GRAPHIC