| | |
| --- | --- |
| | Newswatch |
---
TAKING THE STAND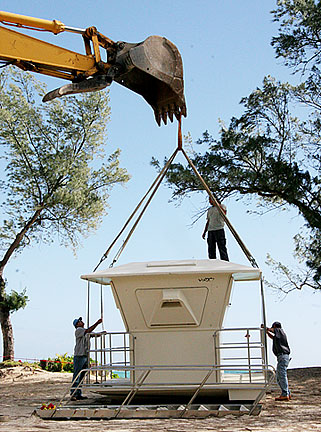 Medical school hits new high
The University of Hawaii's John A. Burns School of Medicine has received a record-high 1,901 applicants for 62 student openings in the 2007 fall semester: 223 from Hawaii and 1,678 from out of the state. Only six nonresident students are accepted per year. The previous record number of applicants was 1,629 last year. The Kakaako facilities and problem-based learning curriculum -- and the lure of Hawaii -- are cited by students as the major reasons for applying.
Senator starts intern program for students
Sen. Jill N. Tokuda (D, Kaneohe-Kailua) is launching "A Capitol Experience" internship program for Windward Oahu high school students to learn about government and the legislative process.
Applications must be submitted to her office by Jan. 26.
The intern will receive payment for training on the legislative process and be able to prepare and give testimony for an issue important to them at a committee hearing, according to a release.
Other responsibilities include providing support to the office staff; assisting in bill tracking and committee hearings; and contributing an article in the senator's community newsletters.
Tokuda said: "When I was a senior at Castle High School, I was given the unique opportunity to learn about government firsthand as a student hire at the Legislature. This had a profound impact on my career and the way I viewed my role in our community."
Applicants may contact Kamakana Kaimuloa at 587-7215 or via e-mail at k.kaimuloa@capitol.hawaii.gov.
Fireworks injuries increase 9 percent
The number of New Year's fireworks injuries increased 9 percent this year compared to last year, according to the Injury Prevention and Control Program of the state Department of Health.
This New Year's, 94 people were treated at Hawaii emergency departments for fireworks-related injuries, while 86 were injured last New Year's.
Most of the injuries were burns to the hands and fingers.
Officials to discuss plan to dredge ramp
KIHEI » State officials are holding a meeting tonight on Maui to discuss a plan to dredge the boat ramp at Keawakapu in south Maui.
The meeting starts at 6 p.m. at the Kihei Elementary School cafeteria at 250 E. Lipoa St.
Some 4,000 to 5,000 cubic yards of silt are expected to be removed from the basin to improve navigation in the harbor.
The last dredging was in 1999.
---
SHINING STARS
---
6 nonprofit groups win $5,000 grants
The
Mayor's Office of Culture and the Arts Production Grant
program awarded $5,000 to each of six nonprofit organizations. In its second year, the program supports the production of new works in dance, theater, music and literature.
This year's winners are: Dance Pioneers, Hawaii Foundation for Chinese Culture and the Arts, Hawaii Youth Opera Chorus, Hawaii Youth Symphony, Monkey Waterfall and the Alliance for Drama Education.
---
Catholic Charities Hawaii awarded $5,000 to its Kawaihae Transitional Housing Program on the Kona coast of the Big Island. The funds came from Central Pacific Bank's C.A.T.C.H. (Citizens Against Troublemakers and Criminals in Hawaii) Fund. The donation will be used to build a community playground at the facility.
---
The Hawaii People's Fund, a community-based foundation that supports grassroots efforts for progressive social change, awarded grants to the following organizations for its fall funding cycle: Defend Oahu Coalition; Hawaii Okinawa Alliance; Honolulu Gay & Lesbian Cultural Foundation; Kahuina Gallery; Koa Books; Kumu Kahua Theatre; Ma Ka Hana Ike; Na Ki'i Ke Aho; Not In Our Name-Hawaii; and Ohana 'O Hawaii.
---
"Shining Stars" runs Monday through Thursday.
| | |
| --- | --- |
| | Police, Fire, Courts |
---
HONOLULU
2 men sought after robbery, kidnapping
Police last night were looking for two armed men in their 20s who allegedly robbed a couple and kidnapped two men in Waialae near Wilson Community Park about 4:30 p.m. yesterday.
Police said a man and woman drove to visit friends at an Alakoa Street home. When they arrived, two unknown men in a maroon vehicle accosted them as the couple sat in their car in the driveway, police said.
The suspects, one of whom brandished a handgun, demanded money, police said.
Then they told the woman to get out of the car and the man to remain inside, police said. The suspects allegedly grabbed another man who was inside the house and left in the couple's Lexus.
Autopsy performed in possible homicide
The city Medical Examiner's Office performed an autopsy yesterday on a 58-year-old man who had been found dead with his hands bound in his Kapiolani Boulevard apartment at 9:50 a.m. Monday.
The victim was identified as Ted Hiroshi Arifuku.
He was last seen at about 9 a.m. Saturday by a neighbor in the parking garage of his apartment building.
Homicide Lt. Bill Kato said before the autopsy had been completed yesterday that police could not assume the man had been murdered.
Police were waiting for the results of the autopsy to make that determination.
The case had been classified as an unattended death.
WEST OAHU
Teen seriously hurt in 'road rage' crash
Police arrested a 19-year-old man who allegedly caused a 15-year-old boy to crash his mo-ped during a road-rage incident.
Police said a dispute escalated about 5:10 p.m. Monday in Kapolei when the suspect got out of his car and pushed a passenger on the mo-ped.
That caused the driver of the mo-ped to lose control and crash into a fire hydrant, police said.
The mo-ped driver suffered severe injuries to one of his legs and was taken to the hospital in serious condition, police said. The passenger, also a teenage boy, was not seriously hurt.
Police arrested the suspect for investigation of second-degree assault.
BREAKING
Man, 19, accused of punching girlfriend
Police arrested a 19-year-old who allegedly abused his girlfriend Sunday morning.
Police said the man and his 19-year-old girlfriend were arguing at about 9 a.m. in Waianae when the man punched and choked her.
Officers could not find the man Sunday but he turned himself in at about 1 a.m. today, police said. Police arrested him for investigation of felony abuse of a household member.