---
FAST FACTS HAWAII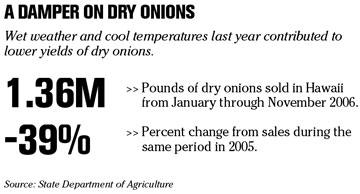 ---
HAWAII
Superferry for isles ready for launch
MOBILE, Ala. » This week marks a milestone for Austal USA in Mobile when it launches the first of two Hawaii Superferry craft from a ship shed on the Mobile River.
The vessel, longer than a football field,* is to be launched tomorrow.
Austal, one of the few aluminum ferry specialists in the world, in December 2003 won a contract to build two ferries for Hawaii Superferry Inc.
The value of the contract is about $190 million for both boats, said Terry O'Halloran, director of business development for the privately held Hawaii Superferry.
Work is under way in Mobile on the second vessel, scheduled for delivery in early 2009.
Kaija Wilkinson, Newhouse News Service
Longs Drugs buying 3 isle pharmacies
Longs Drug Stores Corp.
announced yesterday that it will add three more Hawaii locations to its lineup of retail stores across the islands.
The stores, which are located at the Kailua Professional Center on Oahu and in Kihei and Wailuku, are now owned by PharMerica Inc., a subsidiary of AmerisourceBergen Corp. Longs agreed to purchase the stores, which average 1,800 square feet, for an undisclosed amount in a deal that also included a California outlet. Terms of the deal were not disclosed, but it is expected to close in the next 60 to 90 days.
Longs, which has been in the islands since 1954, currently owns 32 stores across Hawaii. The new stores will operate under the Longs Pharmacy brand.
Island Air offers senior promotion
Island Air
is offering a free companion ticket for customers 55 and over for every roundtrip ticket that is purchased online by midnight tomorrow.
Tickets can be used systemwide, and travel must be completed by Feb. 8.
Island Air's Web site is www.islandair.com.
NATION / WORLD
Starbucks to offer organic milk
SEATTLE »
Starbucks Corp.
, under pressure from activists, plans to start using organic milk devoid of a growth hormone given to cows to increase production.
About 37 percent of the milk bought by Starbucks in January will be free of Bovine somatotropin, or rBGH, the Seattle-based company said yesterday. It's working with suppliers to determine when all its milk will be rBGH-free.
Groups such as Food and Water Watch say rBGH is harmful to both cows and humans and can lead to colon, breast and prostate cancer. Starbucks, the world's largest coffee-shop chain, has countered criticism by saying there isn't enough organic milk supply to satisfy demand at its 5,668 U.S. stores.
Organic milk costs more than milk with rBGH. The hormone, approved by the U.S. Food and Drug Administration in 1993, is banned by the European Union, Canada, Japan, Australia and New Zealand, according Food and Water Watch.
Intel profit plunges 39 percent
SAN JOSE, Calif. »
Intel Corp.
's fourth-quarter profit plunged 39 percent as the world's largest chip maker showed signs of reversing a painful price war with much-smaller rival
Advanced Micro Devices Inc.
but continued to pay for a massive restructuring and other streamlining efforts.
Intel said net income for the fourth quarter was $1.5 billion, or 26 cents per share, versus $2.45 billion, or 40 cents per share, in the same period a year ago. Revenue for the quarter was $9.7 billion, down 5 percent from $10.2 billion a year ago.
Verizon to shed more phone lines
NEW YORK »
Verizon Communications Inc.
, the second-largest U.S. local telephone company, plans to shed phone lines in Maine, New Hampshire and Vermont as part of its strategy to focus on its wireless and television businesses.
Verizon will spin off the assets, which will then be bought by FairPoint Communications Inc. in a transaction worth a total $2.72 billion, the companies said yesterday.
In 2004, President Lawrence Babbio said the company may sell or spin off as many as a quarter of its lines, citing a need to reduce reliance on "lower-growth assets." Since then, Verizon's lines have declined to 46 million from 54 million, including the sale of what is now Hawaiian Telcom in 2005 for $1.65 billion.
CORRECTION
Thursday, January 18, 2007
» A Newhouse News Service story on Page C1 of yesterday's morning and online editions incorrectly said the first Hawaii Superferry vessel is more than two football fields long. At about 350 feet, the ship's length is slightly more than one football field.
---
BUSINESS PULSE