BOOKS
New thriller has local setting
WRITERS are often encouraged to deal with what they know, and Honolulu author John Mickey knows medical research. "Ultimatum Day" is a detailed medical procedural story centered on seven brilliant scientists battling a fiendish bug called Brain Mold. If they don't come up with a cure almost immediately, "every life form on this planet ... will be extinguished."
"Ultimatum Day"
by John Mickey

(iUniverse Inc., 373 pages, $21.95)
Long narrative passages are thus devoted to the intricacies of lab research, all described in lovingly opaque medical jargon. Even the characters speak to one another like this: "I am so sorry, Yoshio. I, too, was certain that truncation of the terminal intron of the mu oncogene would allow disinhibition of G-coupled down-regulators that control expression of the surface gamma-peptide subunits." Unless you're a medical professional, or at least an "ER" enthusiast, you are likely to feel left out of it, like a child at an adult conversation.
Most of the tale is set in Hawaii -- the scientists are working in a secret government laboratory buried deep inside Mount Paniau on Niihau. Some characters have modern parallels: a female governor, a local doctor named Koa Makai and one Dr. Aku, supposedly leader of the Hawaiian independence movement. In a controversial portrait, he is depicted as little better than a seditious criminal who has misled his naive and gullible followers to the point of bloody revolution. The unfortunate inhabitants of Niihau, who in the end become the scientists' unwitting human guinea pigs, are also depicted as an ingenuous, easily manipulated mob.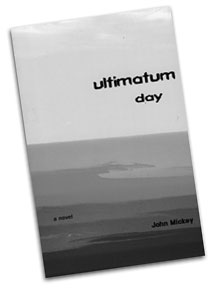 Containing these stereotypes is an increasingly unbelievable thriller-plot based on the idea that a mysterious evil genius known as A'a is threatening to unleash the lethal bacterium, a horrific bio-weapon that turns its victims into brainless corpses within seconds. A'a demands that the leaders of the United States, Iran, Libya and especially North Korea -- which has secretly amassed "a nuclear force comparable to that of the former Soviet Union" -- immediately be replaced with others genuinely interested in world peace. In other words, A'a is willing to destroy the planet in order to save it.
There is also a romantic subplot involving two sets of identical twins who independently fall in love. This might work for Shakespearean comedy, but it strains credulity in an already far-out science thriller.
Does Earth survive? Suffice to say that an unexpected narrative twist climaxes a story as up to date as this morning's headlines.
---
"Ultimatum Day"
can be ordered through bookstores or
www.iuniverse.com
.
Michael Egan
is a published author, scholar in residence at Brigham Young University-Hawaii and adjunct professor of English at TransPacific Hawaii College. E-mail him at
drmichaelegan@hawaii.rr.com