SONY OPEN PREVIEW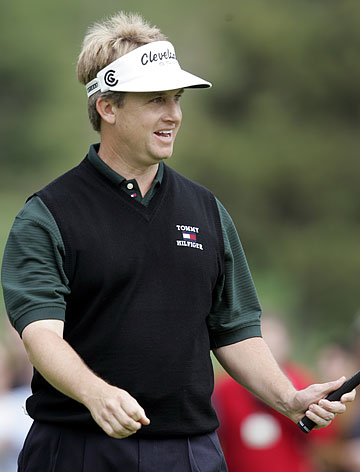 ASSOCIATED PRESS
Toms tops Sony field
David Toms will defend his title in one of the strongest groups ever assembled at Waialae
From the wide-open, wind-swept fairways of the Plantation Course, to the tight, narrow strips of grass at Waialae, it takes a special blend of player who can thrive on both as the PGA Tour enters phase two of the Aloha season with tomorrow's $5.2 million Sony Open in Hawaii.
As the first full-field event comes into view, there are plenty of storylines for local golfers to discuss near the trunks of their cars. Vijay Singh has now won both tour events in the island chain and is a formidable foe in the real opening act of the FedExCup.
SONY OPEN IN HAWAII
JUST THE FACTS
David Toms will defend his title after coming off a three-way tie for eighth at last week's Mercedes-Benz Championship at Kapalua.
What: The PGA Tour's first full-fledged field of 144 this year.
When: Tomorrow through Sunday.
Where: Waialae Country Club, 7,068 yards, par-70 (35-35).
Time: 7 a.m., tomorrow and Friday; 8 a.m., Saturday; 8 a.m., Sunday.
Prize money: $5.2 million, with the winner earning $936,000.
Defending champion: David Toms.
Previous champions: Vijay Singh (2005), Ernie Els ('04, '03), Jerry Kelly ('02), Brad Faxon ('01), Paul Azinger (2000), Jeff Sluman (1999).
Tickets: Daily admission tomorrow through Sunday $15. Season badge (all week) $50.
TV: The Golf Channel, 2-5:30 p.m., tomorrow, Friday and Saturday; 2-5 p.m. Sunday.
Parking: Free at Hunakai Park, Kahala Park and across the street from Kapiolani Community College on Diamond Head Road.
Shuttle bus service: Complimentary shuttle from free parking area at Hunakai Park and Kahala Park provided by E Noa. Roberts Hawaii Tours will provide complimentary shuttle from Kapiolani Community College. E Noa will also provide shuttle service ($2 one way) every 30 minutes (from 7 a.m.-6 p.m.) from Waikiki to the golf course -- stops include the Hilton Hawaiian Village Tapa Tower, Outrigger Islander Waikiki, Duke Kahanamoku Statue, Waikiki Beach across the zoo and the Waikiki Aquarium. Call 591-2561 for more information.
City bus: Regular city bus service will be available. Call TheBus information department at 848-5555 or visit thebus.org for routes and times.
TOMORROW'S TEE TIMES
First tee
7:10 a.m.: Shigeki Maruyama, Billy Mayfair, Paul Stankowski.
7:20: Charles Howell III, Bob Estes, Steve Lowery.
7:30: Daniel Chopra, Michael Allen, Shane Bertech.
7:40: J.B. Holmes, Heath Slocum, Jeff Sluman.
7:50: Ben Curtis, Fred Funk, Shaun Micheel.
8: Eric Axley, John Rollins, Carl Petersson.
8:10: J.J. Henry, Aaron Baddeley, Peter Lonard.
8:20: Mark Hensby, Paul Azinger, Pat Perez.
8:30: Gavin Coles, Stephen Marino, Michelle Wie.
8:40: Craig Bowden, Anthony Kim, John Merrick.
8:50: Tripp Isenhour, Chris Tidland, Kevin Hayashi.
9: Kevin Stadler, Doug LaBelle II, Abe Mariano.
11:40: Jerry Kelly, Steve Stricker, Bill Haas.
11:50: John Daly, Briny Baird, Bo Van Pelt.
Noon: John Huston, Matt Kuchar, Brett Quigley.
12:10 p.m.: Will MacKenzie, Jason Bohn, Kenny Perry.
12:20: Trevor Immelman, Jeff Maggert, Bart Bryant.
12:30: Vijay Singh, Corey Pavin, Brett Wetterich.
12:40: Jim Furyk, Stuart Appleby, Tim Petrovic.
12:50: Cameron Beckman, Richard S. Johnson, Ryuji Imada.
1: Bob Heintz, John Mallinger, Jim Rutledge.
1:10: Cliff Kresge, Rich Barceio, Michael Putnam.
1:20: Bryce Molder, Craig Kanada, Hideto Tanihara.
1:30: Paul Sheehan, Craig Lile, Joe Daley.

10th tee
7:10 a.m.: Tom Pernice, Jr., Bubba Watson, Daisuke Maruyama.
7:20: Brian Gay, Mathias Gronberg, David Branshaw.
7:30: Ryan Palmer, Robert Allenby, Jesper Parnevik.
7:40: Joe Durant, D.J. Trahan, Luke Donald.
7:50: Davis Love III, Tim Herron, TomLehman.
8: Dean Wilson, Geoff Ogilvy, Arron Oberholser.
8:10: John Senden, Robert Gamez, Rich Beem.
8:20: Paul Goydos, Dicky Pride, Craig Barlow.
8:30: Robert Garrigus, Jason Dufner, Azuma Yano.
8:40: Brandt Snedeker, George McNeill, Ryan Armour.
8:50: Parker McLachlin, Andrew Buckle, David Chin.
9: Boo Weekley, Steve Wheatcroft, Tadd Fujikawa.
11:40: Chris Smith, Dudley Hart, Nathan Green.
11:50: Steve Flesch, J.P. Hayes, Harrison Frazar.
Noon: Glen Day, Joe Ogilvie, Matthew Goggin.
12:10: Rod Pampling, Chad Campbell, Ted Purdy.
12:20: Stephen Ames, David Toms, Wes Short, Jr.
12:30: Chris Couch, Rory Sabbatini, Stewart Cink.
12:40: K.J. Choi, Troy Matteson, Mark Calcavecchia.
12:50: Charlie Wi, Jarrod Lyle, Juvic Pagunsan.
1: Paul Gow, Tom Johnson, Brian Miller.
1:10: Darron Stiles, Jeff Quinney, Kaname Yokoo.
1:20: Scott Gutschewski, Chris Stroud, Yusaku Miyazato.
1:30: Ken Duke, Johnson Wagner, Scott Piercy.

Singh is the early leader for the deferred $10 million prize that will be awarded on September 16. This payout is best explained by a tax attorney, but the word retirement is somewhere in the first sentence, so it's a safe bet Tim Finchem won't be tour commissioner when the winner finally cashes the check. Finchem dropped by to say hi during the final round of the Mercedes-Benz Championship on Sunday and did his best to explain the FedExCup where points and money share center stage. Finchem is a fine speaker who thinks well on his spikes, but even he concedes it boils down to seven simple words.
The guy with the most points wins.
You see? That's why he's the commissioner.
Now, we all know how this story will end come the fall. Tiger Woods is going win it, right? Well, that may be the case. He's clearly the best player in the world. Still, you have to do it on the course. And the way Singh played on Sunday, coupled with his genuine affection for Waialae, it's not hard imagining him following Ernie Els' plan of 2003: win them both and take an early lead.
But before you crack open the piggy bank to put mama's hard-earned cash on Singh, don't overlook defending champion David Toms, who lost a chance for the 2002 Mercedes title in a playoff with Sergio Garcia. Toms turned 40 on the opening day of the tour season. And if Singh has shown us anything, 40 is just warming up.
Toms had a wicked round to close the door on his Mercedes. Sunday's 6-under 67 was the best of the tournament and made more special still when considering the persistence of the wind. The Golf Channel did its best to show the trials and tribulations of playing at Kapalua, but unless you follow a guy for 18 holes on a course where the changes of elevation take your breath away, you don't get a true feel for it.
"I came in here not playing any golf at all," Toms said after Sunday's final round. "Literally, I played one week at the Target since the Tour Championship and I didn't play golf any other day at home. So, I came here pretty rusty and I improved every single day ball-striking wise. If I can continue to do that, I should be looking good by (this) week.
"I played well (at Waialae last year). Usually, accuracy is pretty important there and if I get to driving the ball well, I was driving it well here (at Plantation Course), so I look forward to going over there. Obviously, you have to putt well to win there. The greens are pretty flat and there will be some birdies. So, you know, that will be a key to success."
Waialae offers an equally interesting challenge where the wind can make the place just as treacherous as its younger cousin on Maui. Only two golfers from the Mercedes field of 34 decided to sit this one out and there are plenty of other talented golfers in the field waiting to crack the FedExCup lineup as well.
As intriguing as the Toms-Singh matchup could be, there are equally compelling local angles. Michelle Wie is back for a fourth try to make the cut as her quest to play with the world's best continues. The questions and critics are becoming more pointed as Wie grows into her game, but if she's bothered by the skeptics, she doesn't show it.
"I'm extremely excited," Wie said. "I love playing here. I love the golf course. It's going to be a very special week for me. I feel good. Hopefully, I'll play some good golf this week. I've been working really hard on my golf game trying to get more consistency with my shots. I spent two weeks down at Florida working with (swing coach David) Leadbetter working on my swing a little bit. It's been a long time since I had a chance to do that."
Dean Wilson and Parker McLachlin deserve equal billing to their local counterpart.
Wilson's story is becoming better known with each passing week and McLachlin's recent survival at Q-school is worth telling as well. Both want to play through to the weekend. Wilson overcame a slow start on Maui to play Plantation 2 under for the weekend. His familiarity with Waialae can't hurt.
"I feel like my game is getting into shape," Wilson said. "Obviously, I want to play well this week. I have a good feel for the course and I like the way I'm playing right now."
As talented as the local golfers may be, they still have to contend with No. 2-ranked Jim Furyk and Singh, who rose to No. 5 in the world on the strength of last Sunday's two-stroke win over now No. 3-ranked Adam Scott.
Current U.S. Open champion and No. 9-ranked Geoff Ogilvy is in the field, as well as No. 10 Luke Donald, No. 12 Trevor Immelman and No. 16 Davis Love III. Toms comes in at No. 19. Like many of the golfers on tour, he's still trying to figure out the FedExCup race.
"I guess this little FedExCup thing, I'll figure that one out and do the best I can in that," Toms said. "It used to be top 30 on the money list was the goal, but now it's top 30 in points."
In all, seven of the top-10 money winners of 2006 are here as well as 16 of the top 20. It's the strongest and deepest field in recent memory. Also playing are 2006 Ryder Cup captain Tom Lehman, who lost to Wilson in a one-hole playoff at the International last summer, and 2008 Ryder Cup captain Paul Azinger.
John Daly was given a sponsor's exemption for this event. He befriended Wie last summer before the now-defunct 84 Lumber Classic and is convinced she's got game. What she won't have is any FedExCup points should she survive through to Saturday. But considering she pocketed $20 million last year, $10 million deferred isn't quite as attractive.
"I think it's great she's playing here," Azinger said.
"If she can bring people to the golf course, that's great. Golf took a hit last year in attendance and ratings, so we need fans to come to the events and she's definitely a big draw here. At some point, she may want to scale back a bit playing men's events, but this is a perfect place for her to play."