ENTER TO WIN!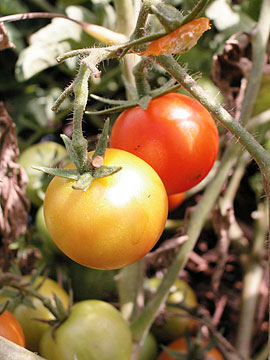 STAR-BULLETIN / 2002
Tell about the many ways to serve tomatoes
What can you do with a tomato? The Hamakua Springs "You Say Tomato" Recipe Contest is looking for the best tomato recipe in the categories of entrée, salad and preserves/condiments.
The prize: Up to $350 in gift certificates for Foodland and Sack and Save supermarkets. The Top 3 winners in each category will tour Hamakua Springs Country Farms in Pepeekeo (including airfare to the Big Island).
Deadline to enter is Jan. 31. All recipes will be prepared by Hilo Community College culinary students for sampling by judges. Winners will be announced March 14.
The contest is open to Hawaii residents only; recipes must be original and previously unpublished. Submit entries via e-mail (contest@hamakuasprings.com) or mail to Hamakua Springs Recipe Contest, 421 Lama St., Hilo 96720. Call (808) 981-0805 or visit www.hamakuasprings.com for complete rules.