---
FAST FACTS HAWAII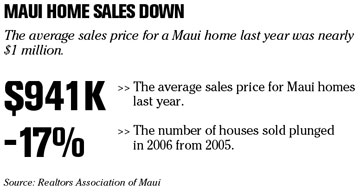 ---
HAWAII
Go! fills two-thirds of its airline seats
Interisland airline go! yesterday reported an increase in the percentage of seats it filled last month, to 66 percent.
The Mesa Air Group Inc. unit, which began flying in June, said yesterday it carried 58,437 passengers during December.
Go!'s load factor previously was 63.7 percent in November. Its highest load factor was 82.5 percent, achieved in June. The number slid to 73.9 percent in July, and has been in the 60 percent range since.
The load factor for its Phoenix-based parent company was 72.7 percent for December, up slightly from 71.6 percent during the same month in 2005.
[HAWAII INC.]
PROMOTIONS
» First Hawaiian Bank has announced the following promotions:
Milton K. Asano
, vice president and senior information technology auditor, audit division;
Charles K. Erskine
, vice president and area manager for the Honokaa, Waikoloa and Kamuela branches;
Alice A. Herring
, vice president, credit services division;
Laurae Imamura
, vice president, commercial loan center;
Peter F. Nagata
, vice president, branch real estate division;
Karin van den Berg
, vice president, card services division;
Kendall J.H. Wong
, vice president, Kaneohe branch; and
Aaron J. Young
, vice president, appraisal services center.
» Starwood Hotels & Resorts Hawaii has appointed Kelly Sanders as general manager of Sheraton Waikiki. He previously served as general manager of Sheraton San Diego Hotel & Marina. He began his career with the company in 1996 as director of rooms at the Westin Horton Plaza in San Diego.
» Castle & Cooke Inc. has promoted W. Bruce Barrett to executive vice president of residential operations from vice president of sales and marketing. He has more than 30 years of experience in real estate development, and will be responsible for all aspects of residential development in Hawaii. Donna Tomita has been promoted to vice president of sales and marketing from director of marketing. She joined the company in 1995 and has over 20 years experience in the building industry.
» First Hawaiian Bank has announced several promotions. Edwina Oliveira has been promoted to vice president and Bank Secrecy Act officer in the corporate compliance division. She will oversee the bank's day-to-day regulatory compliance. Dean M. Agena has been promoted to branch manager of the King-Liliha branch. He will manage the business and personal banking development activities. Carrie M. Hasegawa has been promoted to assistant vice president in the marketing communications division. She will manage direct mail projects, administer mailing list processing and develop e-marketing initiatives. Maria Bartolome has been promoted to assistant vice president in the retail credit products center. She will be responsible for small business loan product development. Donna Takekawa has been promoted to operations officer of the commercial real estate division. She provides support for loans in the areas of commercial real estate, asset lending, and the branches.
---
NATION / WORLD
DOT picks United for China route
WASHINGTON » The federal government yesterday tentatively granted
UAL Corp.
's United Airlines the right to operate the first-ever nonstop daily flight between the United States and China.
The Department of Transportation's approval gives United, initially at least, lone access to a burgeoning travel market that its competitors had also sought to enter.
The Elk Grove Village, Ill.-based airline can begin nonstop service between Washington Dulles International Airport and Beijing's China Peking Capital Airport on March 25 if the tentative decision becomes final, the government said.
Emmis net plunges on ad sales
INDIANAPOLIS »
Emmis Communications Corp.
, a radio broadcaster that is selling its television stations, said net income dropped 98 percent and radio advertising sales fell. The shares rose after operating profit topped some estimates.
Third-quarter net income sank to $3.13 million, or 2 cents a share, from $200 million, or $5.36 a share, a year earlier, when it gained $197.5 million from sales of TV stations, Indianapolis-based Emmis said yesterday in a statement. The results beat Stanford Group analyst Frederick Moran's estimate for earnings of 1 cent a share.
In 2005 Emmis began selling its 16 television stations, including KHON-TV in September of that year. Two remain to be sold: KGMB-TV in Honolulu and WVUE-TV in New Orleans.
---
BUSINESS PULSE