Round Top murder defendant's mental state in question
He believes he is a U.S. secret agent, documents indicate
City prosecutors say a defendant accused of killing three people last July had notes outlining a plan to commit crimes, including the death of a taxicab driver.
Police seized the notes from Adam Mau-Goffredo's car and used the evidence in seeking a warrant to search his 10th Avenue home for items relating to the killings on Round Top Drive.
But defense attorneys say the search was improper because the search warrant was unconstitutionally broad, and are asking that the court throw out the evidence.
"We're asking that evidence illegally seized be suppressed," said Brook Hart, attorney for Mau-Goffredo, 24. Whether the handwritten notes fall under the scope of those illegal seizures will be included in arguments before Circuit Judge Dexter Del Rosario tomorrow.
Documents filed by prosecutors last week defending the search include five photocopied pages of notes written in flowery calligraphy dated July 6, the day taxicab driver Manh Nguyen and Kapahulu couple Jason and Colleen Takamori were each shot in the head near Tantalus.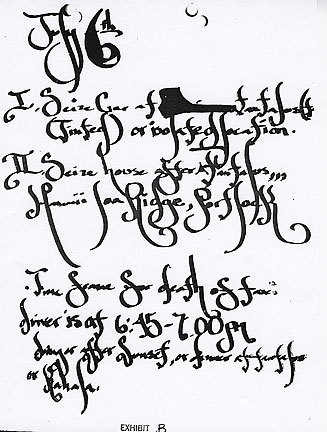 COURTESY IMAGE
Documents filed by prosecutors last week included five photocopied pages of notes written in flowery calligraphy dated July 6. Police seized the notes from Adam Mau-Goffredo's car and used it to obtain a warrant to search his home for items relating to the killings on Round Top Drive.
CLICK FOR LARGE
The notes were contained in composition notebooks found in a bag, along with Mau-Goffredo's identification, in a green 2002 Jaguar he was driving when stopped later that evening. The car had been stolen from a Round Top Drive home after the fatal shootings. A couple living at the Round Top Drive home and their housekeeper were held at gunpoint and tied up before their assailant fled in the couple's Jaguar.
According to police, the notebooks contained "notes of a plan" to commit crimes. One page referred to "Seize car at Tantalus (tinted) or isolated location," followed by "seize house after Tantalus ... Hawaii Loa Ridge, Portlock." The notes also referred to a "Time frame for death of taxi driver" at 6:45 to 7 p.m.
Hart said the contents of the notes show "it was part of a greater delusion ... part of Adam's psychotic and schizophrenia paranoid type, which will be relevant to further proceedings in the case."
The notes also recorded Mau-Goffredo's perceptions that "he was God and King of Kings" and are an indication he was clearly deluded about his place in the world, said Hart, who declined further comment about their defense.
Mau-Goffredo's team has not indicated to the court what the defense will be. The state has asked the court to appoint doctors to examine Mau-Goffredo to determine whether he is fit to proceed to trial and his state of mind at the time of the killings.
Prosecutors contend that Mau-Goffredo's penal responsibility "will or has become an issue in this case," because he has been diagnosed in the past as having schizophrenia, paranoid type, and was using antipsychotic medications. The Family Court declared him an "incapacitated person" at a June 2006 hearing and appointed his mother and another individual as his guardians.
Prosecutors noted that when he was arrested, Mau-Goffredo was wearing a hat with "CIA" in the front. And when asked by police for identification, he allegedly told them he was working for the U.S. government and that his job and address were "classified."
His court-appointed caregiver has said Mau-Goffredo believes he is a member of the CIA and FBI and that he had stopped taking his medications regularly for at least six months before July 6, according to court documents.
Hart said they do not oppose the examination, but take issue with the details and the manner in which it will be conducted. Del Rosario has yet to rule on the request.
Mau-Goffredo was indicted July 12 on 18 counts, including first-degree murder, three counts of second-degree murder and kidnapping, first-degree burglary and firearm charges in the July 6 incidents.
If convicted of first-degree murder, he faces Hawaii's harshest penalty, life without parole.