NEW ON CD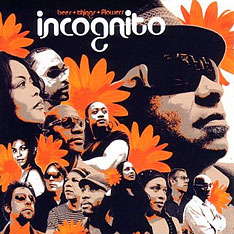 INCOGNITO.ORG.UK
"Bees + Things + Flowers"
Incognito (Narada Jazz)
British producer creates a groove to match any musical mood
Jean-Paul "Bluey" Maunik, one of the main men behind the acid jazz and neo-soul movement in the U.K., has put out some of the smoothest and grooviest music under his ongoing Incognito project for years now. On Incognito's latest album, Bluey has produced a fine vibe-friendly package of tunes that include down-tempo remakes of previous Incognito hits, some well-chosen covers and three new compositions.
On the band's Web site, Bluey wrote that "the album was recorded the old-fashioned way (everyone playing live in the studio and a few overdubs)," and you can hear the difference.
The tracks alternate between the simple and soulful remakes and more ambitious performances featuring horn and string arrangements. Six strong vocalists are also featured on this album, ranging from newcomers Imaani and Tony Momrelle to veterans like featured Incognito singers Joy Rose and Maysa Leak, and the legendary Jocelyn Brown and Carleen Anderson.
The album's first three songs set up the overall mood, kind of like tone poems, with covers of Roy Ayers and the Soul Society's "Everybody Loves the Sunshine" and an interesting version of the Lovin' Spoonful's 1960s hit "Summer in the City" bookending a remake of "Everyday" that features Imaani accompanied by a ringing Fender Rhodes.
From there, the album blossoms with Brown's two showcase songs, a lush remake of "Always There" that seamlessly segues into the newer "Raise." (Bluey's lush arrangement for this song and the stripped-down "Deep Waters" are particularly noteworthy.)
Another older song, "Still a Friend of Mine," features fine trade-off vocals by Leak and Momrelle, while the sweet desire expressed in the new song "Crave" showcases Imaani's sensual voice. (By the way, if you want to hear more, Maysa Leak has a U.K. release-only of her new album, "Smooth Sailing," which includes Bluey's production on the song "Soul Child."
Of the remaining covers, the take on the America hit "Tin Man" is pleasant and breezy. And Maurice White would be proud with what Bluey does with an expansive take on the Earth Wind & Fire classic "That's the Way of the World" that features nylon guitar and flute solos, and all voices soaring.
"Bees + Things + Flowers" is a perfect mood-and-groove maker.