---
FAST FACTS HAWAII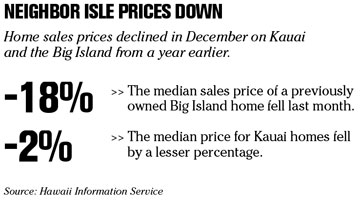 ---
NATION / WORLD
Radio Shack warns of 'sales challenges'
FORT WORTH, Texas » Electronics retailer
RadioShack Corp.
said yesterday it expects to post a bigger fourth-quarter profit than it earned a year ago because of better margins and inventory control and less overhead.
However, sales at stores open at least a year, a key measurement in retailing, declined 7.8 percent in the past three months. And the company's chief executive warned of "sales challenges" in early 2007.
The Fort Worth-based company struggled in 2006 with slower sales of wireless service and saw a chief executive leave after admitting fabrications on his resume.
RadioShack is scheduled to report fourth-quarter earnings around Feb. 27. The company said yesterday it would earn more than the $51 million profit it earned a year ago.
NCR to spin off data warehousing
DAYTON, Ohio » ATM maker
NCR Corp.
said yesterday it will spin off its data warehousing unit, separating its business into two publicly traded companies.
The spinoff of Teradata, which will take six to nine months, will allow each company to better focus on its individual customer base, business strategy and operational needs, NCR said.
"NCR and Teradata are each major and attractive businesses, but they operate in different markets with markedly different business models," said Bill Nuti, expected to continue as president and chief executive of NCR. "Creating two separate companies strengthens the business prospects for both."
Teradata sells computers that store and analyze massive amounts of data. Companies use them to get quick answers to complex questions about their inventories and other aspects of their business.
GM, Ford report China sales gains
BEIJING »
General Motors
and
Ford
said yesterday their sales in China's booming car market jumped last year, a boost for the U.S. automakers that have seen demand slump in their home markets.
General Motors, the biggest American automaker, said it sold 876,747 vehicles in China last year, up 32 percent from 2005. It said sales of its flagship Buick brand grew by 24.9 percent to 304,230 units.
Ford said sales of its brands -- which include Ford, Lincoln, Jaguar, Land Rover and Volvo -- rose 87 percent to 166,722 units. Sales of Ford-brand vehicles were up 89.3 percent at 155,404.
Foreign automakers are competing aggressively in China, where sales are expanding at double-digit annual rates and major U.S., European and Asian producers have set up factories.
Home Depot tightens process for CEO pay
Home Depot Inc.
, which ousted Chief Executive Officer Robert Nardelli following investor criticism of his pay, tightened the approval process for future CEO compensation packages.
The CEO's wages will now require the approval of two- thirds of the board's independent directors, up from 50 percent, the Atlanta-based Home Depot said yesterday in a regulatory filing.
Home Depot's board awarded Nardelli $225 million in compensation during his six years running the company. He was replaced last week by Vice Chairman Frank Blake. The board gave Nardelli $210 million as part of his separation package, which included compensation and benefits earned but not received.
Ten of the 12 directors are considered independent, so the new requirement means seven members would have to approve the CEO's pay package, two more than currently needed.
GE to buy maker of drilling equipment
General Electric Co.
agreed to buy drilling-equipment maker
Vetco Gray Inc.
for $1.9 billion as dwindling oil and gas reserves prompt energy companies to boost investment in opening new fields.
GE will add 5,000 employees in more than 30 countries, including plants in Scotland, Brazil and Singapore, by acquiring Houston-based Vetco from 3i Group Plc, JPMorgan Partners LLC and Candover Investments Plc, the companies said yesterday.
---
BUSINESS PULSE