---
FAST FACTS HAWAII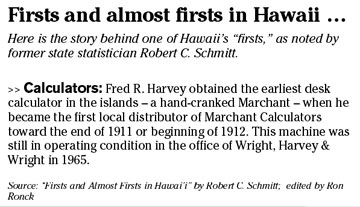 ---
NATION


Next tech leader to come from Asia?

Seattle produced technology great Bill Gates, but where will his successor come from? Not here, most Americans said in a recent survey.

Nearly half of Americans said that the next great technology leader will come from China or Japan, while just one in five believe he or she will hail from the United States. Thirteen percent think India will produce the next tech great.

Zogby International and 463 Communications released the survey.

"The next Bill Gates has already been born, and time will tell what country is providing the environment of innovation, entrepreneurism and opportunity to enable him or her to flourish with the next great idea," said 463 partner Tom Gavin.

The survey also showed that Americans overwhelmingly believe that the average 12-year-old knows more about the World Wide Web than their congressman.

Two-thirds of Americans also believe that the Internet will be accessible anywhere in the world in the next 10 years.

The survey polled 1,203 adults by telephone in December.
How to determine your 'dream job'
It's a new year and you're ready for a fresh start to your work life, but you're not sure what you want. Finding your dream job doesn't have to be a chore, according to one expert.
"The 'dream job' tends to be an elusive thing for a lot of people," said career coach Cynthia Shapiro and author of "Corporate Confidential: 50 Secrets Your Company Doesn't Want You to Know." "People put too much pressure on themselves to figure it out and often they look for something too specific."
To figure out your dream job and how to get it, Shapiro offers the following tips:
» Clarity: Often the most important part of your dream job isn't just the job function, but other aspects. Maybe you want child care down the hall from your office or you want to live in certain part of the country. Focus on what makes you happy and fulfilled and look for positions and companies that offer that.
» Courage: "You could be the person that talks about getting your dream job at parties, or you can get out and do it," Shapiro says. Don't let comfort in your work routine keep you from looking for something else.
» Constantly search: Most people only look for their dream jobs when they're looking for a job.
"It's very difficult to find a dream job when you're worrying about paying the bills," Shapiro said. "And what are the chances that you'll find your dream job in that three-month window when you're looking for a job? You need to search every single day."
Finance pros expect modest growth
After consulting their crystal balls, most financial professionals are predicting modest growth in the new year, according to a recent survey of 667 financial professionals by the Association for Financial Professionals.
Nearly half of respondents expect business conditions in 2007 to remain the same as last year, while nearly one-third think conditions will improve. Only one in five professionals said business conditions will deteriorate this year.
Employment has an equally upbeat outlook. Forty-six percent of professionals said their organizations intend to hire more personnel in the United States, while 37 percent report that their organizations will maintain its current staffing levels. Only 13 percent expect their work force to shrink.
Those surveyed aren't worrying much about out-of-control inflation this year. Respondents predict consumer prices will rise by a modest 1.8 percent this year.
---
BUSINESS PULSE