Great expectations for 2007
On New Year's Day, we published letters from isle residents -- young, old and in between -- telling us of their desires and predictions for this year. Today, we offer another sampling of the many letters we received.
---
DREAM FOR 2007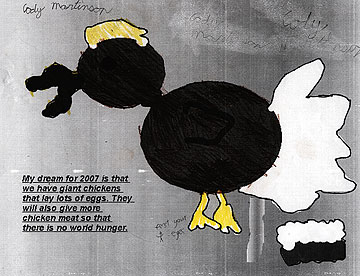 ---
Spirit of aloha
Hauoli makahiki hou! I wish that people would have the spirit of aloha within them. This is Hawaii. Check the traffic in Honolulu. The young people think that the road belongs to them. "Hey, I can drive, talk on the cell phone and put my make-up on. Let the other individual worry about the traffic, not me." I try to be courteous and let the other drivers have the benefit of doubt.
Even the elected officials are put-ons. The only political figure that I respect and who has the spirit of aloha is Sen. Daniel Akaka. To me, he personifies the Hawaii way of life. Too bad that others cannot be like him. Would this not make Hawaii a much better place to live?
Alfred Akana
Honolulu
---
It'll be chilly down below
In 2007:
» The Office of Hawaiian Affairs will issue a press release announcing its opposition to the Akaka Bill because it is racially divisive;
» Kamehameha Schools will throw open its doors to non-Hawaiians to fulfill its commitment to the Hawaiian values of aloha, ho'okipa, and lokahi;
» A taxpayer revolt will force the City Council to cancel plans for a choo-choo train and roll back the excise and property tax hikes;
» And the temperature in Hell will drop below zero for the first time in recorded (and unrecorded) history.
Ken Conklin
Kaneohe
---
Higher learning
My new year's dream is for all of Hawaii's children to have access to excellent education. My expectation, however, is that public education will remain at the current abysmally low level. I challenge the Board of Education, the leadership of the Department of Education, the Legislature and the governor to prove me wrong.
John Kawamoto
Honolulu
---
Women in high places
In 1945, my high school civics teacher (a nun) instilled in me a passion for civics and government. I am as happy and proud as I have ever been that Rep. Nancy Pelosi is the speaker of the House of Representatives and that Mazie Hirono sits in the seat of our late, great Patsy Mink in the 110th Congress. God bless the American voters! Looking forward to a great 2007 and peace.
Nancy Bey Little
Makiki
---
Year of the taxpayer
My hope for 2007 is that taxpayers finally realize that the "price of paradise" has gotten out of control. Typically we will all say that we love Hawaii so much that we will just continue to pay whatever it takes to live here no matter what.
Since 2004 the general public has seen the following increases: the bottle and can tax (6 cents apiece), sewer fees (25 percent the first year, 15 percent thereafter for four years), gasoline tax (11 cents per gallon as of Jan. 1), vehicle weight fees (100 percent over two years), Hawaiian Electric Co. (10 percent), Young Bros. shipping (7 percent), property taxes (more than 50 percent in two years), general excise tax increase (12 percent more starting in 2007) and water fees (10 percent).
I hope that 2007 is the Year of the Taxpayer and we finally become a special interest of our own that is listened to by the politicians.
Garry P. Smith
Ewa Beach
---
The following letters were written by students at Sacred Hearts Academy.
New Year with no fear
As I begin the process of searching for colleges and taking the SATs, I know that I will have to face the reality that I will be leaving the school that has sheltered me for my high school years. Therefore, my goal for this coming year is not to be afraid of anything new or strange and to face life with an optimistic outlook despite some stressful, disappointing days.
I don't regret anything that happened last year because it has made me stronger mentally, physically and spiritually. Goodbye, 2006, and hello, 2007!
Cydrienne Llamas
Junior
---
Build character
My goal for 2007 is to change not by losing weight or getting straight As on my report card, but changing to build character. I want to become more forgiving, more patient and less judgmental. My other goal is to focus on helping my community become a better, more peaceful place.
Mariah Maniulit
Freshman
---
MAKE THE WORLD A BETTER PLACE!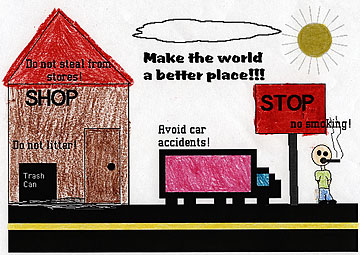 ---
Put others first
I hope that there are changes in Americans' lives so that they can live longer, healthier lives. I also hope that there will be a change in heart for many to help others worldwide, so that people will be more generous in helping others before helping themselves.
Paige Castillo
Freshman
---
Peace starts at home
My hope for 2007 is for only one thing: peace.
Every day men and women are fighting in faraway places, families feud among themselves and friends fight with one another. Maybe in the near future, people will learn to communicate better to avoid conflict, will help one another, and differences will be set aside to establish harmony. This year I will strive for peace.
Kanya Gagarin
Freshman
---
Self-discipline is key
I hope to become a better person in 2007. I want to treat others better and help those in need. I want to practice self-discipline and be able to accomplish my goals in less time. The new year really is a "genesis" because it is a chance for me to become a new person.
Alissa Torigoe
Freshman
---
Higher tech, lower disease rate
The most recent and amazing technological advancement is the iPod. For the year 2007, I expect even greater things from technology. I also expect that teenagers will find a new Web site to spill their personal details and myspace.com will be very last century.
As for the world, I hope that we can all find a way to control the spread of AIDS and other sexually transmitted diseases because this can affect us all in the near future.
I also hope that the victims of terrible tsunamis and other natural disasters, such as Hurricane Katrina, can rebuild their homes and lives.
Alyssa Manlutac
Grade 10
---
The following letters were written by Nuuanu Elementary School students.
Stop boredom and suffering
I hope that someone creates new electronic games for kids so I am not bored any more. I also hope that gas becomes cheaper because people don't have that kind of money to pay for that kind of gas.
Do you know how many people are in war? No, me neither, but I do know that there are more than 1,000 people over in Iraq. I also know that more than 3,000 Americans have died and that means 3,000 families having funerals and having to suffer losing the ones that they love.
So I am hoping that soldiers come home so that all of the families with people who survived can be happy again.
Nina Pleasants
Age 11, grade 5
---
No global warming, 'lite' fast food
I hope for no global warming. Scientists are working around the clock to find out if this is going to happen or not. I really, really hope not.
Next, finding a cure for Bird Flu would be nice. Hopefully, scientists will figure out a cure for this horrible disease. Finally, world peace! Too much wars. Too little peace. World leaders, make it happen! Settle differences!
Now, some of my own personal wishes ... well, for one, Wii. I am an official Nintendo fanboy, and I approve this message. I really hope they pull over their competitors. The X-Box 360 is way out of reach for Nintendo to sell more, but I recently heard that more Wiis have been sold than PS3s. This bodes well for Nintendo.
OK, McDonald's to make low-fat foods ... Aha! I have succeeded in failing to get my submission accepted and published! Really, I love their food, but they need to seriously cut down on fats, or I might have to stop eating from them. Same thing with Burger King. Actually, I like Burger King better for some reason. Whatever ...
Finally, better grades. I think my grades aren't that good, even if I am in 6th grade enrichment at Nuuanu Elementary School, which won a Blue Ribbon Award (absolutely no self-esteem here!). I really have to blame it on my drawing skills. I really do not draw well. Really.
Sam Valdez
Age 11, grade 6
---
HOPES FOR THE NEW YEAR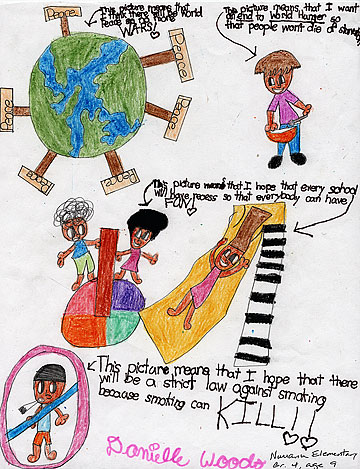 ---
Just a few things
My goals and hopes for 2007 are that the war in Iraq will end; George Bush will be kicked out of office; there will be no more poverty; I will get a really cool and new game station; scientists will find a cure for every disease; I will visit my cousins more often; there will be an end to pollution; I will get an iPod; there will be no more evil; there will be world peace; there will be no more pedestrian deaths; a new species of animal will be discovered; all problems will be resolved, and EVERYONE will have a great year!
Rafe Shohet
Age 10, grade 5
---
Put kids on TV in 2007
In 2007, we should have a new TV channel that interviews ordinary kids! We can have impossible kids, talented kids and kind kids. We can highlight other things on the show, such as lowering gas prices, news, inventions and kid careers. We can give rewards, such as money, trips, supplies for their school, meeting celebrities, or once-in-a-lifetime chances, for example, going on a trip to Hollywood with the Cheetah Girls.
To be on the show, you would have to be under 20, talented, a dreamer and kind. Now, those are just some of my ideas. I would be blissful if you (included) my well-thought-out idea.
Kelianne Miyaoka
Age 9, grade 4
---
More animals
I hope that in 2007 scientists will discover new species of animals. I hope that they will discover new animals that are mixed together, as in a dog and a rabbit combined. I want this to happen so that new animals could replace extinct animals. I also wish that this will happen because then the world might think more creatively. I hope that the world will also get more involved in helping the environment and the "new" and "old" animals in the environment.
Taylor Hanson
Age 10, grade 5