Crash! Bang! Slam! Metalfest returns to Anna's
THRASH YOUR way through the first weekend of 2007 when
Underworld Events
brings "Metalfest" back to Anna Bannana's on Saturday.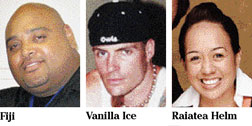 The biannual metal and hardcore festival returns for another night of all-ages, shove-it-down-your-throat aggression with two stages and 24 bands playing from 4 p.m. Expect sets later in the evening from 8MM Overdose, DeBauch, Pacifica, Laissez Faire and Mindspirit, with up-and-coming bands Juliet Suicide, Winds of Creation and Break Neck among those scheduled to open.
Cover at "Metalfest" will be $7; check out www.underworldevents.com for the full lineup ...
LOCAL HIP-HOP represents the same night with two events, one at Pipeline Cafe and the other at Just 1 on South King Street.
"Planet Hip-Hop" boasts a live performance by Planet Jane featuring Starla Marie at the Pipe, with DJ Mike D on the decks afterward. Rapper Krystilez will host a $200 freestyle battle as well.
At Just 1, I-Deliver Entertainment hosts "The New Year Jump Off," with live performances by Alva A. and Devious, GTS, Pyro and Caution. Also planned is a "Walk It Out" contest and freestyle battle ...
AND OVER at Skybox, Infamous Apparel waited a week to hold its own "New Year's Bash 2007" on Saturday.
There's no cover for this 21-and-over party, which features a live performance by reggae band Pressure Drop. Be sure to get there while they're playing their first set, because the bar will offer a $3 you-call-it drink special during their break. DJ Benjamin will also be there ...
UPCOMING CONCERTS recently announced: Blue October plays at Pipeline on Jan. 14 ... Kymani Marley, Bruddah Waltah, Fiji and The Mana'o Company headline the second annual "Winter Music Festival" at the Waikiki Shell ... "Marleyfest 2007" returns to Hawaiian Waters Adventure Park on Feb. 9 ... And Vanilla Ice arrives in Honolulu right after Valentine's Day to perform at Pipeline on Feb. 18 ...
IT'S GOT to be a dream come true for the local members of the Island Rumours Band, a new group formed by Fleetwood Mac founder Mick Fleetwood.
After being a part-time Maui resident for years, Fleetwood has made the decision to call the island his home. He then got the idea to start a new group that would play at corporate functions, and asked the Barefoot Natives (Willie K and Eric Gilliom) along with Raiatea Helm and Lopaka Colon to join him. Bassist Lenny Castellanos and guitarist Rick Vito round out the lineup.
"Willie K (is) a consummate frontman, and Eric (is) this amazing talent," Fleetwood said. "We've gotten together and truly honored one another and the music" ...
I KNOW I covered the best from Clubland during 2006 in Tuesday's column, but I just had to mention a few more highlights from the past year.
April's "Diamond Head Music Festival" was an incredible experience, especially for someone like me who never got to partake in the original back in the '70s ... Bruddah Waltah and Kalapana were two more blasts from the past with club performances in June ...
Summer sizzled with shows by Staind in July and the Black Eyed Peas in August, but I was disappointed with Tool when they played the Blaisdell Concert Hall on Aug. 18 and 19 ... And Ozomatli, Jurassic 5 and Inner Circle were nice touches toward the end of the year, but Pearl Jam's Dec. 2 show at the Blaisdell Arena has to be my pick for best concert of the previous 12 months -- or even 12 years ...