SWEET SPOT
Full-service 'Y' sprouts at old Waipahu mill site
430 have already signed up as members
Fitness buffs can use state-of-the-art equipment in the expanded fitness center at the Leeward YMCA in two weeks.
The 42,000-square-foot facility will give Leeward residents something they have never had: a full-service YMCA for seniors, adults and children.
Since 2001 the Young Men's Christian Association has been working on the $15 million expansion of the Leeward YMCA at the Waipahu Sugar Mill, adding a 25-yard swimming pool, a child-care center and a three-story fitness center.
Madalene Aponte, membership director of the Leeward YMCA, said the opening day could be earlier than the expected Jan. 20 date, with a blessing ceremony Jan. 25 and a grand opening in early February.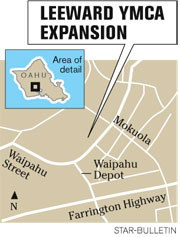 YMCA TO OPEN
Leeward YMCA, at 94-440 Mokuola St., will hold an open house for the public from 9 a.m. Jan. 13.

The new facility includes a 25-yard heated swimming pool, a three-story fitness center with two gyms, open spaces for community meetings, free weights, cardio equipment, strength-training equipment and free parking.

The facility will open the week of Jan. 20 with a blessing Jan. 25.

Call Leeward YMCA at 671-6495.

There will be an open house on Jan. 13. Treadmills, bicycles and ellipticals come equipped with personal TVs with cable programming. The cardiovascular and strength-training equipment are brand-new models.
Aponte said about 150 families, or some 430 people, adults and youths, have already signed up as members. The previous facility was so small it could house programs only for youths, such as an A+ program and care during school breaks, and did not have any adult members.
Now parents can come with their children and use the child watch service or find activities such as swimming lessons for their children, dance classes for teens and aerobics classes for themselves. There are also open spaces used for community meetings available for rent.
"This place is going to be a lot more than a fitness center. This is where people belong," Aponte said.
The first floor of the fitness center will be a "healthy start room" with a more private atmosphere, allowing programs for youths or classes for people new to lifting weights.
Five family changing rooms also are available on site, Aponte said.
Built around the smokestack of the old Waipahu Sugar Mill, the fitness center fills the former generator room that once held electric turbines.
"We're proud to be able to preserve that because we know that people have a strong connection with that smokestack, and that represents a lot of history to people in this community," said Manuel Ayala, Leeward YMCA executive director.
Ayala, who worked at a YMCA in Chicago, came to Hawaii two years ago to help oversee the Leeward YMCA expansion because he found the idea compelling, adding that he was attracted to preserving a part of the state's history and developing programs to affect the community.
"We've taken a facility that was once used for generating electricity, and now it will help people burn off energy," he said.
Leeward YMCA is the first full-service YMCA facility of its size and scope of offerings built on Oahu since the Nuuanu YMCA was built in 1963.
"This one has certainly outpaced the others," said Mike Doss, YMCA of Honolulu vice president.
Robert Tong, chairman of the Leeward YMCA and a Makakilo resident, appreciates the significance of the branch for Leeward residents.
"The mill used to be the centerpiece of the community way back when the plantation was in its heyday," he said. "We're fortunate to keep the smokestack as our symbol. We call it the Eiffel Tower of Waipahu.
"It serves as a gathering place," Tong said. "Its location is so central, whether you're from Pearl City, Waipahu, Ewa ... everybody passes the sugar mill."