| | |
| --- | --- |
| | Newswatch |
---
PACKED AND READY TO HELP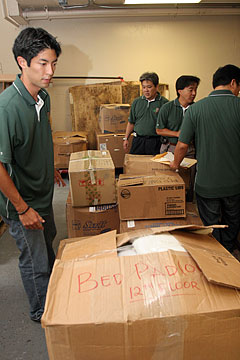 Aquarium fishes for volunteers
The Waikiki Aquarium seeks volunteers for its "Edge of the Reef" interactive exhibit, which profiles habitats found along Hawaii's shorelines. Volunteers explain the habitats and species to visitors during weekly two-hour shifts. Free training is scheduled from Jan. 16 to Feb. 1. The class will meet from 7 to 9:30 p.m. on Tuesdays and Thursdays, and 9 a.m. to noon on Saturdays. After training, volunteers will work for a minimum of six months. For more information, call 440-9020.
Tanaka to fill Maui court vacancy
Keith Tanaka has been appointed as a District Court judge on Maui.
Chief Justice Ronald Moon tapped Tanaka to fill the vacancy on the bench created by the retirement of Reinette Cooper. The appointment requires confirmation by the state Senate.
Tanaka was a deputy state public defender from 1984 to 1989 and has been in private practice ever since. He received his law degree in 1983 from the William S. Richardson School of Law.
Lingle appoints Piper to key budget post
Gov. Linda Lingle has appointed Robert Piper as deputy director of the state Department of Budget and Finance, her office announced yesterday.
Piper, a former chief of staff for Lt. Gov. James "Duke" Aiona, took office yesterday. He replaced Stan Shiraki, who retired in November after working more than 30 years with the department.
Before he joined the Lingle administration in 2002, Piper, a Damien Memorial School and University of Hawaii graduate, served as an associate attorney with the law firms Paul Johnson Park & Niles as well as Tam O'Connor Henderson Taira & Yamauchi.
Haleakala reopens after big windstorm
Haleakala National Park reopened yesterday after strong winds on Tuesday forced park officials to turn away tour companies.
Steady winds of 48 mph -- including one powerful gust of 72 mph -- also might have caused a power failure that left the park's visitor center without energy between 1 a.m. and 2 p.m. Tuesday, said Kiefer Gier, park operations supervisor.
No damages were reported. Winds subsided significantly yesterday, blowing at about 10 mph at the base of Haleakala, Gier said.
---
SHINING STARS
---
Pearl Harbor shipyard workers donate $691,000 to charity
Nearly 5,000
Pearl Harbor Naval Shipyard
civilian and military employees have pledged $691,834 to charity during the
Combined Federal Campaign
that ended Oct. 31.
Herbie Love
of Kaneohe and
Brendan Cravalho
of Mililani were co-chairmen for the campaign.
The shipyard was broken down into 15 units for the fundraiser, and eight of the units exceeded their goals. The Piping and Temporary Services Shop outperformed every other unit by donating 151 percent over its goal.
---
Times Super Markets and Kraft Foods Hawaii donated $100,000 worth of sports equipment and uniforms, for which 50 Oahu high schools competed in this year's "Shop and Score" program. Customers accumulated points for each school of their choice whenever they purchased Kraft and other designated products using their Times Royal Card. Castle High School earned the most points, receiving more than $17,000 in free merchandise from Adidas and Wilson Sporting Goods, for the fourth year in a row. Waipahu, Aiea, McKinley and Roosevelt high schools rounded out the top five winners.
---
The Jack in the Box Foundation and a local franchise operator, Chris Scanlan, are donating $15,000 to Big Brothers Big Sisters of Honolulu for its High School Bigs Mentoring Program.
---
The Kokua Hawaii Foundation, founded by musician Jack Johnson, and the North Shore Community Land Trust each received $55,000 from the GIFT Foundation of Hawaii. The funds were raised at GIFT's fourth annual sold-out costume gala in October. The GIFT Foundation is a nonprofit volunteer organization of young professionals dedicated to making a difference in the community.
---
"Shining Stars" runs Monday through Thursday.
| | |
| --- | --- |
| | Police, Fire, Courts |
---
HONOLULU
3 caught after being spotted in stolen car
Police captured three men yesterday afternoon after they tried to flee in a stolen car from pursuing officers and later on foot in Salt Lake.
Police said the owner of the stolen car spotted his vehicle, followed it and notified police.
The car was heading toward Salt Lake when officers began pursuit, police said. After the driver noticed the officers, he sideswiped another car. The driver, 29, and two men who were passengers jumped out and ran, police said. The officers caught all three at about 2 p.m. at Ala Ilima Street.
The driver was arrested on suspicion of unauthorized control of a vehicle, and the two men, 27 and 21, were arrested on warrants, police said.
2 suspects sought in Radio Shack heist
Police are looking for two men accused of robbing Radio Shack at 1712 S. King St.
At 10 p.m. Dec. 19, two men entered the store, approached the manager, brandished a handgun and demanded money. The suspects fled with an undisclosed amount of money.
The first suspect is believed to be in his 20s or 30s with brown eyes and complexion, black hair, 5 feet 8 inches tall and 140 pounds. He had a tattoo on his forearm and was wearing a dark T-shirt, dark shorts and blue baseball cap. He was wielding a revolver.
The second suspect was in his 20s or 30s, with shoulder-length black hair and weighing about 180 pounds. He was about 5 feet 8 or 10 inches tall, with brown eyes, a black baseball cap, red tank top and dirty brown cargo pants.
NEIGHBOR ISLANDS
Suspected arson does $500,000 in damage
A fire that caused about $500,000 damage to the Panaewa Family Center at 100 Ohuohu St. at about 6 a.m. Monday might have been maliciously set, police said.
Police ask anyone who might have information about the fire to call Detective Robert Hatton at 961-2380. People who wish to remain anonymous may call CrimeStoppers at 961-8300 in Hilo or 329-8181 in Kona.