---
FAST FACTS HAWAII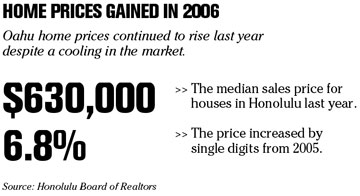 ---
HAWAII
Aloha takes lead in on-time service
Aloha Airlines
took top honors for on-time performance in federal rankings for November, the first time it has done so since it resumed reporting the data last April.
About 93.2 percent of Aloha's flights arrived within 15 minutes of schedule in November, the U.S. Bureau of Transportation Statistics said.
In second place at 90.9 percent was Hawaiian Airlines, which has held the top spot for three years. Hawaiian was followed by Frontier Airlines at 87 percent. Mesa Airlines, which operates interisland carrier go! as well as mainland routes, was in ninth place at 76.8 percent systemwide. The average was 76.5 percent for all reporting carriers.
Aloha's on-time performance frequently made the top spot as recently as 2000, but the carrier stopped reporting the data in 2001. In October, Hawaiian took the top spot at 91.6 percent and Aloha was second at 91.4 percent.
NATION / WORLD
Sony led the film studios in 2006
Sony Corp.
led studio owners in 2006 domestic ticket sales as films such as "The Da Vinci Code" and
Walt Disney Co.
's "Pirates of the Caribbean: Dead Man's Chest" helped Hollywood rebound from the worst decline in 20 years.
Sony had record sales of $1.76 billion in the United States and Canada, according to Nielsen EDI's FilmSource. News Corp. was second with $1.56 billion. For the industry, revenue rose 4.9 percent to $9.40 billion from $8.96 billion in 2005, according to Media By Numbers, which tracks box-office results.
The gain almost erased the 5.2 percent drop in revenue the industry suffered in 2005, the worst decline since 1985. The number of filmgoers increased 3.3 percent last year, with higher prices accounting for the rest of the gain. Fans turned out in larger numbers to see action films such as Disney's "Pirates," the year's top movie with sales of $423.3 million.
LG takes both sides in DVD war
LOS ANGELES »
LG Electronics
has announced plans to sell a DVD player that will play both warring high-definition DVD formats.
The first dual-format high-def player will play discs in the HD DVD format, which is backed by a consortium headed by Toshiba Corp., as well as the rival Blu-ray format, backed by a group led by Sony Corp.
The LG unit will be unveiled at next week's Consumer Electronics Show in Las Vegas, LG said yesterday. Details, including pricing and availability, will become available then, the company said.
The two DVD formats have been battling for market share since being introduced last year. Both are expected to get a boost this year as more studios release films in the formats and more players become available.
Enron exec starts prison term
HOUSTON » The Central Texas prison that former top Enron accountant Richard Causey now calls home has already housed one of his former colleagues.
Causey, 46, surrendered as ordered on Tuesday at the low-security federal prison in Bastrop, about 130 miles west of Houston.
He became the seventh ex-Enron executive to be incarcerated, turning himself in at a minimum-security camp three weeks after former CEO Jeff Skilling went behind the fencing and barbed wire at a low-security prison in southern Minnesota.
Causey pleaded guilty to securities fraud in December 2005. He is serving a five-and-a-half-year prison term and had asked to be placed at Bastrop.
Northwest posts $274 million loss
Northwest Airlines Corp.
, the second-largest U.S. carrier in bankruptcy protection, reported a net loss of $274 million in November.
Northwest said it made a $52 million profit before taxes, interest and reorganization items. The Eagan, Minn.-based airline didn't provide year-earlier figures in its bankruptcy court filing yesterday.
Northwest filed for bankruptcy protection Sept. 14, 2005, and has planned $2.5 billion in annual spending cuts to help it emerge in the first half of this year. The airline said in the filing that it expects to develop its reorganization plan early in 2007.
The company said it ended November with $2.28 billion in cash.
MGM megaresort draws 1,200 offers
LAS VEGAS » Casino operator
MGM Mirage Inc.
said yesterday it has received 1,200 offers of interest in condominiums at its under-construction CityCenter megaresort.
Sales of 2,700 of the luxury residences -- ranging from $500,000 studios to the $12 million super penthouse -- are expected to cover up to $3 billion of the $7 billion price tag for the colossal seven-tower project on the Las Vegas Strip, which began being built in June and is expected to be finished by late 2009.
All units come with a 24-hour valet, front-of-the-line access to MGM shows and restaurants in Las Vegas and "anticipatory service," said residential division executive vice president Tony Dennis.
Unions sue feds over safety requirement
WASHINGTON » The AFL-CIO joined with the breakaway United Food and Commercial Workers yesterday in suing the Labor Department to force adoption of a rule requiring employers to pay for personal safety equipment for workers.
The Occupational Safety and Health Administration rule, proposed in 1999 but never adopted in final form, would require employers to pay for protective clothing and other equipment used by millions of workers.
"The Department of Labor held hearings, took comments and then put it on the back burner," said Peg Seminario, safety and health director for the AFL-CIO.
---
BUSINESS PULSE