---
FAST FACTS HAWAII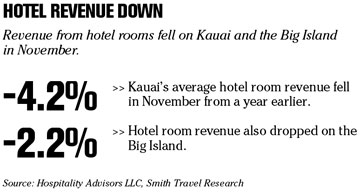 ---
[HAWAII INC.]
NEW JOBS
»
Hilo Hattie
has appointed
Richard Hunter
as special strategic advisor to CEO John Reed. He brings over 40 years of senior retail experience including 18 years in top executive roles with DFS. He previously served as president of DFS Hawaii between 1982-1988 and executive vice president for the
DFS Group
in Hong Kong, Australia, Guam, Saipan and its corporate offices in San Francisco.
» American Electric has hired Eamonn P. Kinsella as director of business development. He will oversee and coordinate statewide sales and marketing, design/build partnering, project management and new business development. He previously served as business development manager of Hawarth Inc. for eight years, where he helmed many large-scale construction projects throughout Hawaii.
» ResortQuest Hawaii has hired Kathi Buettner as Web strategist and optimization manager. She started as a graduate intern for the company in 2004 before being hired as a full-time Web coordinator, and has seven years experience in the travel industry and online marketing field.
>> Shell Vacations Hospitality has named Luanne T. Bongiorno as general manager for the Waikiki Marina Resort at the Ilikai. She will direct operations for the new 80-unit Shell Vacations Club within the hotel. She previously served as front office manager at Sheraton Waikiki Hotel and has over 14 years experience in the hospitality industry.
» Shriners Hospital for Children has hired Mark Osmun as public relations director. He previously served as PR director for the American Red Cross in Sonoma County, Calif., and has worked in both journalism and public relations.
» The Hawaii Credit Union League has hired Sherrie Fitch as education and meeting coordination officer. She replaces Naile "Nyla" Brennan, who returned to the Radisson Prince Kuhio Hotel in October. Fitch previously worked for Walt Disney World Co. and has extensive experience in event planning. Gayle Lau has been hired as regulatory officer. He replaces Mildred Kurosu, who retired at the end of November. Lau recently retired from the Justice Department as the assistant U.S. Trustee for Hawaii and has over 30 years experience as an attorney in private practice, courts and government.
---
NATION / WORLD
Bid rigging alleged in Hard Rock sale
FORT LAUDERDALE, Fla. » A rejected suitor for the Hard Rock chain of cafes and casinos claims in a lawsuit that the Seminole Tribe of Florida was the successful buyer because of improper collusion and bid-rigging.
The Baltimore-based development firm Cordish Co. and an affiliate, Power Plant Entertainment LLC, contend that Hard Rock Cafe International Inc. management secretly negotiated with the Seminoles for seven months before plans to sell were announced in July.
Power Plant, a partnership between Cordish and Coastal Development LLC, was the original developer of the Seminole Hard Rock casinos and hotels in Hollywood and Tampa.
The Seminoles announced the $965 million purchase of the Hard Rock empire from London-based Rank Group PLC on Dec. 7, marking the first time an American Indian tribe had purchased a major international corporation.
Philly paper to slash newsroom
PHILADELPHIA » The Philadelphia Inquirer, grappling with sharp declines in circulation and ad revenue, said yesterday it expected to lay off 68 newsroom employees, about 16 percent of its editorial staff.
Several reporters at the Inquirer, Pennsylvania's largest newspaper, said they were told yesterday morning that their jobs were being eliminated. The employees said that they were told to meet with personnel officials today to discuss details of their severance pay and health benefits.
All the affected workers will be notified by today, and their layoff dates and benefits will vary, said company spokesman Jay Devine.
The Inquirer and the Philadelphia Daily News, both long part of Knight Ridder Inc., were sold last March to McClatchy Co. In turn, McClatchy sold the papers three months later to Philadelphia Media Holdings, an investment group led by Brian Tierney, now the papers' chief executive and publisher.
In November, Tierney announced that declining ad revenues would require contract concessions and that layoffs in the Inquirer's 415-worker newsroom were unavoidable as the company aimed to save at least $20 million.
Hot Singapore economy may slow
SINGAPORE » Singapore's economy accelerated in the fourth quarter to bring full-year growth to 7.7 percent, the government said today, but analysts warned that a slowdown in manufacturing will likely drag on 2007 growth.
On a seasonally-adjusted annualized basis, Singapore's economy grew 7.6 percent in the fourth quarter, faster than the 5.6 percent rate in the third quarter, according to the Ministry of Trade and Industry's advance estimate.
Compared to the same quarter a year ago, the economy expanded 5.9 percent, the government said.
Singapore's manufacturing sector grew 7.3 percent in the fourth quarter from a year ago but slowed from 9.5 percent growth in the third quarter. Economists say the manufacturing sector will continue to decelerate in coming months.
Toyota aims to curb drunk driving
TOKYO »
Toyota Motor Corp.
is developing a fail-safe system for cars that detects drunk drivers and automatically shuts the vehicle down if sensors pick up signs of excessive alcohol consumption, a news report said today.
Cars fitted with the detection system will not start if sweat sensors in the driving wheel detect high levels of alcohol in the driver's bloodstream, according to a report carried by the mass-circulation daily, Asahi Shimbun.
---
BUSINESS PULSE