THE YEAR IN REVIEW
Top 10 Stories of '06
1. It was a very good year for ... concerts. Hawaii is usually off the map for touring acts, but we managed to score some real scorchers, even if those teases, the Rolling Stones, never showed. U2 and Pearl Jam created great rock spectacles, and Billy Joel and Elvis Costello tore down the house in amazing concerts that focused on music rather than special effects. Now if only there were an arena worthy of a major, uniquely Hawaiian concert ...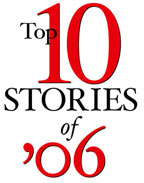 2. Which leads us to the return of the Diamond Head Crater Festival. After 40 days and 40 nights of rain this spring, the skies parted briefly for the festival, and that would have been news enough, but Linda Ronstadt, War and Steve Miller proved that the Crater is still a great place for hearing music.
3. ABC's "Lost" -- drunken driving, license-less driving and a house fire aside -- still managed to be the bright spot in Hawaii's film economy. Although the premiere made international news, and the mysterious, convoluted plots still made the Internet sizzle, the good news for Hawaii is that the show continued to prove that exotic Hawaii locations make economic sense and add visual dazzle to a TV show.
4. The opening of the world-class Pacific Aviation Museum Pearl Harbor gave the historic district on Ford Island an anchor attraction and paid proper tribute to all the aviation history made here.
5. Passages. Dick "Giant" Jensen -- a dynamic showman on Waikiki stages, died of Lou Gehrig's Disease. And Don Ho, apparently indestructible, married longtime leading lady Haumea Hebenstreit.
6. "Fresh F.A.C.E. of Nuuanu" stood for Fashion, Arts, Cuisine and Entertainment. It was Honolulu's version of Olympus Fashion Week, except that we're so efficient we did it in one day. It'll be back in 2007.
7. Call it Wave Waikiki or simply "The Wave," it was a funky, friendly place for alternative music for a couple of decades. It closed this summer to make way for a condominium project.
8. Hookipa Terrace tied together several shops and dining venues at Ala Moana's find-it-if-you-can upper aeries with a common theme. The Pearl proved to be the nightclub of the year. It's not your mom's shopping mall anymore.
9. The Honolulu Zoo's petting zoo expanded quadruply and became the Keiki Zoo, where you can pat kids on the head, but watch out -- they bite. Actually the expansion created more room for the animals and interactive activities, making it more fun for kids and critters alike.
10. PBS's venerable "Antiques Road Show" chugged into Honolulu, and local residents discovered if their swap-meet swag was worth big dough or their cherished family heirloom worth jack-diddly. The Honolulu episodes begin airing tomorrow on KHET.