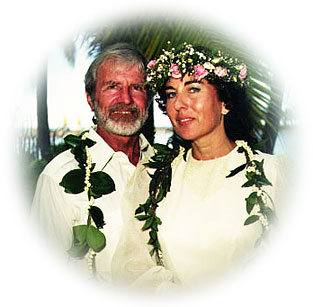 COURTESY CEIL SINNEX
John McCormick and Ceil Sinnex were married Feb. 16, 1985, at the old Tahitian Lanai restaurant on the Hilton lagoon.
Endangered memories
A devoted wife makes a New Year's resolution to recall for her husband the Hawaii memories stolen by Alzheimer's
NEW YEAR'S EVE four years ago started out like any other day, if you take into account the fact that Dec. 31 is my birthday as well as the world's day for remembering "auld lang syne," Scottish for "the old long since," or the good old days long gone.
I went out to celebrate my birthday at a library in Virginia countryside that is oddly reminiscent of Waimanalo. My husband, John, declined to accompany me, not unusual for him. John had a cough, but his doctor had ruled out anything serious. The cough seemed unconnected to his all-too-familiar disinterest in my birthday.
We sparred briefly over who would top up the gas tank, and off I went. I took for granted that our car drove like a dream and that I would return to a well-maintained home, though both were strictly thanks to John's energy and skills. I assumed -- as who wouldn't? -- that John would still be John that evening.
But when I opened our front door at 5 p.m., I found our house under siege by a stranger who merely looked like John: physically fit, with his signature sea-captain's beard.
His face was red. He talked in gibberish, and wandered through our split-level house slamming drawers and doors. Our 85-pound dog, Rokita, trailed him, whining. I brought up the rear.
Bang. Crash. In the garage, John tried to start the car with his index finger. I raced up our two flights of stairs, and collected and hid all the car keys.
Back in the garage, I struggled to keep my voice even. "That won't work," I said. "Come on inside." John-the-stranger reeled back into the house, careened up the stairs.
"Aaaargh. Ugh." These otherworldly sounds had an angry pitch. In our kitchen, the interloper struggled to fasten a belt around his waist. Unable to operate the buckle, he emitted muffled shouts. Rokita yelped.
My mind raced. Booze? No evidence of it. Drugs? That did not compute, either.
Confused, I instinctively longed to escape.
If only I could go back in time, I thought ...
---
1985: Flying fish leap onto the deck. One hits me in the neck at 3 a.m. We are sailing our boat, "Wings," from Makapuu to Lahaina on our honeymoon.
---
I called friends, each time handing John the phone and then coming back on the line. "Couldn't understand a word he said," each friend told me.
"Bring him to the emergency room," John's doctor said.
John stood by, sniggering, harrumphing, making every sort of un-John-like sound imaginable.
I tossed essential items into a tote bag in case I needed to flee.
Back downstairs, where John slammed drawers, I picked up a phone. The demon across the room still resembled streetwise John enough to realize instantly that I was calling 911.
He lunged at me. I dodged.
Eight officers arrived. "Can you tell me your name, sir?" John could. "Who is the president?" He got that right, too. "What day is it today?" He did not have a clue, nor did he know the year.
"Well, you're OK, and we'll be leaving," said the officer, staring at our dog, Rokita.
The next howl came from me. "Don't leave me with him! I can't handle this!"
"Sorry, ma'am, but he got two out of three questions right. We can't take him to the hospital."
Another officer chimed in: "We heard the yelling when you called 911. You folks were having 'a domestic.'" A smirk.
Our rescuers retreated into the night.
John resumed his staggering quest. It took every ounce of my energy just to remain alert, ready to run.
At about 1 a.m., John slowed down.
---
The sunburst over Haleakala reflects across miles of ocean, making a path of gold to our boat. John's comment on the sunrise: "You've seen one, you've seen 'em all." He doesn't mean it, though, despite being a veteran interisland sailor.
---
As I dozed off, I bargained with God to take us back to our years in Hawaii, 28 for John and 25 for me.
New Year's Day 2003 dawned with a cacophony of bangs and smashes, punctuated by howls. A friend arrived to help me take John to the hospital.
John was admitted to the hospital and diagnosed with pneumonia. It turned out that his 16-hour mania had been delirium.
His doctors did not think pneumonia was the only thing wrong with John, and made dire predictions.
"Whatever is causing this, his condition is going downhill fast," his internist warned.
So, after he recovered from the pneumonia, John went to a nursing home.
In late January, a psychiatrist delivered the crushing verdict: Alzheimer's disease.
The memory snatcher, the robber of auld lang syne.
My Dec. 31 fear of John, along with all past hurts and resentments, suddenly fell away; what rose up was a tidal wave of grief, pity and fierce protectiveness.
No doctor troubled himself to inform John of his diagnosis, so I told him myself. That was the moment when my youth ended.
John had long feared Alzheimer's, the disease that had taken his own father. He understood all too well the news I broke to him.
---
Dolphins cavort in our wake. Blue skies of Hawaii smile. Nature produces such a lavish show for our honeymoon that I have to pinch myself. In a Lahaina restaurant, the floor rocks and rolls, causing us to shriek with laughter as we wait to regain our land legs.
---
John spent the next five months in nursing homes. But then, as predicted by a sole nurse who never met John, he fully recovered from lingering effects of the pneumonia and became himself once again.
---
"Haul down that jib!" John shouts. "Whatcha waiting for? Move. Do it now." I lower the sail, irritated but aware of my role in the safety of the voyage. Lowly crew status is the price of admission to a tropical oceanic wonderland.
---
I sold John's guns. He could never drive again, I told him, and he would have to follow my rules. My crusty sea captain promised to obey.
John came home one sun-splashed day in May. Rokita leaped up and pummeled him in the shoulder. Our cat clasped her forepaws around his neck. We danced upstairs, giddy, starting life anew.
Thus began an unexpected two-and-a-half-year reprieve, before John's condition deteriorated.
---
Should old acquaintance be forgot, and never brought to mind?
---
Oddly, memory of people, events and where he had placed objects such as keys and glasses was never any problem for John. He lost other skills, such as brushing his teeth and walking steadily.
---
For auld lang syne, my dear, for auld lang syne.
---
I took care of John almost full-time during most of 2005 and early 2006. Finally, exhausted and unable to lift him as now required, I took him to a temporary respite-care facility and then to a nursing home where he will stay unless there is another miracle.
The respite-care nurse thinks he has Parkinson's disease rather than Alzheimer's, and I tend to agree. His speech is clear about one-third of the time, but muddled the rest. Without consistent verbal feedback, I take the position that John remembers the story of his life ... but I cannot be sure.
---
We'll take a cup of kindness yet, for auld lang syne.
---
John's friends since childhood no longer visit. His grown children have long been estranged from him. I live far away, and cannot see John as often as I would like. I talk to him by phone every other day.
Now that time may be short for John, I am oddly preoccupied by his memories.
John's lifelong love affair with boats -- wooden sailboats only, thank you -- began on the shores of Lake Ontario. His mother was persuaded to buy his first boat when he was 14.
John taught himself to sail by reading a book. His saga continued in Hawaii with a 65-foot schooner named "Eolo," followed by the 40-foot clipper ship-styled ketch "Wings."
In 1972, John moved from Vancouver to Honolulu as a salesman for Bell & Howell. He lived on his boats in the Ala Wai Harbor during the 1970s and 1980s, and became a well-known fixture in the harbor.
John also worked as a chauffeur for the old Gallery Hawaii, had a short but sweet acting career in TV commercials, and finally launched his own boat-related small business. He operated a sailing school, ran charters, learned to scuba dive and did salvage and boat repairs.
But most of John's boat business was to fill a relentless demand for hull cleaning.
"I'm the world's oldest underwater bottom cleaner," John used to joke, as he continued the work into his 60s.
His business cards proclaimed him as "Capt. John McCormick, professional diver," and many people called him Captain John.
"I dive at an average depth of three feet," he would quip, lest anyone get overly impressed.
We met Dec. 31, 1983, at a party. I soon learned how much John's friends respected and admired his prowess as a captain, who not only lived and worked around boats but frequently sailed interisland in some of the world's most dangerous sailing conditions.
I cannot count the times he was consulted by other experienced sailors about all manner of boat problems.
For a man who ended up with a humble occupation, John was nonetheless a legend in Honolulu sailing circles.
John and I rather foolishly jumped ship in 1990 to buy a "fixer- upper" chalet above Paauilo on the Big Island.
"I'll rebuild it," John boasted. "Make it into a showcase."
He made good on the promise, even tackling alone the dangerous job of jacking up the two-story house to replace wood rot near the concrete slab. John transformed the primitive structure into a rustic country home with knotty cedar cabinets and an office for me that won an honorable mention in a national "best home office" contest.
Now John was in position to fully indulge his love of animals. A horse came with the house. Our dog and cat moved with us from Oahu.
We were soon owned by three ducks and a game hen named Beulah. John also rescued hurt birds and an abandoned kitten.
"Did you know dog is God spelled backward?" John was fond of saying. He doted on our menagerie with the tenderness of a Father Goose.
These could be scenes in a magic-lantern show about an adventurous life.
Because I was born on Dec. 31, Auld Lang Syne has always been my private nickname for myself. I will spend this Dec. 31 with John. The date is overloaded with significance in my life, a triple whammy.
But I will do my best to forget all of that, and to remember my New Year's resolution: to tell and to write John's story.
If John's memories are to fade, Auld Lang Syne herself will save them, for the good old days long gone.
---
Ceil Sinnex is a freelance writer with special interests in Hawaiiana and health. Now based in the Washington, D.C., area, she lived in Hawaii from 1975 through 1999, and worked for the Associated Press and the East-West Center. Her freelance work has been published in Honolulu magazine, the old Hawaii Observer, the Star-Bulletin and national publications, and she penned 200 cover stories for MidWeek.
Contact Ceil Sinnex at
csinnex@yahoo.com
.