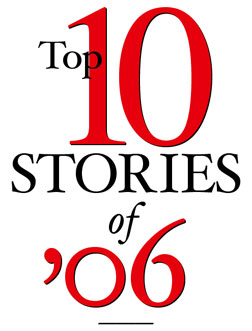 ---
1. Air wars begin: Mesa Air Group made good on its promise to upset the interisland airfare apple cart with the June startup of go!, whose ticket prices went as low as $19. Hawaiian and Aloha, fresh out of bankruptcy, fought back, matching the newcomer dollar for dollar as well as suing Mesa, alleging it used confidential bankruptcy documents to gain advantage.
2. Housing prices top out: For a while it seemed like yet another record year for home prices, even as the highest-flying mainland markets stumbled. But the number of transactions began to tail off, and then in November prices followed suit. Economists still don't expect a bursting bubble, but the talk now is about how low, not how high, prices will go.
3. Tourism a survivor: A 40-day deluge of rain in February and March, with seven fatalities, and an earthquake and blackout in October couldn't make much of a dent in Hawaii's tourism industry, so fragile in the face of terrorism and SARS a few years before. Not only is 2006 visitor traffic close to last year's record, but visitor spending and room rates are in even better shape.
4. Unemployment even lower: Lowest-in-the-nation jobless rates had become almost routine in 2006, but in October they went even lower -- 2.1 percent, the lowest on record for the state. Even though good economic times were responsible, the happy news for job seekers wasn't so nice for businesses trying to hire.
5. Inflation returns: The booming local economy had another drawback, as the U.S. Bureau of Labor Statistics ranked Honolulu's inflation rate worst of all U.S. cities in the first half of 2006 -- 5.8 percent, a big jump from 3.1 percent in the same period in 2005.
6. Waikiki momentum: The tourist district's repositioning gained some shiny new facets in 2006, as a Donald Trump luxury condotel joined the mix at Outrigger's Waikiki Beach Walk complex, Sheraton announced a multimillion-dollar overhaul of its hotels and several smaller properties joined the party.
7. Kakaako upheaval: A&B Properties' Kakaako Makai luxury mixed-used project had a slow death by community and then political opposition, with the plug finally pulled in May. But Kakaako's increasingly upscale demographics also attracted Whole Foods Market to nearby Ward Village Shops for its first Hawaii store.
8. Painful transition: Hawaiian Telcom installed a new back-office and billing system in April intended to set the stage for video and other high-tech services. But cutover went badly, leading to double bills and clogged help lines. A sole bright spot was the network's performance during the October blackout.
9. Del Monte pullout: In February, Del Monte announced it was shutting down its 100-year-old isle pineapple operations, dropping more than 700 workers. Only Maui Land & Pineapple, focusing on niche-market premium fresh pineapple, and Dole Food Hawaii still grow the crop here.
10. Turtle Bay expansion: In January, Kuilima Resort put a 20-year-old master plan for a 3,500-unit expansion of Oahu's only North Shore resort back on the front burner. The project drew hefty criticism, including from Gov. Linda Lingle.
---
Star-Bulletin staff