The Bloomberg /
Star-Bulletin Index
---
HAL soars in 2006
Maui Land & Pineapple Co.
was the top gainer this week in the Bloomberg Honolulu Star-Bulletin stock index, up 4.5 percent to close at $33.92.
The agricultural and real estate company's stock has struggled in 2006, however. It declined 0.3 percent for the full year.
The top-performing stock in the index for all of 2006 was Hawaiian Holdings Inc., parent company of Hawaiian Airlines. Hawaiian's $4.90 closing price yesterday left it down 1 percent for the week, but up 22.8 percent for the year, during which the index fell 17.7 percent.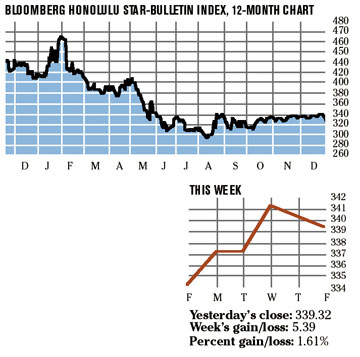 The Bloomberg / Star-Bulletin Index is a price-weighted index designed to measure the performance of Hawaii-based companies. The index was developed with a base value of 100 as of December 31, 1999. A chart of the index which shows the weekly performance of its members is published weekly in the Honolulu Star-Bulletin.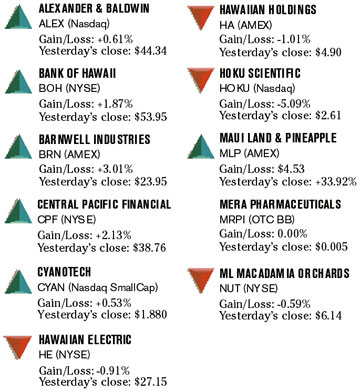 SOURCE: BLOOMBERG NEWS / STAR-BULLETIN GRAPHIC