New Year's events keep town rocking until dawn
IT'S ALL about New Year's Eve this weekend, so I've compiled some of the best picks for Sunday night here in Honolulu. Fireworks have always been a big part of the celebration at Aloha Tower Marketplace, and this year is no different.
Gordon Biersch's
"Da Big Bang Block Party' is my personal favorite, but with VIP ticket packages starting at $120 (groups of four can purchase a table for $250), those on a budget might want to consider checking out the space that used to house Kapono's.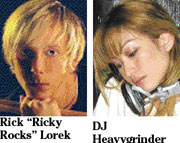 will take the stage at 10 p.m. and play until 12:30 a.m., with a short break at midnight to celebrate the start of 2007.
Tickets are $25 in advance; call 550-8457 ...
IT'S ALL about the ladies at Pipeline Cafe, with superstar female DJs Heavygrinder and Lady Tribe on the decks starting at 9 p.m. ... Bliss is the spot for house music fans looking for an intimate place to celebrate. DJs Ms. Angel, Haboh, Cryptik, Badmouth, Dev and Ernie K will hold things down from 10 p.m. to 2 a.m. ... And DJs Rude Dogg and K-Smooth are the stars at Dave and Buster's, with Hot 93.9's Big Koa rocking the mic ...
FOR THOSE who want to get away from the smoke, Over the Top Events presents the "2007 Thunder Ball," indoors at the Blaisdell Center Exhibition Hall.
Attendees are promised a night of glitz, glamour and gourmet food, with comedian Andy Bumatai handling hosting duties. Rock Hard Hawaii and 24/7 Danceforce will perform, and there will be a lion dancers from Au's Shaolin Arts on hand to help keep things festive. Casino games (with play money, of course) will also be set up, courtesy of Tihati Productions.
Tickets for the "Thunder Ball" are $145, with a portion of the proceeds donated to Special Olympics Hawaii. Doors open at 8 p.m. Call 591-2211 ...
SECRET AGENTS and femme fatales are invited to the Mai Tai Bar at Ala Moana Center from 8 p.m. on Sunday, with live entertainment by Hot Rain and a complimentary champagne toast at midnight.
Tickets are $30 at the door, and be sure to dress to impress for a shot at the $200 first place prize in a James Bond/Bond Girl costume contest. Space is limited; doors open at 8 p.m. ...
DOWN IN Chinatown, NextDoor's "A New Gold New Years" will feature Fort Knox Recordings' Fort Knox Five and Rex Riddem, with San Diego's Halo and NextDoor resident DJ Ira rounding out the lineup.
Doors open at 9 p.m. on Sunday, and $250 VIP tables will be available for groups of five (call 548-6398 for reservations). Otherwise, expect a $20 cover charge at the door. I'm also excited to see what NextDoor's Chris Kahunahana, Miguel Innis and Lacy Matsumoto have in store for a new rooftop VIP area that will make its debut this weekend ...
BACK IN Waikiki, Flash Hansen and Matty Hazelgrove host "A Touch of Red" at the W Honolulu's Diamond Head Grill. "Butcher Couture Artist" Adam Saaks will return to transform T-shirts into fashion masterpieces, and Chicago-based drummer Rick "Ricky Rocks" Lorek will be on hand to perform live ... Japanese "Godfather of House" DJ Ko Kimura is the headliner at Lotus Soundbar, with DJs Akio, Archangel, K-Ing, Mark and The Main Ingredient also on hand ... And if you're looking for an alternative night out, check out "A New Year's Affair" at Cafe Sistina with WET Entertainment and DJs I-Dallas, Egypt, Mz. Peaches and Brazil. This one is strictly ladies-only ...
IF YOU make it to last call and still want to party, remember that Skybox will host its annual afterhours celebration until well after sunrise. Special guest DJ Cory Martin will be joined by homegrown talent G-Spot, IKON, Betty, PSI, Big Daddy Dave and Quiksilva. Cover is $10 at the door, with a full bar available at 6 a.m. ...