---
FAST FACTS HAWAII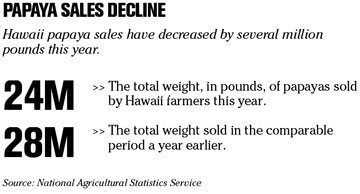 ---
HAWAII
Tissue Genesis reaches potentially lucrative deal
A Florida company has agreed to use the technology of Honolulu-based biotechnology firm
Tissue Genesis Inc.
in treating damage caused by heart attacks.
Anton Krucky, president and CEO of Tissue Genesis, said yesterday his company could see as much as $50 million in sales from the deal with privately held Bioheart Inc. Founded in 2001, 27-employee Tissue Genesis now has annual revenues of about $4 million, all from contract work, Krucky said.
The agreement grants Bioheart the exclusive right to use the Hawaii company's intellectual property and technology for treating heart damage. In return, Tissue Genesis receives royalty rights and a minority equity interest in Bioheart. Krucky said his company also expects to sell its cell-isolation kits to Bioheart as soon as the kits receive U.S. and European regulatory approvals, expected in 2007.
Krucky put the total value of the deal, including the Bioheart equity, kit sales and royalties, at $200 million over three to four years.
Tissue Genesis' cell-isolation systems are designed to rapidly produce adult stem cells and microvascular cells from small quantities of patients' fat tissues.
A&B acquires Phoenix building
A&B Properties, the real estate arm of
Alexander & Baldwin Inc.
, and related companies have purchased an office near downtown Phoenix for $24.7 million.
The three-story Concorde Commerce Center on 9.4 acres was acquired from Opus Real Estate Arizona. The center, built in 1998, has 138,500 square feet of leasable space and is 93 percent occupied.
Norbert M. Buelsing, executive vice president of A&B Properties, said the company is investing again in Arizona after the June sale of two Phoenix retail shopping centers because of the area's consistent job growth, increasing population and commitment to expanding its transportation infrastructure.
Secure Data coming to Hawaii
Secure Data Group, the consulting arm of data-storage company
Bell Microproducts Inc.
, is entering the Hawaii market.
It has no physical office here yet, nor has it made any hires. But Ed Ginty, senior director of Secure Data Group, said the company believes there's enough of a potential information technology market in Hawaii to make the effort.
"We're in the early stages, but we're committed," Ginty said from SDG's Irvine, Calif., headquarters. "We know it's a good market, and that there are a lot of companies here that would like to be over there."
SDG provides data management, business process management and information security programs, among others.
The company decided to test the Hawaii market by offering a weeklong seminar with Cisco Systems Inc., already established in Hawaii, on software for information-technology professionals from the state's largest companies.
NATION / WORLD
In other news ...
»
Entercom Communications Corp.
, the U.S.'s fourth-biggest radio broadcaster by sales, agreed to pay $4.25 million to settle a lawsuit by New York State Attorney General Eliot Spitzer over kickbacks paid for radio airtime.
Regulators approve BioForm's skin filler
BioForm Medical Inc.
said U.S. regulators approved its skin filler Radiesse to treat facial wrinkles and folds around the nose and upper lip.
The Food and Drug Administration also cleared the product for facial hollowing that sometimes affects people with HIV, the virus that causes AIDS, the closely held San Mateo, Calif.-based company said yesterday.
Radiesse will compete with Medicis Pharmaceutical Corp.'s Restylane, the top-selling wrinkle filler, and Allergan Inc.'s Juvederm in the increasingly competitive market for injectable cosmetic products. Sales of such treatments may rise 15 percent annually through 2010, to $935 million a year, according to Freedonia Group, a market research firm in Cleveland.
P&G to form venture with Inverness Medical
NEW YORK »
Procter & Gamble Co.
and
Inverness Medical Innovations Inc.
said yesterday they have agreed to form a joint venture to develop, manufacture and market consumer diagnostic products outside of the fields of cardiology and diabetes.
The deal is expected to close in the first quarter. P&G will pay $325 million in cash for its 50 percent interest in the joint venture, the companies said.
Inverness is to contribute its related consumer diagnostic assets to the new joint venture entity.
---
BUSINESS PULSE