---
FAST FACTS HAWAII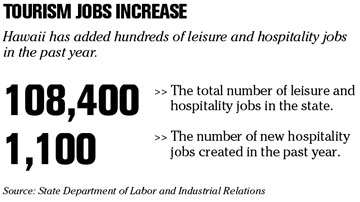 ---
[HAWAII INC.]
NEW JOBS
»
Highmark Investments
has named
Ralph Raymond
as senior project manager. He will be responsible for the construction of Highmark's Pacific Medical Center of Excellence in downtown Honolulu. He previously served as vice president of special projects for
RCI Construction Group
.
» Lead Hawaii has hired Junise Regpala as executive vice president of training and OSHA compliance. The company educates individuals and businesses in emergency-care training programs including first aid and CPR.
PROMOTIONS
»
PacificBasin Communications
has promoted
Scott Schumaker
to vice president/group publisher. He is publisher of Honolulu Magazine and Ala Moana Shopping Magazine and his role will expand to include the newly acquired Ward Centers Magazine.
» Wimberly Allison Tong & Goo has promoted I-Ming Hsiue to senior associate. He is a licensed architect in Hawaii with more than 20 years experience and is the lead designer on multiple projects in China and Southeast Asia. Mary Suenaga has been promoted to senior associate. She has been with the firm since 1998 and is the lead interior designer on many signature projects throughout Hawaii. Craig Takahata has been promoted to senior associate. He has been with the firm since 1999 and is lead designer and planner on multiple projects in Hawaii, China and South Korea.
---
NATION / WORLD
Flaw found in new Windows Vista
NEW YORK » Windows Vista, the new computer operating system that
Microsoft Corp.
is touting as its most secure ever, contains a programming flaw that might let hackers gain full control of vulnerable computers.
Microsoft and independent security researchers, however, tried to play down the risk from the flaw, which was disclosed on a Russian site recently and is apparently the first affecting the new Vista system released to larger businesses in late November.
The software company said it was investigating the threat but found so far that a hacker must already have access to the vulnerable computer to execute an attack.
"The bottom line is you couldn't use a vulnerability like this to write a worm or hack a Vista system remotely," said Mikko Hypponen, chief research officer for Finnish security research company F-Secure Corp. "It only has historical significance in that it's the first reported vulnerability that also affects Vista. It's a nonevent in other ways."
Attackers with low-level access privileges on a vulnerable machine could theoretically use the flaw to bump up their status, ultimately gaining systemwide control, Hypponen said.
Holiday retail stung by housing
Retailers' sales growth during the holiday season may fall short of last year's because a slowing housing market and higher energy costs curbed consumer spending.
Holiday revenue grew 3 percent from 2005, when sales rose 5.2 percent, according to MasterCard Advisors, which measures purchases made by cash, checks and MasterCards. The National Retail Federation has estimated that sales will rise 5 percent in November and December, below the 6.1 percent gain last year.
Quakes disrupt Asia's Internet
Internet and telephone services across Asia were disrupted after a series of earthquakes near Taiwan damaged cables used by
Chunghwa Telecom Co., Singapore Telecommunications Ltd.
and other companies.
"The repairs could take two to three weeks," said Leng Tai-feng, vice president of international business at Chunghwa Telecom, Taiwan's largest phone operator. The Taipei-based company said two of its undersea cables were cut.
Three earthquakes within 14 minutes struck off southern Taiwan last night, collapsing buildings and causing at least two deaths. Chunghwa reported loss of voice calls to Southeast Asia, while Hong Kong's PCCW Ltd. said it only had 50 percent of its telephone capacity in the region, disrupting services to companies including First State Investments in Singapore.
Philippine stocks highest since '97
MANILA » Philippine shares climbed today to their best level in nine-and-a-half years on an upbeat economic outlook for the country.
The benchmark 30-company Philippine Stock Exchange Index rose 5.16 points, or 0.9 percent, to 2,883.47 -- its best finish since June 19, 1997. The index slipped 0.1 percent Friday.
"Investors are buying stocks for next year. Everyone's looking at a better year in 2007," said Wealth Securities analyst Ricardo Puig.
Philippine Long Distance Telephone Co. was the most actively traded, rising 1.1 percent, followed by Ayala Corp., up 5.6 percent.
Group predicts soft landing for economy
WASHINGTON » A trade group representing the nation's manufacturers yesterday predicted a soft landing for the U.S. economy in 2007, despite expectations that residential real estate will act as a drag on growth.
In its annual forecast, the National Association of Manufacturers forecast that industrial output would decelerate to a growth rate of 2.8 percent, or slightly below the 2.9 percent rate of expansion it expects for the overall economy.
The manufacturing sector grew by 4.5 percent, on average, in 2006, while the U.S. economy expanded by 3.1 percent, according to the association.
Thai controls could stay for 6 months
BANGKOK » Currency controls that rattled the stock market in Thailand could remain in place for up to six months, the central bank governor said yesterday.
Bank of Thailand Gov. Tarisa Watanagse said last week's measures -- which restrict foreign capital inflows into the bond and commercial paper markets -- must remain in place for at least three to six months to ensure they curb the baht's appreciation.
"Once the baht is moving in line with regional currencies, the measures will become unnecessary," Tarisa said.
---
BUSINESS PULSE